Recipes
Argentinian-style Grilled Skirt Steak
At Argentinian asados, hosts typically plan to serve .5lb – 1.25 pounds of meat per person. You can scale down if that seems like too much for your guests. We used skirt steak in this recipe because it's very flavorful, but you can follow these guidelines to cook any cut you like; sirloin, flank, and tenderloin are all classic Argentinian options as well. Argentinians traditionally cook grass-fed beef, as do we, but you can certainly use grain-fed beef if you prefer. This recipe is incredibly simple and delicious. Fresh, good quality ingredients and heat from flavorful wood embers are the key components.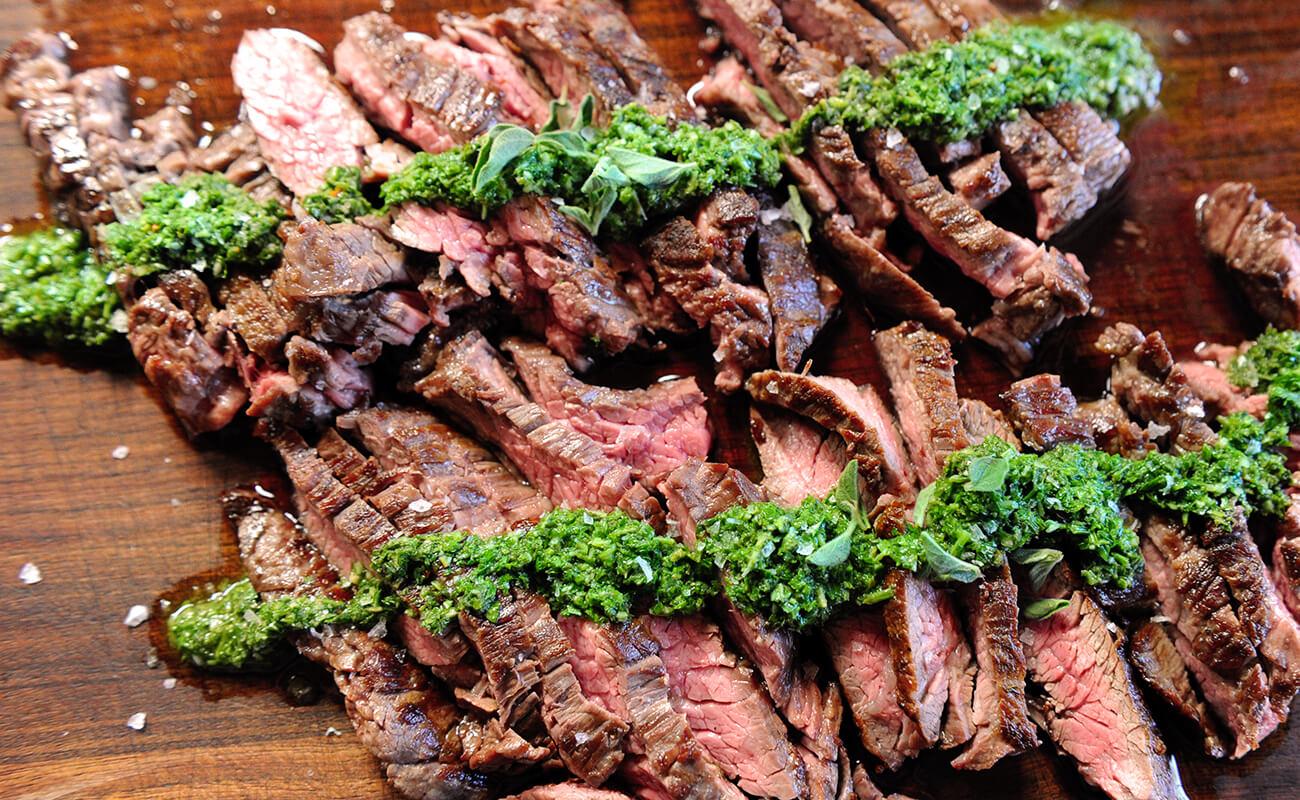 ---
Ingredients
Chimichurri
½ ounce fresh oregano
1 ½ ounces fresh parsley
¾ cup extra virgin olive oil
¼ cup sherry vinegar (I use BLiS 9 Maple Sherry Vinegar)
2 cloves garlic, chopped
2 pinches ground cayenne pepper
½ teaspoon red pepper flakes
¼ teaspoon fine sea salt
Steak
4 beef skirt steaks (grass-fed preferred)
Fine gray sea salt to taste
Olive oil
Directions
Start a double-stacked pile of wood on one side of the grill about 45 minutes before you want to start cooking. If you plan to grill much more than the steak in this recipe, create a three-layer fire instead. A two-layer fire will burn faster, which will allow you to start cooking earlier, but it won't create enough embers for all-day grilling. If you're really in a hurry, you can use wood chunks instead of splits as they burn down to coals more quickly. However, chunks will not last as long as splits. Oak is a nice all-purpose, easy-to-find choice and will create the most traditional Argentinean flavor.
Once the wood is stacked, run the ignition burners for 5 minutes to start the fire. For more tips on starting and maintaining your fire read our post about cooking Argentinean-Style Asado on the Gaucho Grill.
Always keep the grill grates well above the flames to prevent soot from building up on them. The soot can transfer to the food, discoloring it and creating undesirable flavors.


Preparing the Food
Prepare the chimichurri by combining all the ingredients in a blender. Blend until smooth, then adjust the taste with more salt if needed. Refrigerate until it's time to use it, but no more than 5 hours.
Skirt steak often has one end that is thicker than the other. If this is the case, cut each piece of skirt steak in two, to separate the thinner tapered end from the thicker part of the muscle. Rub with oil and salt each piece liberally. Place the thicker pieces on the grill first directly above the embers, then add the thinner pieces approximately a minute later. This will ensure each piece cooks evenly, to the correct doneness. Rotate each piece 90 degrees after approximately a minute. Let the steaks cook for approximately another minute before flipping them and repeating the process.
Once the meat is brown on the outside but still rare on the inside, raise the grill grate up higher above the coals and let the steaks cook for about 3 more minutes, or until the internal temperature reaches between 125-135 degrees Fahrenheit. Pull the steaks off the grill and let rest for 2-3 minutes. We recommend cutting the steak into 4 or 5 inch sections, making it easier to cut across the grain. Slicing across the grain is particularly important in ensuring the steak is tender when served. Drizzle the steak with chimichurri and enjoy.