Recipes
Alder-Planked Whole Mackerel
I only recently cooked Spanish mackerel for the first time, but for many years it has been my favorite fish in sushi restaurants, where it is called "Aji." I love it served in raw pieces as nigiri, but mackerel is an ideal fish for cooking whole. It is especially easy to work with because the skin is so delicate and the scales are fine enough that you won't even know they are there. Let's face it, scaling fish is a hassle and it makes a big mess. Why not work with a fish that doesn't need to be scaled? As an added bonus, mackerel is an oily fish rich in omega-3 fatty acids, so it is good for your heart.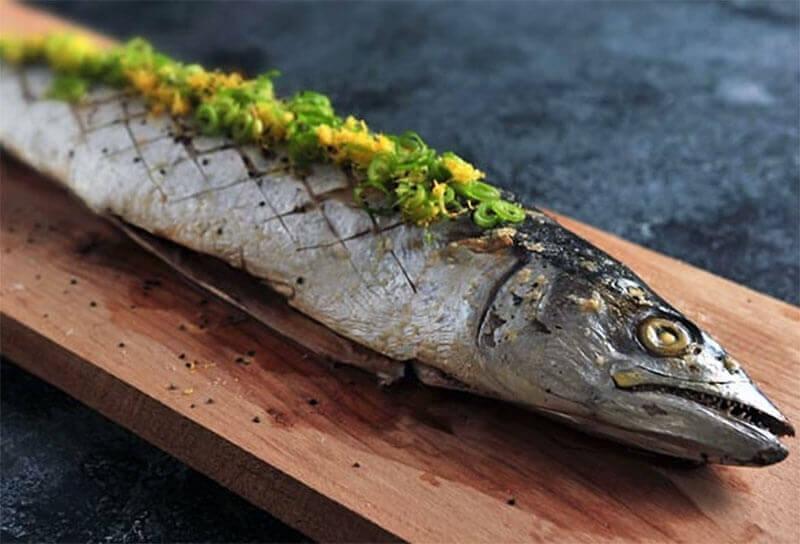 ---
Ingredients
2 alder wood planks longer than the fish, about 2 feet long and 3/4 inch thick each
2 whole fresh Spanish mackerel, gutted, about 2 pounds each
Extra virgin olive oil
Fine sea salt
About 12 sprigs fresh rosemary
Finely-grated zest of 1 lemon
1 bunch green onions, green parts only, very thinly sliced
Coarse black pepper
Directions
Soak the wood planks in water for at least four hours. I buy furniture-grade hardwood at a specialty wood shop and cut it down for plank grilling. Not only is this more economical than buying cooking planks, I can cut longer lengths for recipes like this. Most shops will cut the wood for you if you don't have the tools at home.
Another tip: plastic bins for storing wrapping paper work well for soaking longer planks like you'll be using here.
Prepare the grill for indirect cooking at 400°F.
Lay one fish on each plank. Use kitchen shears to remove the pectoral fins (the ones just behind the gills). Lightly score the skin on both sides with a sharp knife in a crisscross pattern. Brush inside and out with olive oil and sprinkle generously with salt. Tuck sprigs of rosemary around each fish. This will lend a subtle aroma without overpowering the fish.
Place the planks in the indirect cooking zone, close the hood, and cook at 400°F until an instant read meat thermometer measures an internal temperature of 120°F.
Remove the planks from the grill and discard the rosemary. Combine the lemon zest and green onion and top the fish with the mixture. Sprinkle with pepper.
Serve on the planks. When cooked properly, the meat will easily separate from the bones and the skin can be cut through with a serving fork and spoon. If you have squeamish guests, you can remove the head and tail before serving. You can even use a large spatula or turner to slide off whole sides of the fish and transfer to plates or a serving platter.
Note: planks can be washed and used again.