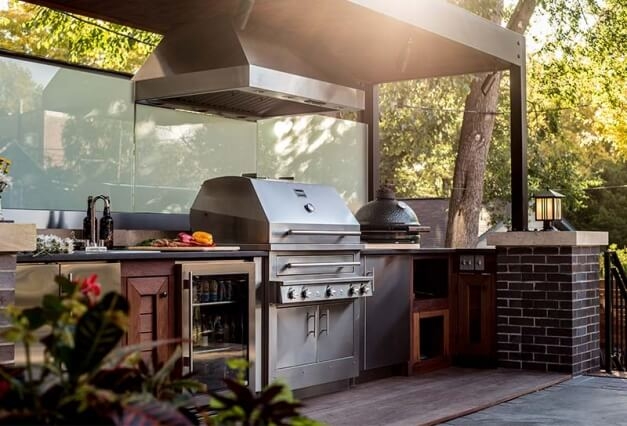 Building an outdoor kitchen requires a lot of thought and planning, but the rewards are huge if you do it right. Read on for the top three questions homeowners should ask themselves early in the planning process. The answers will give you great information to help you get to the design phase.
1.What will your new outdoor space be used for?
Do you plan to use your outdoor kitchen just for special occasions or as more of an everyday second kitchen? Will you use your outdoor kitchen space year-round? How many people will be cooking and dining in the space for each type of gathering? Will you or someone else in your house be the primary chef, or will you use caterers for most meals and events? Spend some time documenting all the ways in which you envision using the space. It may help to describe your needs by season or by type of gathering. If there are traditional foods or celebrations that are important to you, note those as well. Family pizza nights, summer lobster boils, or other cooking events may require special equipment or space planning. Determining how you intend to use the space will help inform the equipment sizes and the overall flow and size of your cooking area. You'll also discover how much dining space you need and where it should be located. If you or a family member will be the primary cook, locating your dining area off to the left or right of the grill at 90 degrees. This makes it possible for the cook to engage with guests while keeping on top of cooking tasks.
2.How self-sufficient do you want your outdoor kitchen to be?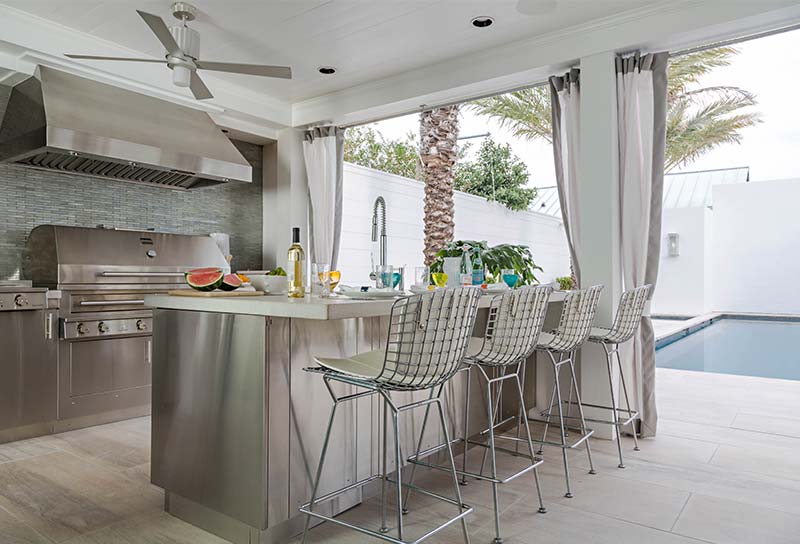 In general, all outdoor kitchens should include, at a minimum, all necessary cooking appliances, prep & landing spaces, and a sink. Locating the outdoor kitchen adjacent to the indoor kitchen makes it possible to use the indoor refrigeration, dry storage, and prep spaces for outdoor cooking. But if you plan to cook and prep outdoors often or if your outdoor kitchen will be located further away from the indoor kitchen,refrigeration, plenty of prep space, and a place to store dry goods, dishes, and other utensils. You may even want to include specialty items like beverage refrigeration and dishwashers for a totally self-sufficient outdoor kitchen.
3.What challenges will you face in your outdoor kitchen site?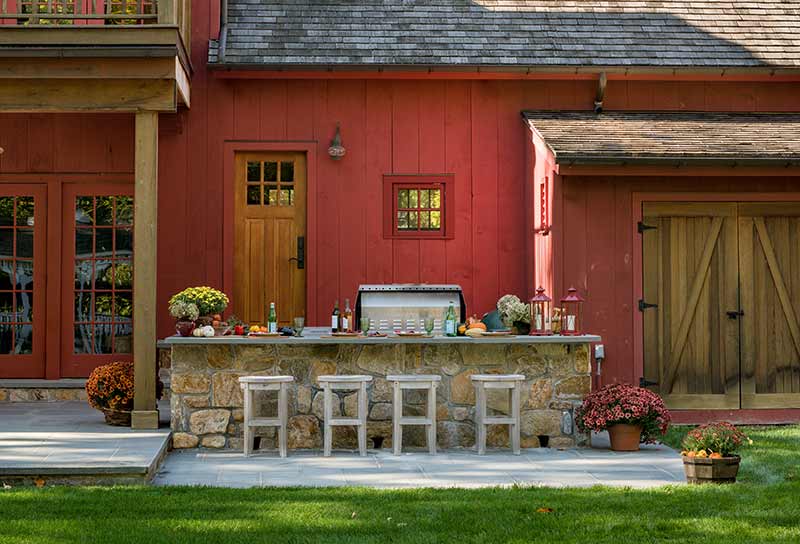 While the functional layout of an outdoor kitchen is pretty similar to that of an indoor kitchen, the elements add some additional factors that must be addressed. Consider the effects of the sun, wind, rain, heat, cold, and darkness on your space. Plan to position your grill and smoker so that the prevailing wind does not blow smoke into your dining space, your house, pool, or neighbor's yard. Depending on your climate, you may wish to include heaters, fans, or misters to keep the area comfortable throughout the year. If mosquitos or other bugs are a problem, including an overhead fan in your design can make a huge difference.
Ready to take your outdoor kitchen plan to the next level? Check out our sample outdoor kitchen designs and plans, or get expert kitchen design help from our designers. You can also check out our outdoor kitchen gallery for inspirational photos of real Kalamazoo kitchens to help you determine the style and finishes that are right for you.