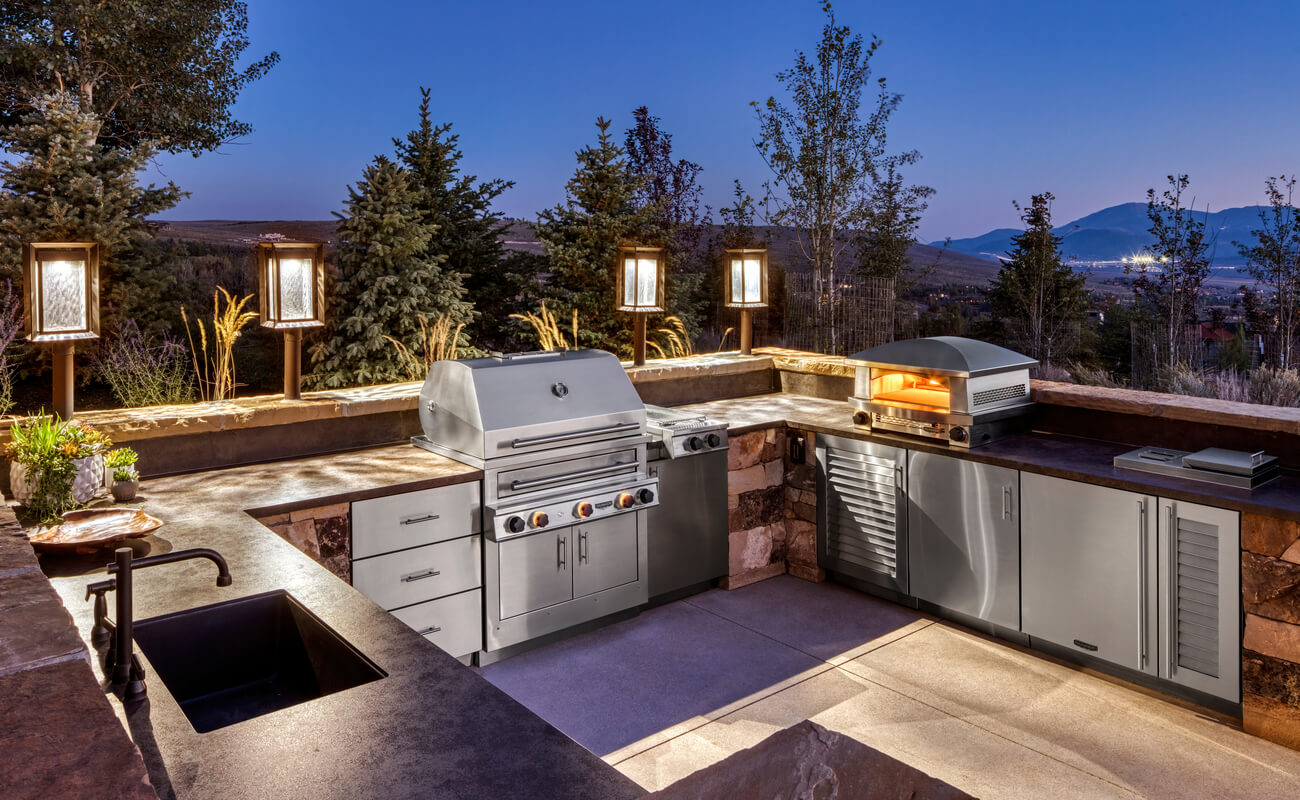 For those who design outdoor kitchens professionally, the key is to combine sound landscape design principles with the best practices of indoor kitchen design. For those who are new to outdoor kitchen design, following are a few tips to make the job a little easier and achieve better results.
1. Apply good kitchen design principles for functional zones of the kitchen.
If you are not a kitchen design professional, be sure you partner with one or at least understand good kitchen design principles. Cold areas (refrigeration), hot areas (grills and cooktops), wet areas (sinks) and dry areas (prep counters and storage) must all work together effectively in proper proximity, with each allocated enough space. The National Kitchen & Bath Association (NKBA) is a good resource for kitchen planning guidelines and to find a professional.
2. Consider the relationship between the indoor kitchen and outdoor kitchen.
How self-sufficient do you want the outdoor kitchen to be?
How could they be used together when cooking or entertaining? What is the traffic pattern between them?
3. Select low-maintenance materials designed to withstand the rigors of an outdoor kitchen.
High-quality stainless steel provides a sanitary surface, easily cleaned and corrosion-resistant in harsh environments.
Natural stone counters work well, but some require sealing on a regular basis. The densest granites, such as "absolute black" are among the least porous stones but may not be ideal for your design aesthetic.
Consider how hot counter materials may get under constant sunlight. Some materials stay naturally cooler than others, and it isn't always a light-versus-dark color issue. The best way to test is to leave a sample in the sun.
Counters and patio/decking material (especially near the grill and other cooking equipment) should be highly resistant to grease stains. Don't be afraid to mix patio materials.
4. Compliment the design of the home.
The outdoor kitchen design should compliment the architecture of the home and the landscape. Use compatible materials and incorporate subtle architectural details.
5. Plan the entire outdoor entertaining space as part of a single functional plan.
Dining areas, lounging areas, cooking areas and pool areas often coexist. Think of these as outdoor rooms and consider the flow of traffic between them as part of the design.
Try not to isolate the outdoor cook from the rest of the party. Create opportunities for interaction and conversation within the outdoor kitchen and between the outdoor kitchen and other areas.
6. Plan for utilities.
The location of the outdoor kitchen and the equipment within the kitchen can greatly affect the installation or placement of the necessary gas, water and electrical supply.
7. Extend the outdoor entertaining season with heaters, shade and rain shelter.
Shade from pergolas and awnings in both the cooking and dining areas can make a big difference to the homeowner's enjoyment of the space.
Appropriate rain shelter for the outdoor kitchen can help keep the cook dry and comfortable even if the guests migrate indoors. Do not, however put a combustible ceiling or awning above an outdoor grill. If necessary, use an outdoor-rated ventilation hood.
Natural gas patio heaters can be used effectively under eaves and pergolas. Radiant heat under the patio and counter tops have been used in outdoor kitchens where money is no object, and portable propane patio heaters are a good solution for more modest budgets.
Fireplaces and hearths are perhaps the most attractive option for adding heat to an outdoor entertaining area.
8. Incorporate music and other entertainment.
There are many options for high-quality outdoor speaker systems. Incorporate music into your design so the homeowner doesn't face the design challenge of adding it later.
Video monitors and televisions can also be successfully incorporated into the outdoor entertaining areas if appropriately sheltered from the elements. In addition to shelter, not all equipment delivers a good picture in bright sunlight conditions. Consider this as part of the specification process.
9. Provide ample lighting.
Providing adequate task lighting in an outdoor kitchen can be quite a challenge, but it is necessary to keep the kitchen working after dark.
Ambient lighting and lighting for the dining area are also critical to the success of an outdoor living space design.
Safety lighting on paths and steps is a must.
10. Most importantly, understand the user's needs and the equipment available.
How does the user cook inside? Outside? Do they do their own cooking, at parties or hire a chef? How many people and how often do they entertain? Does the outdoor kitchen need to be as comfortable for a family of four to use as it is for a group of 40?
Is the user a gourmet "grill master" or an occasional griller? Do they prefer charcoal or gas, or do they sometimes prefer each type on different occasions? Is a hybrid grill the right solution or would two grills be a better choice?
What other equipment is needed for refrigeration, wood smoking or pizza-making?
By addressing each of these topics, you can create outdoor cooking and entertaining areas that deliver great experiences year after year.