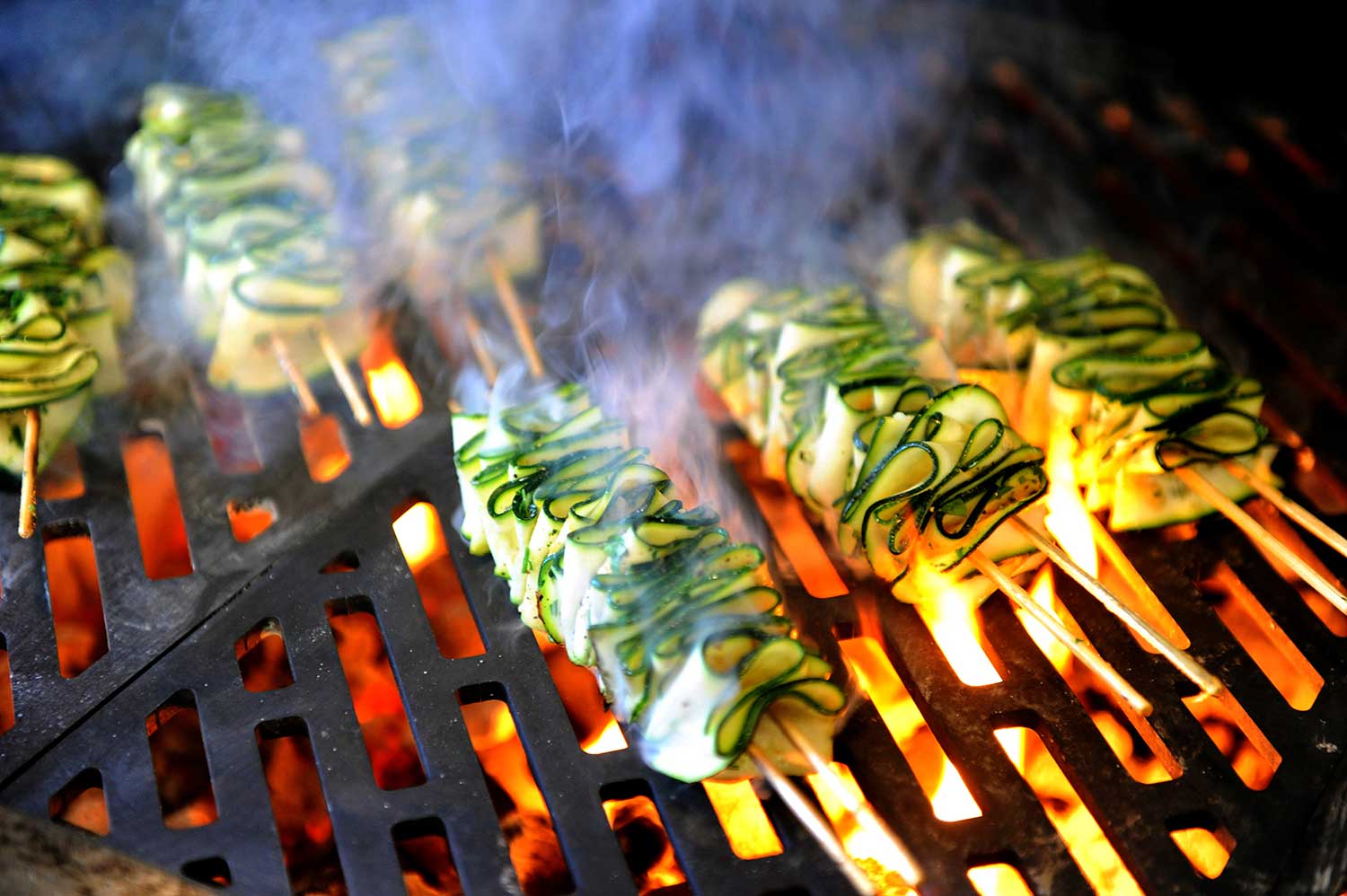 Some of your clients will be grill or barbecue enthusiasts who know exactly what they want to cook in the outdoor kitchen, and which equipment they need for doing it. Others will be less well-versed. Some will be "foodies," and others simply enjoy a great burger on the grill. A little outdoor cooking knowledge can go a long way toward helping your clients select the right equipment and design their dream outdoor kitchen.
Grilling: The most common type of outdoor cooking, grilling is used for delicious steaks, fish fillets, burgers, chops, chicken breasts and vegetables. The food is placed on an open grate directly over a gas, charcoal or wood fire and cooked for a short period of time, usually less than 20 minutes. The temperatures used typically range between 350˚ and 550˚ F.
Most grills on the market, whether gas or charcoal, will do an adequate job of grilling. The grills that do a great job deliver even temperatures across the cooking surface, feature heavy grill grates for good sear marks and feature a design specifically engineered to reduce flare-ups. Flare-ups happen when juices, fat or sauces drip onto or accumulate near the heat source and catch fire. Flare-ups are the enemy of the grilling enthusiast.
Searing: Searing is a type of grilling using more extreme heat. A grill must be able to reach at least 700˚ F for good searing. Searing is done quickly. It is usually followed by continued cooking at lower temperatures. Some gas grills feature dedicated searing zones, usually with an infrared burner. Searing temperatures are easily reached over charcoal or wood fires.
Barbecue: Barbecue sauce does not make barbecue. Low heat and long cooking times with the use of wood smoke are the key characteristics of barbecue. Temperatures as low as 200˚ F are used for as long as 24 hours, and very few grills excel at barbecue. Some homeowners will choose to have a gas grill and a charcoal or wood barbecue or smoker as separate, dedicated pieces of equipment in the outdoor kitchen. A few grills, like the ones from Kalamazoo, are quite good for barbecue.
The key to barbecue, beyond the low heat, long cooking time and use of smoke, is that the food is next to the fire and not over the fire. This is called "indirect grilling," and the same technique is used for roasting.
Roasting: Turkeys, prime rib, whole chickens, racks of lamb and large chops are all ideal for roasting on the grill. As with barbecue, indirect grilling is used. The difference is higher temperatures and shorter cooking times. Using a Kalamazoo, you can perfectly cook a whole, butterflied chicken in 35 minutes using 500˚ F indirect cooking. Any grill with multiple control zones can roast, but not all grills can reach 500˚ F using only a portion of the burners.
Spit Roasting or Rotisserie: Food roasted on a spit bastes in its own juices. The only difference between roasting and rotisserie cooking is the use of the spinning spit. Many grills are available with optional or standard rotisserie systems.
Pizza Ovens: The popularity of pizza ovens has exploded. A good pizza oven will feature a high-quality baking stone and can deliver a broad range of temperatures. Calzones and deep dish pizza require lower temperatures, while Neapolitan-style pizza is cooked for less than a minute at temperatures around 700˚ F. An important consideration for pizza ovens is the amount of time needed to get the oven ready for cooking. Many require hours of pre-heating.