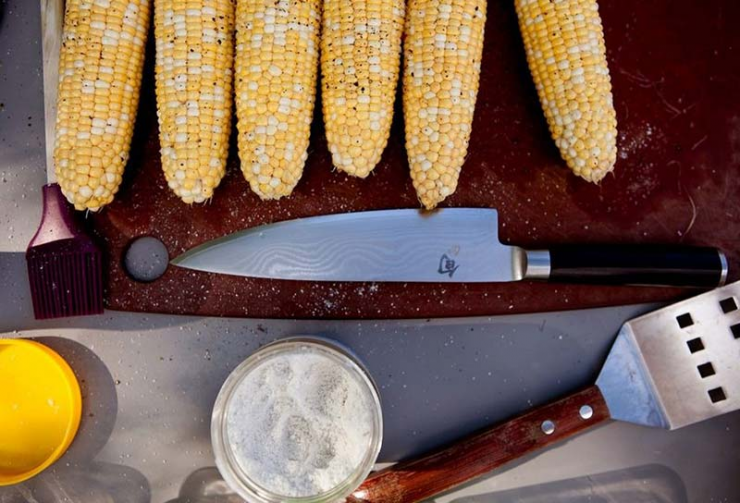 Step-by-step instructions for simple grilled corn.
Corn on the cob is a summer barbecue classic, and it seems everyone has their own favorite way to prepare it. Some like to soak the corn in the husk and then use that moisture to steam it on the grill. Some shuck it and par-boil it before marking it on the grill. Some even make "caveman corn," roasting the corn directly in a bed of hot coals. Although all these methods make for a tasty side at your barbecue, we prefer the simple approach; shuck the corn, rub it with olive oil, season it with salt and throw it on the grill.
Step One: Preparing the Grill
Prepare for direct grilling over a hot fire at 500°F.
Step Two: Preparing the Corn
Shuck the corn and remove all the silk. Wash the corn and let it dry. Drizzle olive oil over the corn, and then rub it in to evenly distribute. Season liberally with salt.
Step Three: Grilling the Corn
Place the corn over the hot fire, directly on the grill grate. Roll the corn every 30 seconds or so until it is nicely marked on all sides and just heated through. Use care not to overcook the corn. You should not see any shriveling or wrinkling of the kernels.
Remove from the grill. You can serve it with butter if you like, but the olive oil on its own is usually sufficient.
Note: The best corn for direct grilling will have large, plump kernels.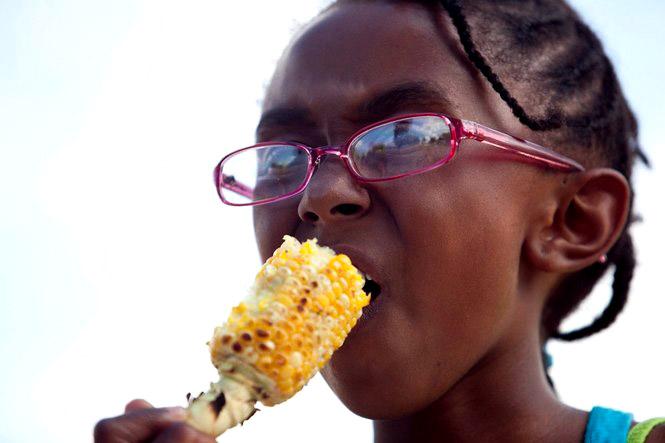 Photo by Katie Seldon for MLive.com taken at the Kalamazoo Public Library.


Grilling Corn on a Kalamazoo Hybrid Fire Grill
If you are cooking with charcoal or wood, you can grill the corn over the fire you are already using, but corn is pretty much just as good grilled over a gas fire as it is a live fire. Prepare the grill any way you like, and grill the corn either on the standard rod surface or the upgraded vegetable or meat grilling surface.
Alternative Technique
The ample warming racks that the latest Kalamazoo grills are outfitted with are perfect for roasting corn. This is where a little flavor from a wood fire can really enhance the flavor of the corn. With a hot fire below or to one side, place the shucked and prepped corn on the warming rack, close the hood and let it roast until the corn becomes substantially more golden. Then transfer it to the direct grilling zone and quickly mark it over the hot fire. Use care not to overcook the corn.