Designing Outdoor Spaces for Optimal Use
Outdoor cooking and entertaining areas are a great way to bring added enjoyment to at-home living. Whether you're a homeowner creating a vision or a professional bringing that vision to reality, there are various design considerations that set the project up for success from the very beginning. Here are the key areas to consider when creating a sophisticated, highly-functional outdoor space.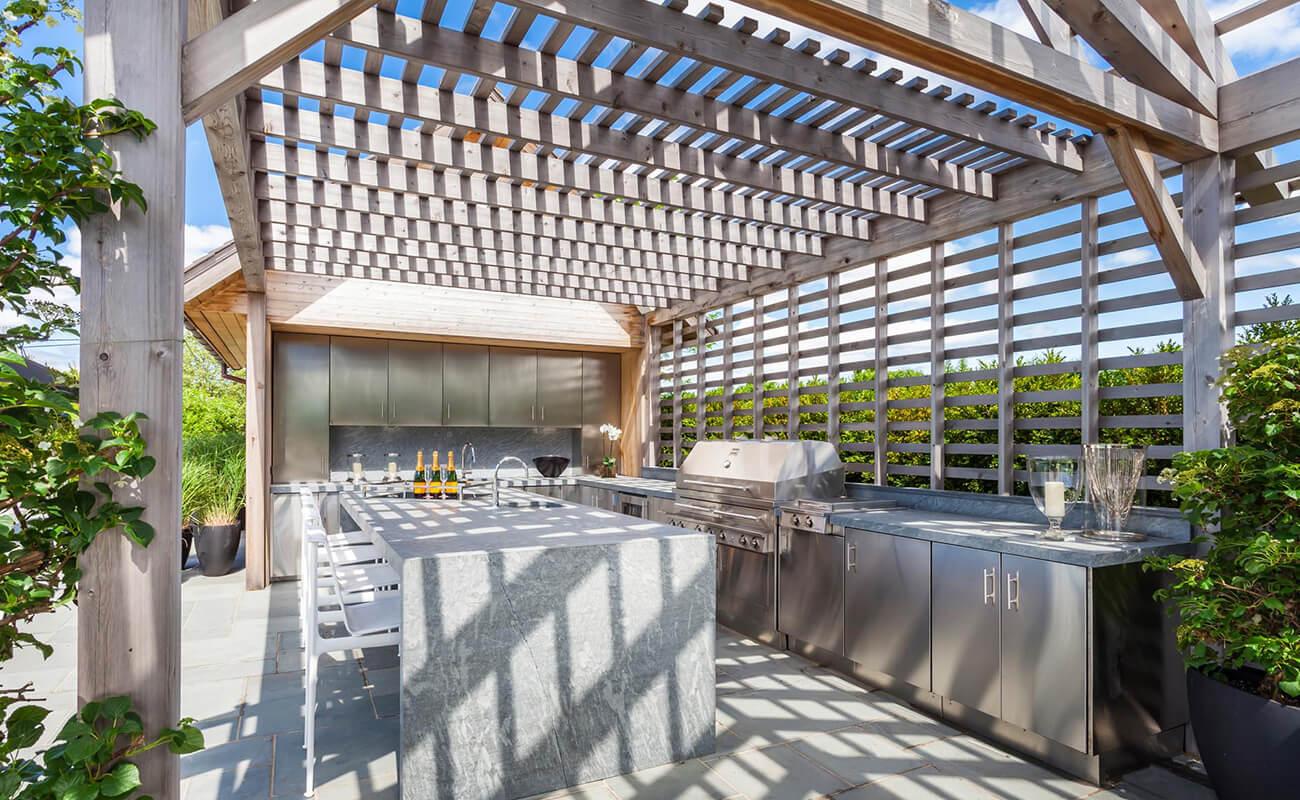 UNDERSTAND THE IMPACTS FROM NATURAL ELEMENTS
Variables such as wind, sun, heat, cold and water play a significant role when creating and enjoying outdoor living areas. Determining the optimal layout, materials, shelter solutions, and appliance capabilities will help achieve exceptional comfort and performance. Here are some things to consider: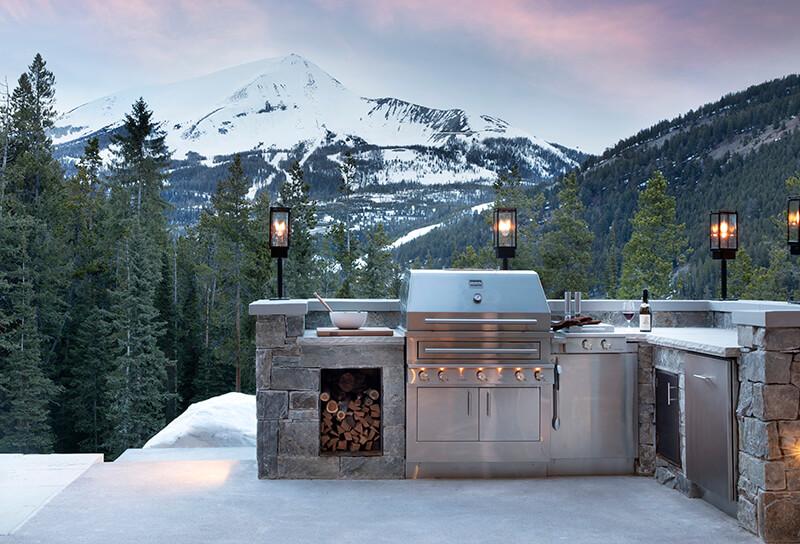 Select a durable countertop material that won't retain heat from the hot sun and can withstand the abuse from your annual climate.

Consider adding a non-combustible shelter over your kitchen to extend its use when the weather is less than ideal.

Understand the prevailing wind direction to correctly position cooking appliances and dining areas.

Keep comfortable by adding heating and cooling features such as outdoor fireplaces, overhead fans and misters, or even radiant heat systems.

Choose appliances that can handle the extreme temperatures at your location.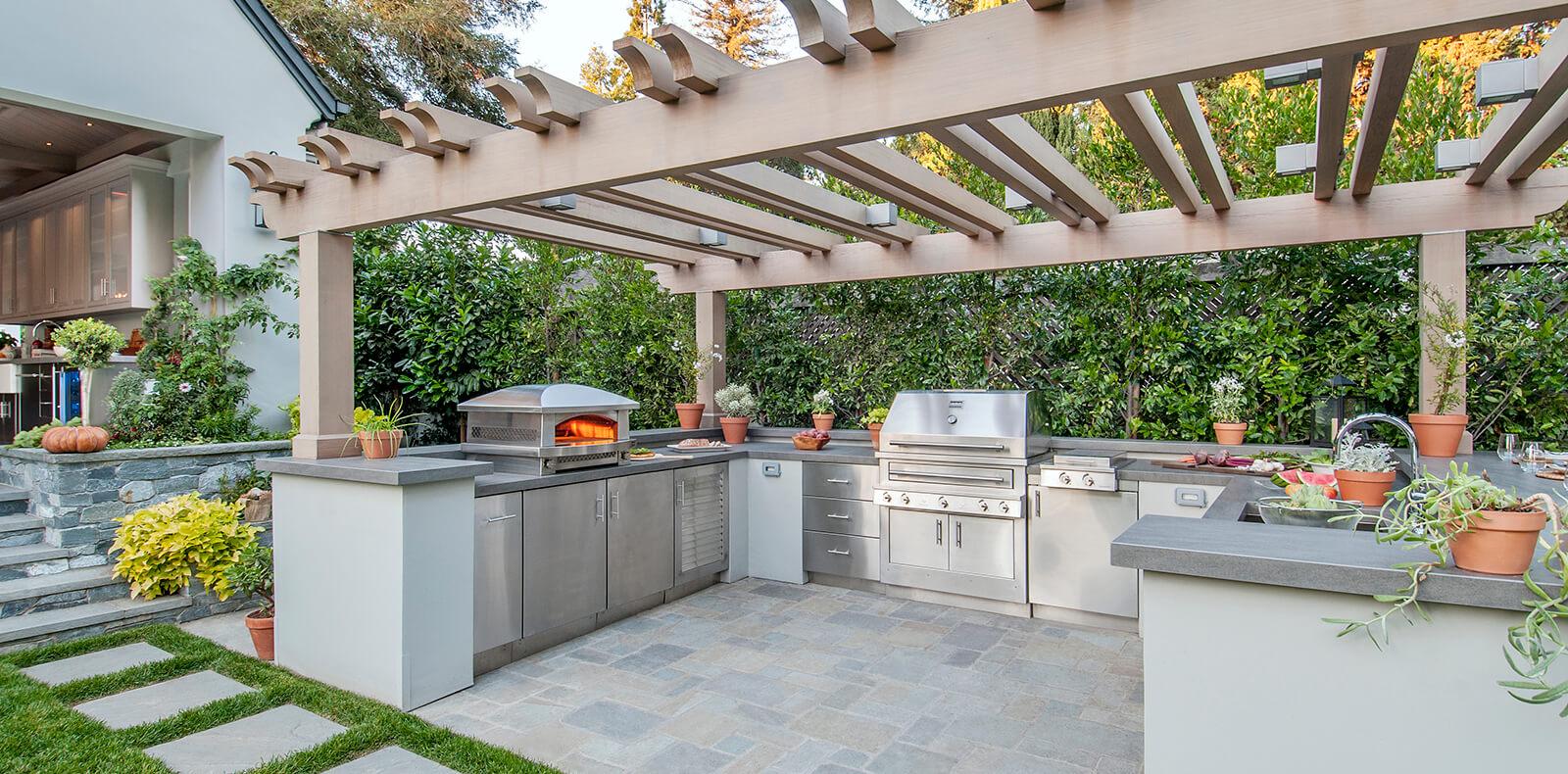 Embrace the Keys to a Usable Outdoor Kitchen
Similar to planning an indoor kitchen, the outdoor cooking space should be broken into separate, yet complementary, areas which promote optimum workflow. Follow these principles to transform your outdoor kitchen into an extension of your home where you can effortlessly cook and entertain.
For a deeper dive into the specifics, visit our design guide.
Create Multiple Functional Zones
Areas for cooking, food prep and refrigeration should be built to work together.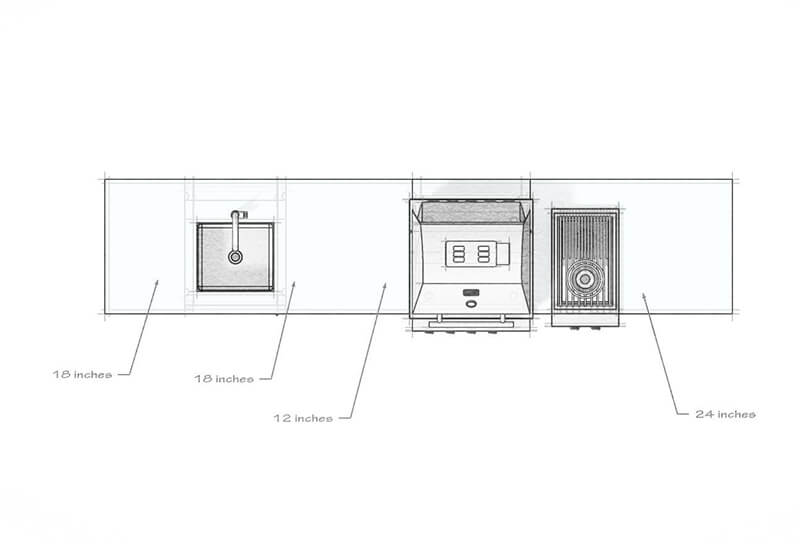 Establish Landing Areas
Each working station in the outdoor kitchen requires open counter space to support it. This makes it possible to keep essential items and reserve space to place the food as you remove it from the grill.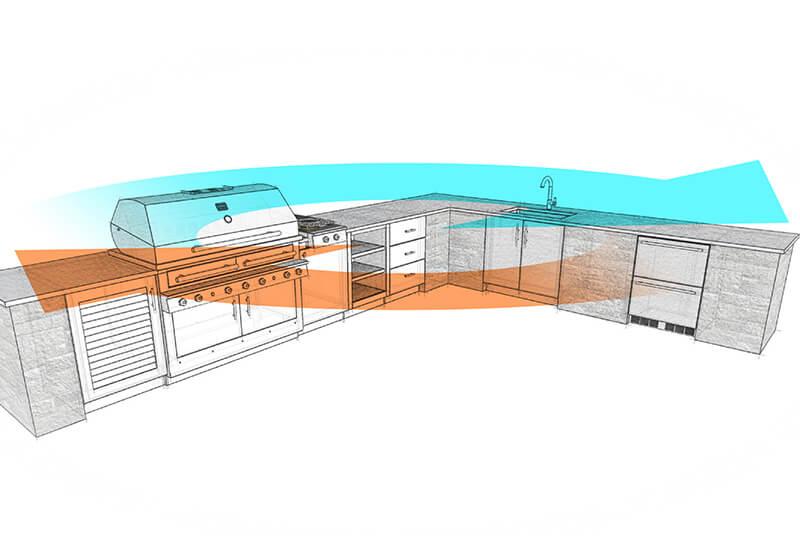 Plan a Straightforward Workflow
Establish a clear path to easily get from cooking stations to where the food is served.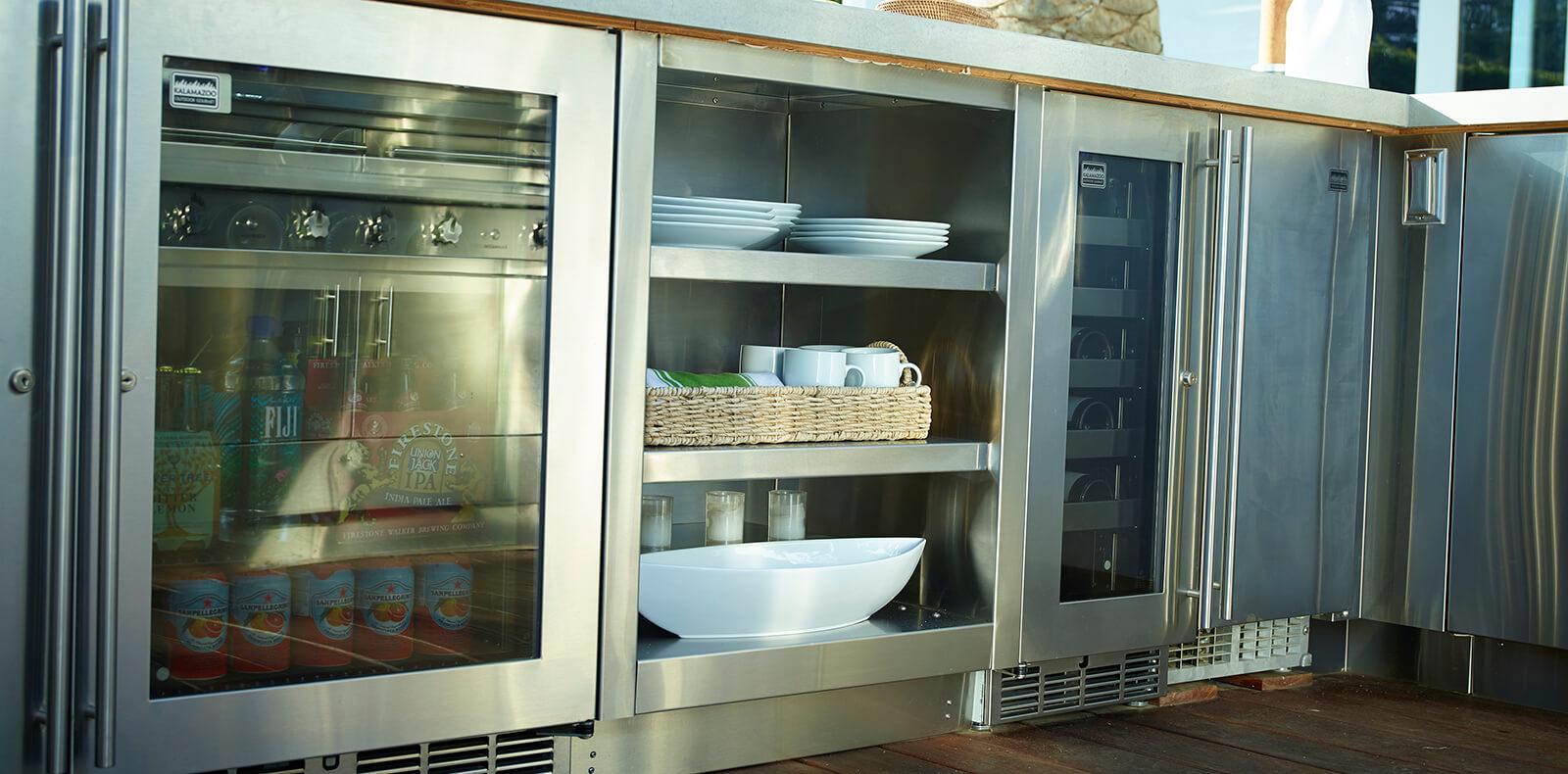 Incorporate Sufficient Storage and Prep Space
One of the most common challenges when planning an outdoor kitchen is balancing space constraints with enough usable storage and prep areas. Large kitchens functioning independently from the indoors require more storage and counter space for prep and serving. For smaller kitchen layouts, determine the essentials necessary for convenience. Reserve space for utensils, accessories and cleaning supplies, and consider adding a cart for additional surface area.
Plan for Appropriate Guest Seating
Part of the excitement of planning an outdoor living area is determining the entertainment space and how it impacts the kitchen experience. Many seating options are possible and must be incorporated into the planning process for the greatest compatibility.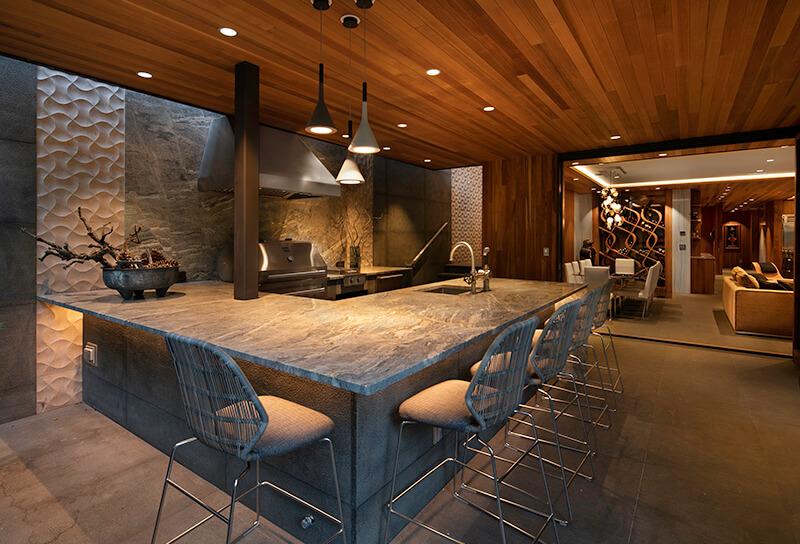 Determine the Primary Use
From countertop seating and formal dining spaces near the cooking action to areas designed for comfort and relaxation, understanding the vision for a designated seating area is essential.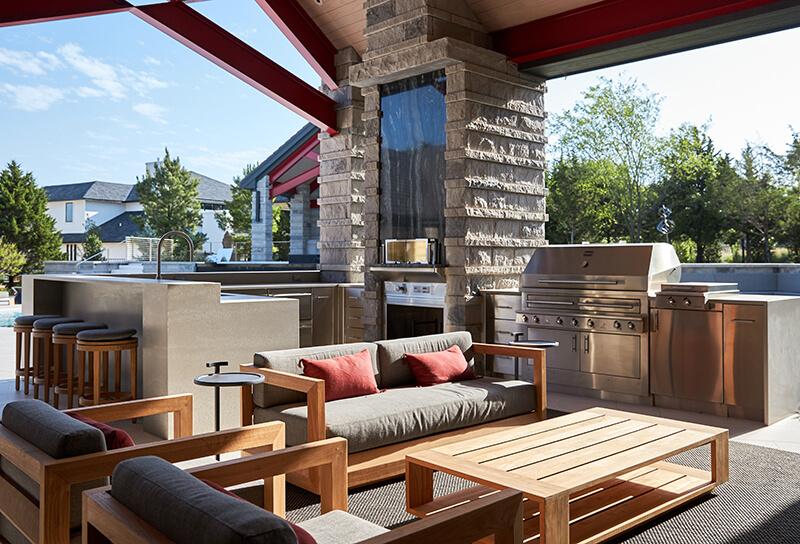 How Spaces Work Together
Determine the relationship between the guests who are dining or relaxing and the cooking experience.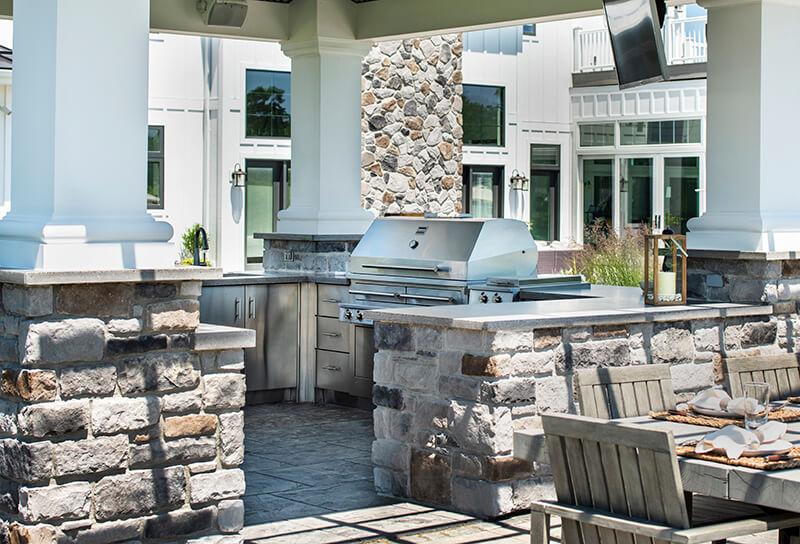 Include the Cook in the Party
The best way to incorporate this is to have seating off to the left or right of the grill so that the cook can face the guests.
We're Here to Help
Whether you're a homeowner or design professional, our team of design experts are here to help every step of the way and ultimately bring your vision to life. Start planning now.