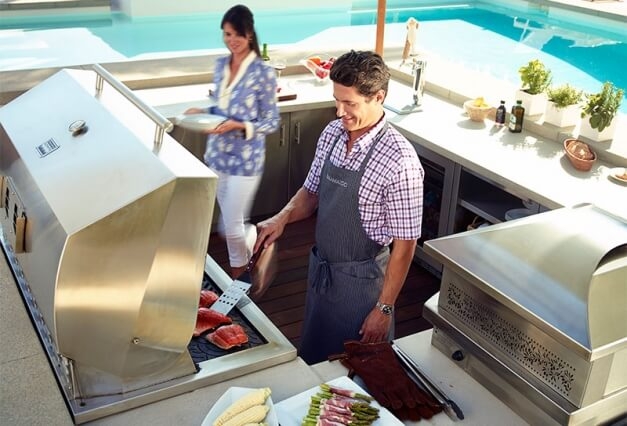 Last year we shared our essential items for the pizza chef's pantry. And now, with grilling season just around the corner, it's time for the next installment – the griller's pantry. We sat down with Kalamazoo grillmaster Russ Faulk and picked his brain for his grilling pantry must-haves.
Olive Oil
It seems obvious, but good quality olive oil is essential. 100% Italian olive oil is a great place to start, and Greek varieties also work well. Use to coat proteins, vegetables – pretty much anything, before grilling. It's also ideal for finishing a dish.
Salt
Stock a few types of salt for different purposes. It's good to have a nice mellow salt on hand for general cooking. Grey sea salt is ideal for this, specifically Eden Foods Sea Salt, or, if you want to step it up a notch, Penzey's Spices French Grey Sea Salt. Kosher salt is great for making rubs because of its grainy, crystalized texture. Finishing salts should be added as a final touch before the food is served. Maldon makes a beautiful finishing salt with a subtle, delicate flavor. Grillmaster Russ likes to use smoked salts as his secret weapon. They add a delicious boost of flavor and work especially well on burgers. Try alderwood smoked salt, or a more subtle fumée de sel. Each type will vary in intensity, so experiment until you find the flavor you prefer.
Go-to Spices
Most cooks have a varying collection of dried spices, but if you want to really elevate the flavor we recommend using whole spices and grinding them with a mortar and pestle. Start by stocking whole coriander, nutmeg, cumin and mustard seeds. Use chopped garlic instead of garlic powder, and the same goes for sliced dried onion instead of onion powder. Dried chiles are great for rubs, like the one used in our Grilled Buttermilk Hot Wings recipe. Grillmaster Russ particularly likes dried pasilla chiles, or dundicuts – a flavorful Pakistani pepper. It doesn't hurt to keep a little pre-ground paprika and cayenne on hand as well.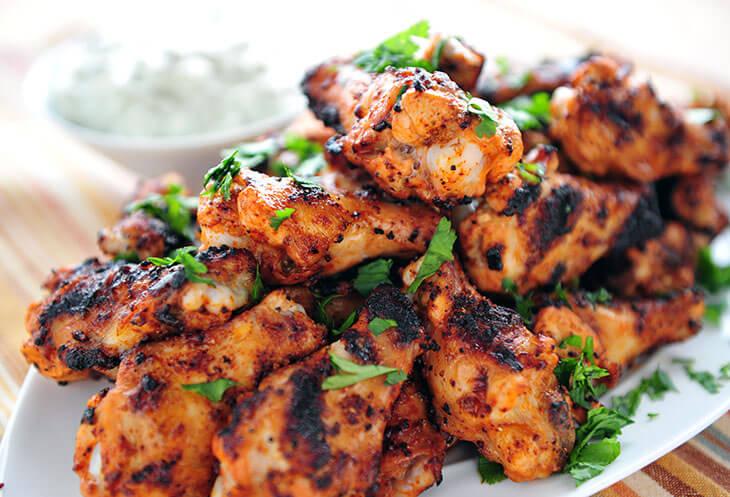 Vinegar
A high quality aged vinegar with a great flavor profile is an asset to any grillers pantry. It's ideal for dressing salads, and also tastes phenomenal when mixed with a little olive oil and melted butter, then added to a piece of beef hot off the grill. One brand we really like is BLiS 9 sherry vinegar.
Syrups and Sugars
Real maple syrup can be used to make an easy, but delicious salad dressing. Simply whisk a splash of it with some olive oil and sherry vinegar. It's also a good idea to keep honey and light brown sugar on hand, as both caramelize beautifully when used in a rub. If you're after a sugar with a higher burning point then demerara sugar is a great choice.
Good quality bread
Head to your nearest bakery and pick up a fresh, crusty loaf of French or rustic Italian bread. It's the perfect accompaniment to almost any meal, and great for sopping up juices and sauces that have been left behind on your plate. Any leftovers can be frozen and brought out the next time you grill.