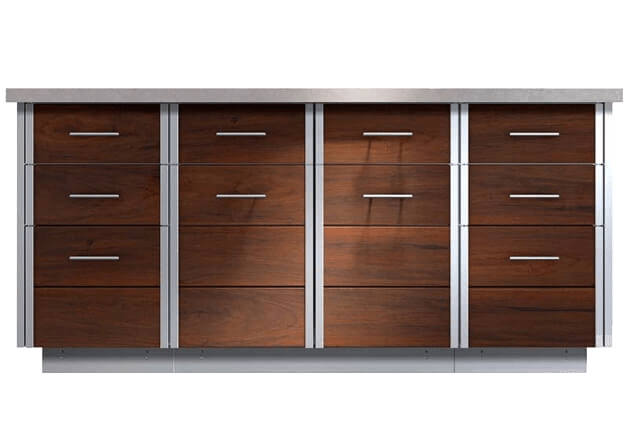 At Kalamazoo, we're committed to offering homeowners the highest quality outdoor kitchen products that blend industry-leading performance with beautiful design aesthetics. Our new Arcadia Cabinetry Series provides homeowners the freedom to truly customize their outdoor kitchen spaces with a distinctive appearance that contrasts brushed stainless steel with a choice of rich, oiled ipe wood or durable powder-coated panels.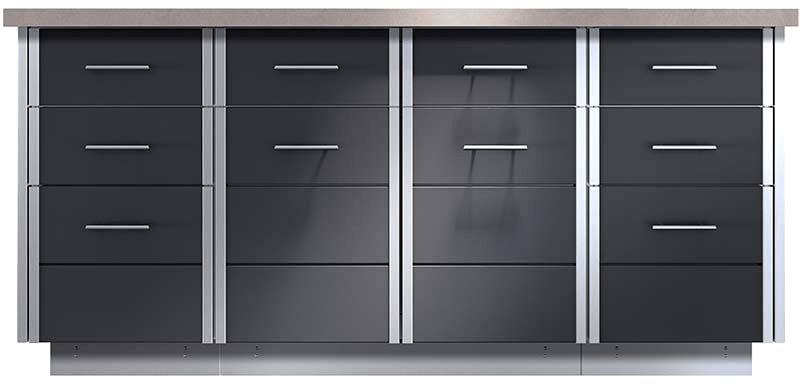 Arcadia Series cabinetry in charcoal gray powder-coated stainless steel
The Arcadia Series will offer a new variety of color, size, texture, and configuration possibilities for the outdoor kitchen. Our two standard Arcadia Series finishes combine brushed stainless steel with either oiled ipe wood or a rich, charcoal gray powder-coated stainless steel. Ipe wood is long lasting and low maintenance, making it ideal for outdoor cooking areas. Arcadia's ipe is also certified by the Forest Stewardship Council (FSC) as it adheres to environmental management guidelines. For a completely customized look, you may also choose from more than 200 RAL powder coat colors.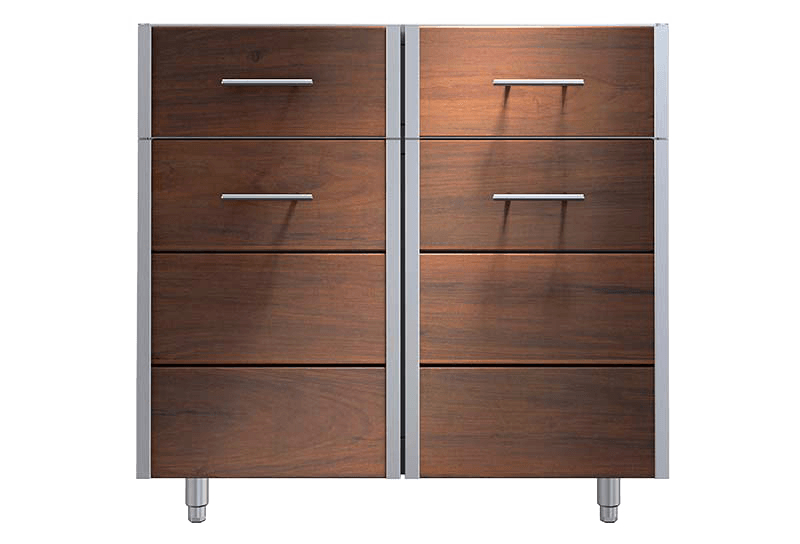 36-inch Arcadia Series cabinet in IpeOur beautiful Arcadia Cabinetry Series features a four-board theme that runs horizontally across the face of every cabinet, regardless of the drawer and door divisions. Matching refrigeration overlays feature perfect alignment with the four-board theme, creating a consistent and pleasing look across all cabinet runs. Choose from more than 20 different storage, sink base, and waste and recycling units in widths from 12 to 36 inches, and add cooktop base cabinets, appliance cabinets, and appliance and grill back panels as needed. All Arcadia Series cabinetry rests on leveling legs and utilizes the same dimensions and clip system as our Signature Series.
The Arcadia Series will be available starting in August, 2017. Pricing for the new cabinetry line will be similar to that of our weather-tight Signature Series, although custom powder coat colors will be an additional charge and will require a longer lead time. As always, if you need personal design assistance or have any questions about either of our cabinetry lines, please get in touch!