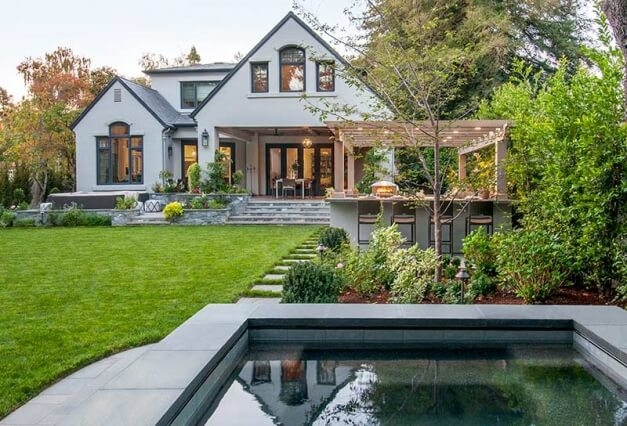 The client of this stunning Palo Alto home desired an every-season outdoor kitchen design that functioned completely independently from the indoor kitchen. The outdoor space needed to accommodate a range of cooking styles, from informal cooking with their family to large, professionally catered events. During casual gatherings, the homeowners envisioned friends and family taking turns prepping ingredients and cooking on the grill or in the pizza oven. They envisioned catered events at times requiring several chefs, so the cooking area needed to be both spacious and thoughtfully zoned for different functions for maximum efficiency and ease of use.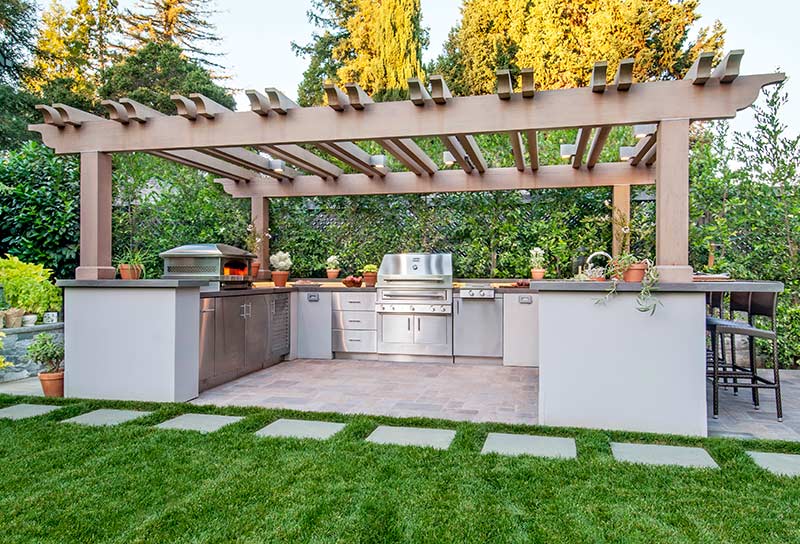 COOKING APPLIANCE SELECTION
Choosing the right cooking appliances was essential to ensuring the outdoor kitchen was functional and met the family's needs. The family are big gourmet food enthusiasts who enjoy cooking together and entertaining. For that reason, a powerful, restaurant-quality grill that can cook with gas, charcoal and wood was selected for its high performance and cooking versatility. Achieving a high temperature on the gas grill in a short period of time was a must for casual weeknight dinners, but the homeowners also wanted the option to create flavors unique to outdoor cooking with wood-fired or charcoal grilling.
To increase the outdoor kitchen's cooking capabilities, a 24-inch cooktop cabinet adds an additional two burners next to the grill.
An outdoor pizza oven was a required appliance for these pizza enthusiasts. Since a traditional wood-burning pizza oven takes 3.5 hours to heat up, they ultimately selected the more practical gas-fired Artisan Fire Pizza Oven. The countertop Artisan Fire Pizza Oven takes 20 minutes to reach a searing 800 degrees and cooks individual pizzas in 2-3 minutes. It can also be used to roast plenty of other foods at high temperatures, typically in a cast iron pan or on a wood plank.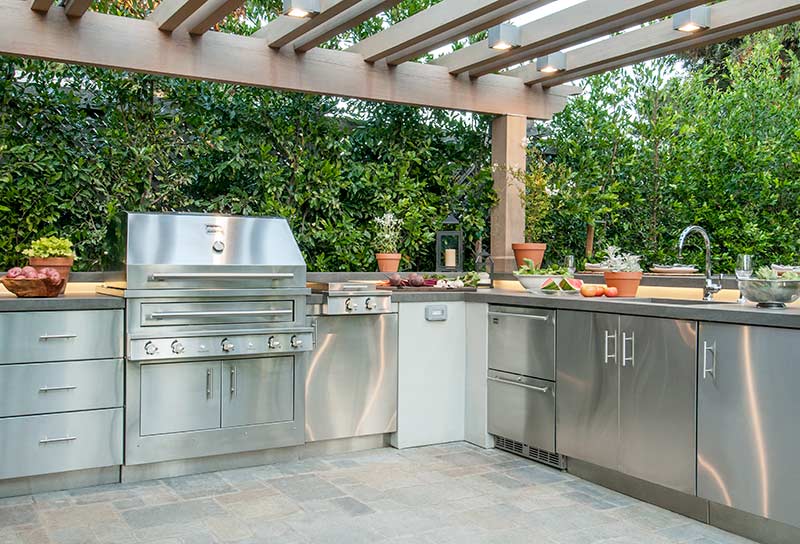 DESIGN CONSIDERATIONS AND SOLUTIONS
WORKFLOW
The outdoor kitchen space was divided into two main areas for optimal workflow, with functional zones subdividing the spaces further. The dining and entertaining patio also features a one-wall cleanup and storage area, while a U-shaped cooking area keeps cooking and food prep tasks concentrated in one location.
FUNCTIONAL ZONES
A refrigerated beverage center, refrigerated wine storage, and an outdoor icemaker create a cold zone that's conveniently located near the dining area. The sink and outdoor dishwasher make up the adjacent wet zone, while extensive overhead weather-tight cabinets and additional counter space create a dry zone for dish storage and food preparation.
A few steps away from the dining and entertaining patio is the cooking and food preparation area. The Artisan Fire Pizza Oven and Hybrid Fire Grill (with adjacent cooktop) bookend the hot zone, with a large workspace or landing area between them. A sink and nearby refrigerated drawers make a convenient prep area.
LANDING AREAS
A generous amount of countertop space provide plenty of landing areas in this outdoor kitchen. The pizza oven has a 12-inch landing area to the left, with a much larger expanse to the right that is ideal for food prep. The grill and cooktop share this landing area and workspace and have an additional 48-inch to the left. Each sink has at least 18-inches on either side, providing plenty of room to place washed vegetables and dishes.
SEATING
Seating was a key consideration in ensuring the space flowed properly and was easily enjoyed. The designer incorporated a variety of seating and entertaining spaces to give the family flexibility when it's time to eat. Bar seating was integrated so that guests can keep the cook company and enjoy nibbles or appetizers at the cooking area's counter. A more traditional separate dining table was also incorporated, along with two additional sitting areas around a fire table and in the garden.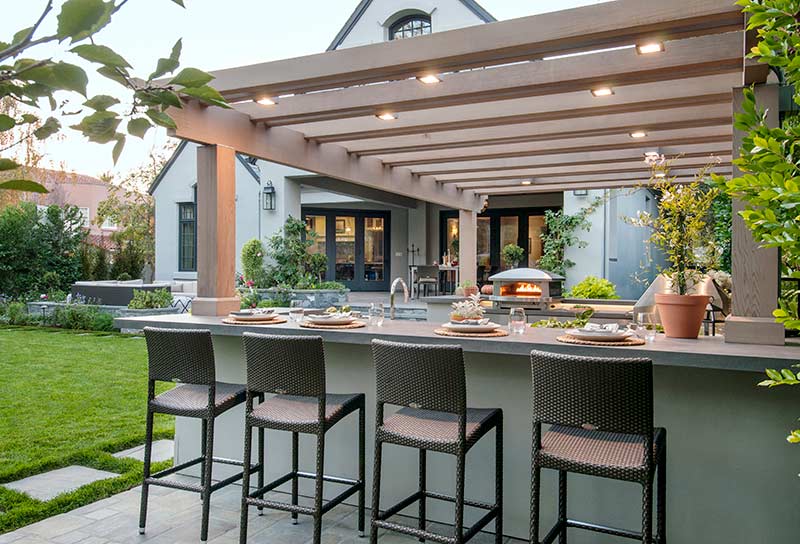 OUTDOOR CONDITIONS AND MATERIALS
Since this Palo Alto kitchen would be used year-round, the design team chose surfaces that would stand up to variations in temperature, sun exposure, wind, and rain. The flexibility of Kalamazoo Outdoor Gourmet's modular design system gave the designers the ability to mix and match appliances and cabinetry to create a truly custom floorplan.
In the uncovered cooking area, a seamless rain gutter around each cabinet door creates a weather-tight seal that keeps both moisture and insects out. The stainless steel finish on cabinets and appliances resists damage from both sun and rain, with little upkeep. Neolith sintered compact surfacing creates a beautiful, natural stone countertop aesthetic that's heat-resistant, UV-resistant, and waterproof. Neolith countertops are super durable and low-maintenance, making them a great choice for outdoor kitchens.
Plaza Gray limestone floors in the dining and entertaining area are dense enough to withstand rain and changing temperatures, although the entire area is covered, providing shelter from wind, rain, and sun. Ceiling fans and unobtrusive heaters help modulate the temperature for year-round comfort. A variety of ambient and task lighting options ensure optimal visibility at all times of day and in all seasons.
With these thoughtful design choices, this Palo Alto family looks forward to years of enjoyment and relaxation in their new Kalamazoo Outdoor Gourmet kitchen.