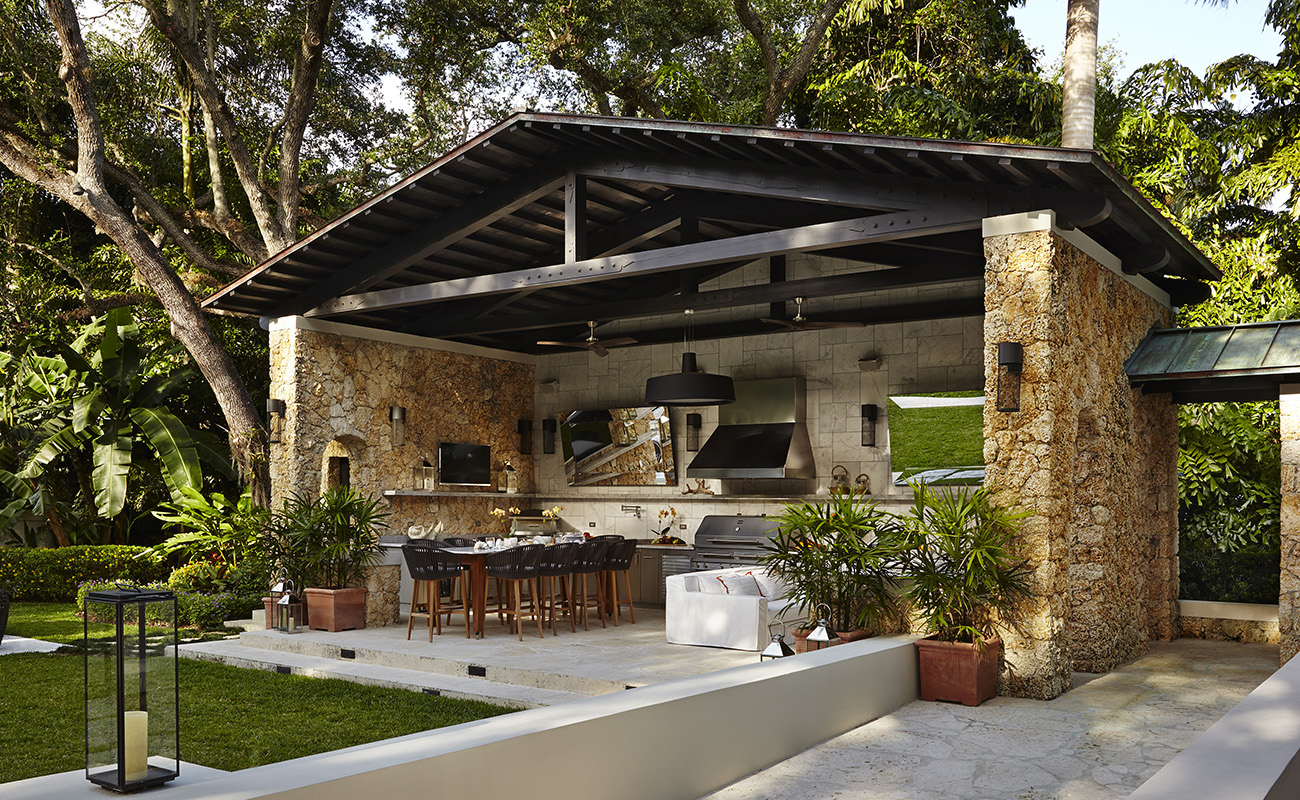 When outdoor kitchens became popular, it was because homeowners wanted to bring indoor amenities outside. Now, homeowners are creating outdoor spaces that feel more like an extension of the indoor space - and sheltering an outdoor kitchen with a roof is one way they're doing it. In fact, more than 50% of designers attending Kalamazoo Outdoor Gourmet's kitchen design classes report seeing an increase in the number of outdoor kitchens that are designed under a roof. A sheltering structure provides a convenient location for lighting and ceiling fans while retaining heat from radiant heaters on cool spring and fall evenings.
Thinking about building your own sheltered outdoor space? Here are some best practices and ideas to keep in mind regarding outdoor sheltering structures:
EXTEND A HOME'S LIVING SPACE
Shelter over an outdoor kitchen has grown to be an important addition to today's increasingly sophisticated kitchens, especially in the northeastern United States. The main thing to keep in mind when considering structure is that it is an architectural element that must match the exterior of the house. Shelters often require an architect's skill to ensure it blends well.
VENTILATION IS A MUST
Once a structure is built over a grill, the need for ventilation increases to keep smoke and grease spatters contained. Vent hoods can be mounted on a wall or suspended from the structure to service cooking islands; performance varies by manufacturer. Kalamazoo builds ventilation hoods to a commercial standard and six inches wider than its grills to ensure smoke and some grease is captured. The hoods are designed from the ground up to include a 30-inch tall vertical capture area.
KEEP A LIGHT ON
Lighting is always important in an outdoor kitchen, but it becomes especially important when a kitchen is under shelter. Also, lighting is probably the least understood element in outdoor kitchen. Two types of lighting, task and ambient, have distinct jobs. Task lighting makes the work area more visible. Make sure that each work station (grill, sink and cooktop) and at least one prep area are well lit. Ambient lighting adds drama and atmosphere to the outdoor kitchen. Make it indirect, but provide enough for the entire kitchen and dining area.
DON'T FORGET THE CABLE, AS IN CABLE TV
TVs and audio equipment are gaining in popularity as a "must-have" in outdoor kitchens. There's nothing like watching the big game outside while cooking your favorite food. When placing the TV, keep in mind the movement of the sun. The last thing you want is the sun in your eyes or shining directly on the television. Consider the placement of cables and outlets so the TV's appearance is kept as clean and simple as possible.You can place a TV into the roof structure to keep them off of work surfaces and conceal wires, cable boxes and DVD players. Keep the same considerations in mind when placing speakers, docks for iPods or stereo equipment.