Color Trends: Designer Palettes to Inspire
Color allows us to create dynamic and personal spaces that evoke emotions and transform spaces. Our Arcadia line of cabinetry and refrigeration offers more than 200 custom colors and a range of finishes. We asked some of our favorite designers to serve up some inspiration, by curating their own palettes, chosen from the Arcadia custom range.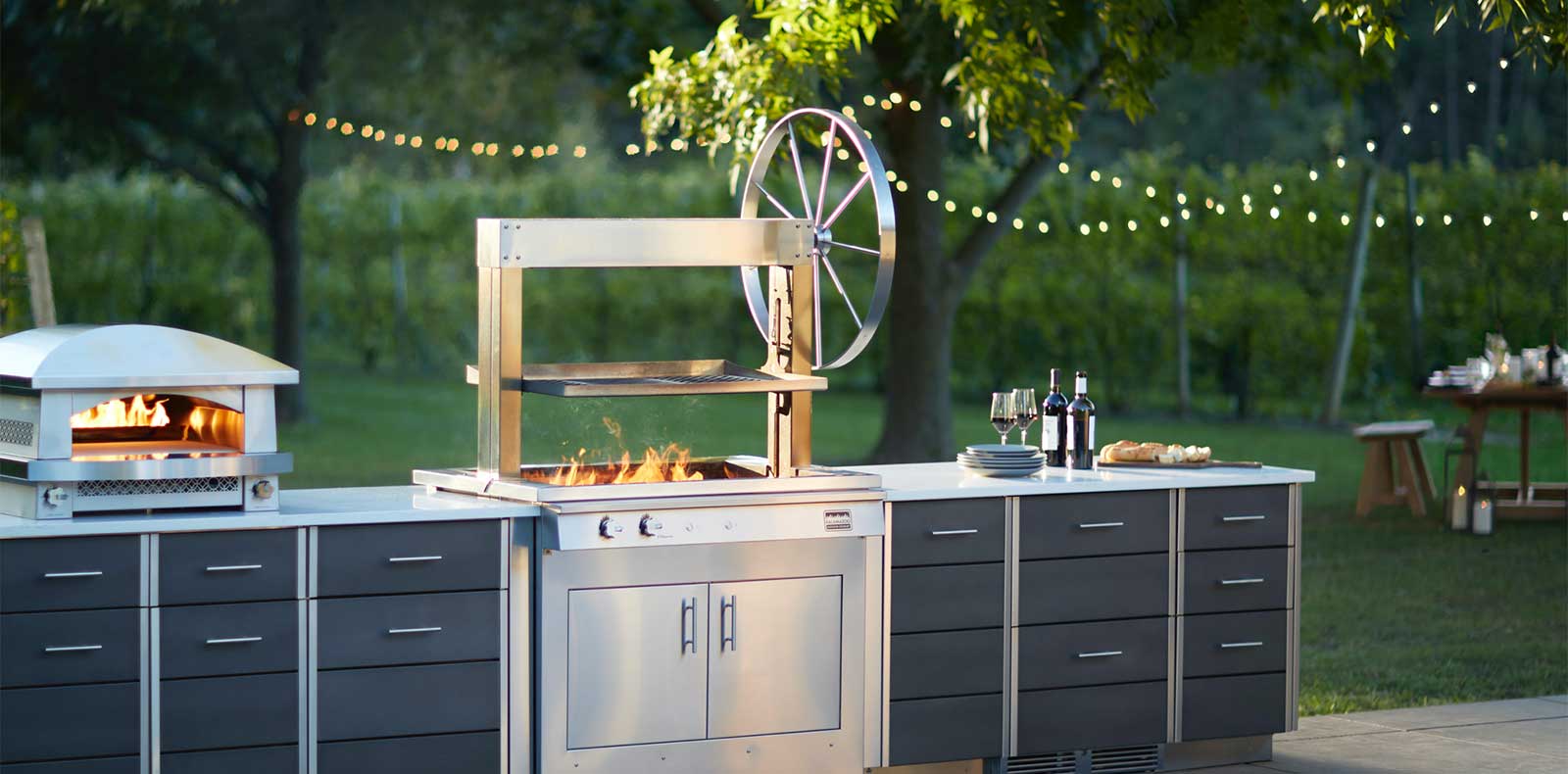 Our Arcadia series of cabinetry and refrigeration allows for an incredible amount of personalization. This stunning line, with its clean, horizontal lines, is offered in a wide range of custom finish options. There are more than 200 RAL custom colors to choose from, making it easy to tailor your outdoor kitchen to its surroundings and your aesthetic.
We asked several of our favorite designers to create their own recommended color palette. They didn't disappoint, providing an array of color choices and pulling inspiration from nature, art, and locales far and wide.

Azure Blue: RAL 5009 | Turquoise Green: RAL 6016
Pearl Beige: RAL 1035 | Ruby Red: RAL 3003
"Living in Barcelona, I am inspired by the decadent colors used in architecture and design. I love the bold color choices paired with subtle additions I see throughout the city. Gothic architecture enhanced by modern touches excites my creativity. I chose each color with these ideas in mind. Finding the unexpected is so exciting. So much of our experience, culinary especially, is based on the emotions we tie the event. I think my palette will create an element of surprise mixed with elegance."
"My color palette is inspired by the four seasons. In the south, we are fortunate to be able to entertain outdoors during most seasons therefore I thought it appropriate to choose a color for each season. My seasonal palette includes colors that are currently trending in fashion and home decor, but are also colors that are popular during certain times of the year. The colors I chose to represent the seasons are aqua, navy, orange, and anthracite. When we use colors to represent the seasons, we are in tune with nature."

Pastel Turquoise: RAL 6034 | Salmon Orange: RAL 2012 | Sapphire Blue: RAL 5003 | Anthracite Grey: RAL 7016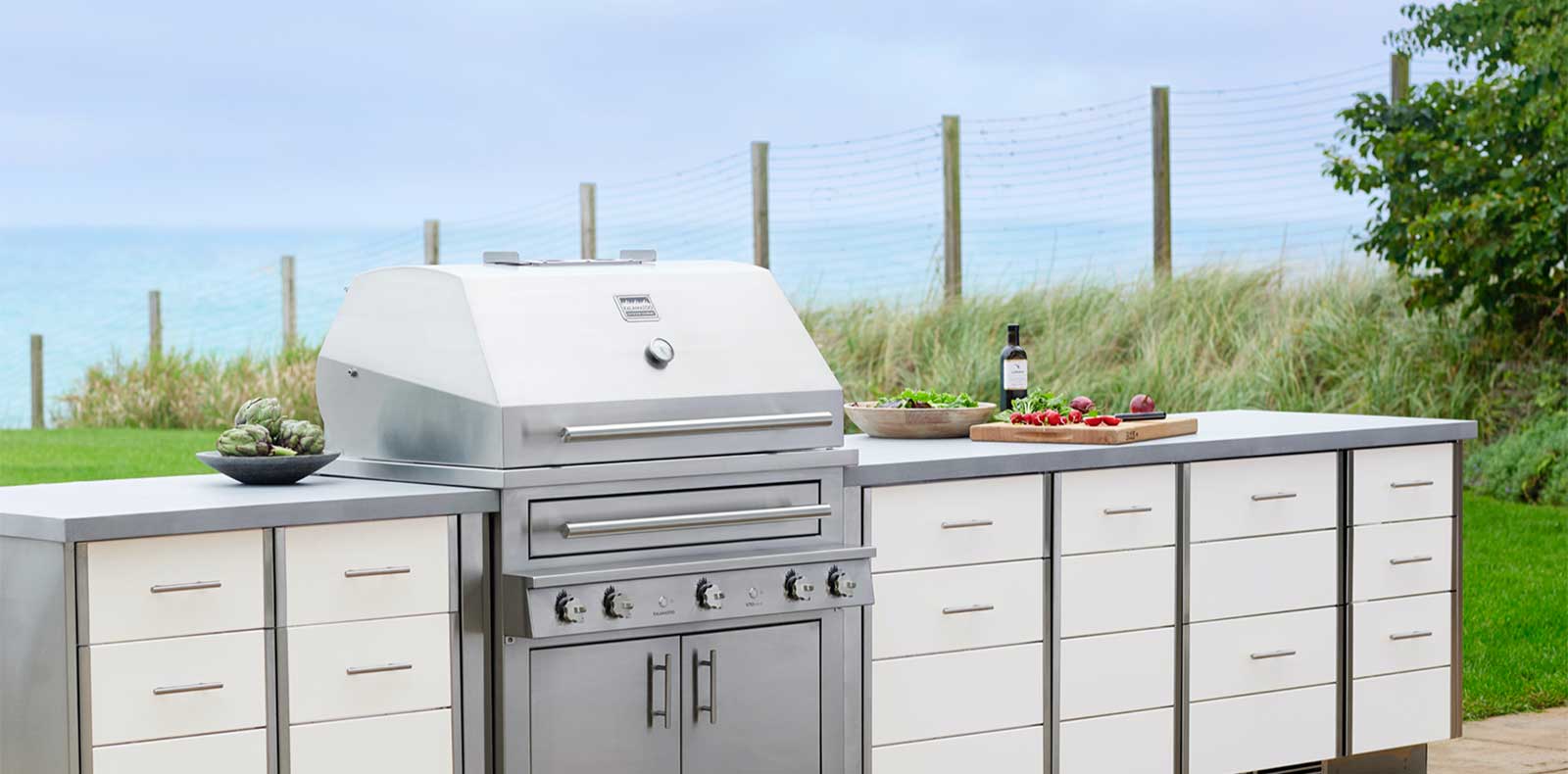 Opal Green: RAL 6026 | Signal White: RAL 9003 |
Signal Black: RAL 9004 | Grey Aluminium: RAL 9007
"We often design homes set within beautiful landscapes and surrounded by lush, classical gardens and plantings. Not to be overlooked is a well-designed outdoor living area: a quaint place to dine, a cozy and elegant space to lounge, gardens and sculpture to intrigue, and a beautiful kitchen in which to cook and gather. In our work we love the juxtaposition of classic and contemporary: a modern outdoor kitchen set within a formal garden is a striking design moment. With my color selections I had in mind outdoor kitchens of the Northeast and Midwest; kitchens that would work well surrounded by rolling hills, lush lawns, and stone walls. Our palette uses a classic black and white combination mixed with a deep opal green and a subtly shimmering silver—a palette that feels at once timeless and of today."
"Washington is a city of many walled gardens connected to historic homes. And we are a country that loves to cook on a grill! The finishes offered by Kalamazoo are singularly beautiful and also include colors that work with aged or new brick walls and stone paving. Often the space used for the grill is small and highly visible from the home's interior. I love the idea of seeing the grill as an object of pure design, in addition to its obvious utility. The fabulous colors offered by Kalamazoo, turn the practical and technical into an artful presence. Reviewing them I was reminded of the LOVE sculpture by Robert Indiana, and its remarkable presence in front of architecture. One almost wants to pick the color and then design the house!"

Violet Blue: RAL 5000 | Silver Grey: RAL 7001 |
Concrete Grey: RAL 7023 | Papyrus White: RAL 9018