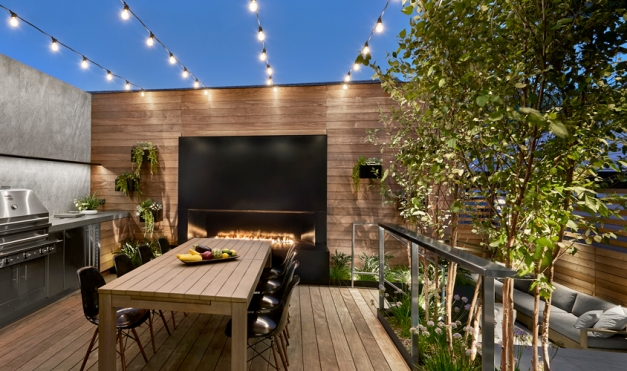 Kevin Toukoumidis is the founding principal of dSPACE Studio, a Chicago-based design firm dedicated to architecture, interiors and landscapes (and one of Kalamazoo's Featured Designers). Kalamazoo and dSPACE Studio recently worked together on a beautiful outdoor kitchen in the Lakeview neighborhood of Chicago. We recently spoke with Kevin about his design approach and his experience working with Kalamazoo.
Tell me about the Lakeview project. What was the scope?
The homeowners really wanted a city home and vacation home in one. They have this great city house that they share with their three kids, and they wanted to maximize their enjoyment of it, especially in the summer months. They were able to purchase the neighboring lot to expand their side and back yards, and we were brought in to help them reconfigure the space to serve several purposes. An outdoor kitchen and dining area needed to be a major feature because they love to grill and hang out outside in the summer months. The family also wanted a protected outdoor lounge area for watching TV and relaxing in the shade, a side yard for the kids to run around and play in, and an outdoor pool, which was a major element of the overall design.
What challenges did you face with this project?
In general, it was a challenge to fit everything the homeowners wanted into the space. Chicago lots are long and narrow, and we had to plan everything carefully to avoid congestion.
The other major challenge we faced was creating a seamless indoor/outdoor experience with a first floor that is five feet above grade. We ultimately designed the space into four zones at different elevations; gentle transitions between the multilevel zones create a gradual slope from the first floor of the house down to the street-level side yard.
How did you work with the Kalamazoo team?
The homeowners knew they wanted a very high quality outdoor kitchen, and we had been aware of the Kalamazoo Outdoor Gourmet brand for years and knew that it offered the highest quality of outdoor appliances. So we brought the homeowners to the Kalamazoo showroom. We were all blown away by the quality, and it was a wonderful process working with the Kalamazoo team to make sure we chose the right products. We went back and forth on a couple of different layouts and product configurations to make sure they would give us the desired workflow and meet the goals of the homeowners, so they could get what they wanted from their outdoor space. We even received 3D models of the appliances that we were able to plug into our own 3D modeler and present to the client - that was very helpful. Ultimately, this is a one-of-a-kind custom outdoor space and forever home, so everything that went into it was thoughtfully chosen and we selected the most durable, highest quality materials. We wanted great design and products that will last - and we found them with Kalamazoo.