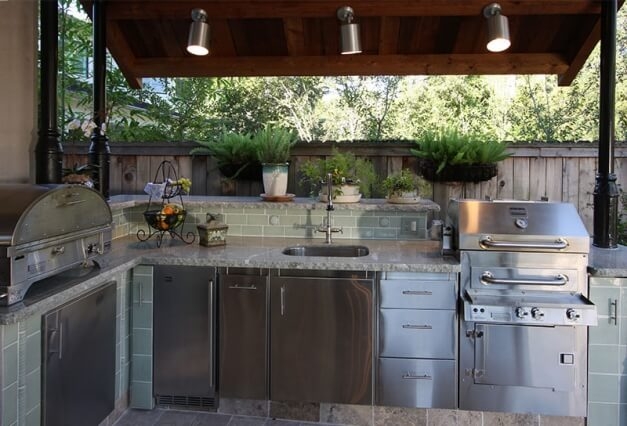 Interior Designer Dena Brody has practiced as a leading interior designer in Houston for over 30 years. Her experience and expertise is clearly reflected in the Kalamazoo Outdoor Gourmet kitchen she designed in Texas. Brody prefers to work closely with her clients to ensure her design addresses their unique requirements and individual lifestyle needs.
Located in an idyllic suburb of Houston, Texas, this outdoor kitchen is the heart of the backyard entertaining space which also includes a dining area, living room and pool. The kitchen was designed to maximize the space available and incorporates hidden storage spaces. It includes every outdoor cooking appliance a home chef could want for, resulting in a kitchen that rivals, if not exceeds, the functionality of the indoor facilities. Amongst these appliances are a Kalamazoo Hybrid Fire Grill, Artisan Fire Pizza Oven and weather-tight, stainless steel cabinetry for ample storage. The stainless steel appliances are not only highly durable, but easy to clean. Brody notes "there is no margin for error [in an outdoor kitchen]. It has to work. It can't just be pretty."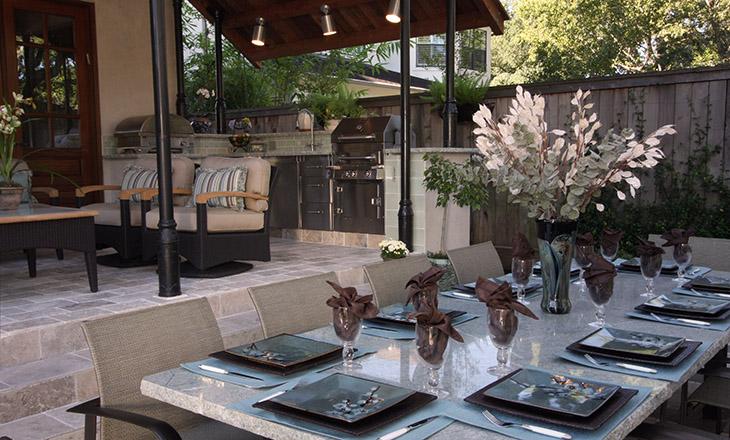 Dena Brody's Kalamazoo Outdoor Gourmet kitchen in Bellaire, Texas
The 'L' shaped kitchen moves the grill away from the exterior wall of the house to prevent it from becoming stained by grease and smoke from grilling. Brody primarily used Kalamazoo weather-tight stainless steel cabinetry and managed to maximize space in other areas by creating pull-out storage where there wasn't enough room for cabinetry. She incorporated hidden pull out cabinets in the tiled sections to the right of the grill and the left of the ice maker. In order to maximize usable countertop space, Brody turned the sink sideways so the longer dimension runs front-to-back.
Well-designed lighting is an essential part of a functional outdoor kitchen. Task lighting was hung from the ceiling and strategically placed over the primary work station including the grill, sink and prep area to allow for cooking after the sun sets. Brody installed ceiling fans, heaters and misting systems throughout the kitchen, dining and living areas to help combat the intense Texas heat, making the space usable year round. To the same effect, the structure over the kitchen and lounge area was built to provide shelter from the sun and rain.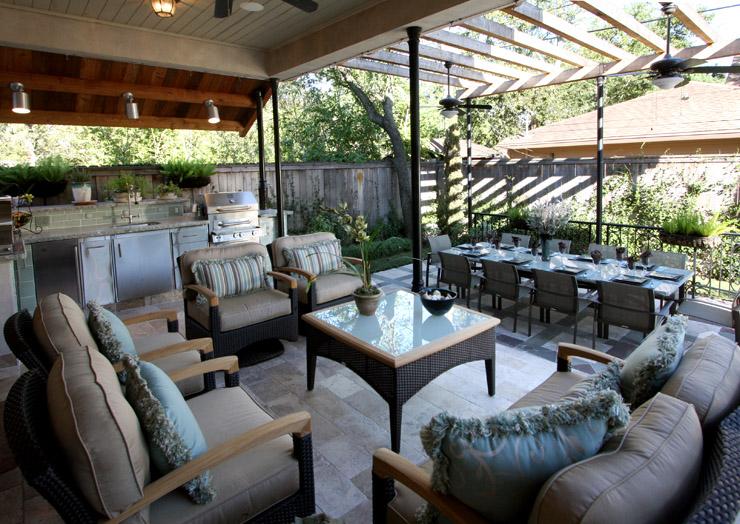 Dena Brody's Kalamazoo Outdoor Gourmet kitchen in Bellaire, Texas