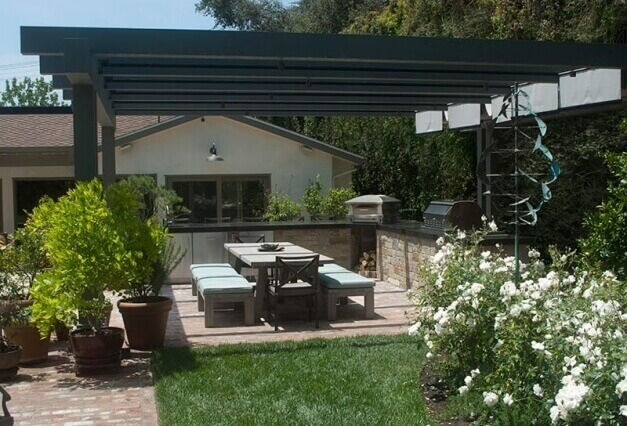 Russ Cletta, landscape architect and owner of Russ Cletta Design Studio in Venice, CA, offers his three thoughts on making outdoor kitchens that are effortless, exceed expectations and in tune with the landscape and architecture.
FORM FOLLOWS FUNCTION – THE OUTDOOR KITCHEN SIMPLY HAS TO WORK.
There is no one template that can be applied from one home to the next and each client has a different set of demands and requirements. You need to thoroughly understand the cooking process and how each individual intends to use the space. A successful design, along with suitable space planning, incorporates all of these factors. A close collaboration with the client can help steer away from preconceived notions and toward a cooking and entertaining space that far exceeds initial expectations.
INTEGRATION AND ARCHITECTURE - ARCHITECTURE AND LANDSCAPE ARE INSEPARABLE
Often, outdoor patio spaces are located immediately adjacent to the architecture without much thought for function, aesthetic or access. In the design process it's vital to understand the site, how different areas of the garden change during the course of the day and how the architecture relates to the landscape. More often than not, the most pleasant spot in the garden is away from the structure in an area that takes advantage of natural light or a particularly beautiful view.
As a designer, it frequently takes time to convince a homeowner that a spot further from the house is the better option. I account for this in the design process and typically take the client to the proposed area in the planning phase. We chalk things out on the ground to show the overall intent and make the appropriate adjustments on site. Instead of a patio, it becomes a destination and an experience; it's a 'build it and they will come' approach.
When this destination is an outdoor kitchen, the space also needs to be functional. The type and variety of kitchen equipment depends on the client's needs, but planning should account for refrigeration, cook surfaces, serving areas, sinks, lighting, storage and trash disposal in a layout that is practical and aesthetically pleasing.
WATCH AND LEARN – WHAT WORKS AND WHAT DOESN'T
If you're planning an outdoor kitchen for yourself or for someone else, observe some things the next time you're invited to a barbecue. Watch how the host is preparing, cooking and serving food. Observe the guests and how they interact with the host and the space. Ask yourself some questions; is the space appropriately sized? Is the equipment in the correct location? Is clean-up a breeze? Look for what works and for what doesn't. A well designed outdoor kitchen should seem effortless. Learn from other peoples successful designs and incorporate these ideas into your own destination.
Based in Venice, CA, Cletta is a landscape architect who creates innovative and dramatic landscapes that reflect an artistic blend of form and function. His striking yet thoughtful designs bring together a deep understanding of aesthetics, horticulture, engineering, and client services, resulting in stunning contemporary landscapes with functionality that evolves over time to accommodate the changing needs of their users.