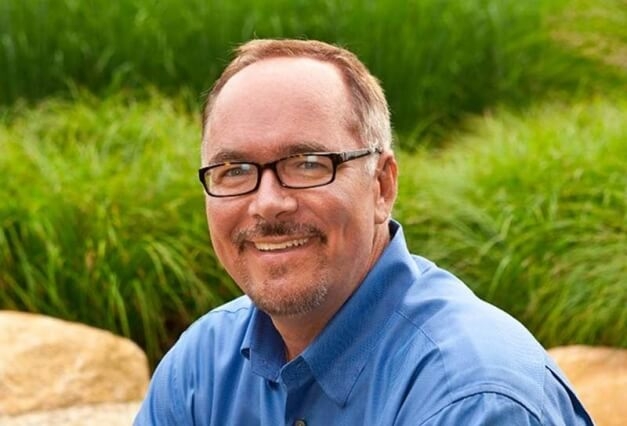 Eric Groft, principal and landscape architect at Oehme, van Sweden in Washington, DC, offers his three thoughts on making outdoor kitchens that are simple, tailored to a homeowner's own cooking and entertaining style, and easy to maintain.
ASK THESE 5 QUESTIONS
Groft always asks the homeowner: how is it going to be used; what is it going to be used for; where is it going to be used; when is it going to be used and who is going to be using it.
Those questions help him zero in on whether his clients need a big or small grill, one that cooks just with gas, or has hybrid capabilities.
Usage is all important, says Groft. Since the "heat source" [grill] is the one appliance that drives overall satisfaction with an outdoor kitchen "the first question I ask the client is, 'Will you be using this, or will your cook be using this,'" said Groft. He follows up by asking, "How much are you going to use it?"
"All of these questions can influence the size and the heat source. If it's a chef who needs a pizza oven, that's a whole other dimension," Groft said.
K.I.S.
"My advice is keep it simple," offers Groft about designing an outdoor kitchen. "Limit bells and whistles."
He thinks people can get carried away and have too many components. "Too many times everybody wants everything outside," Groft said. "Then it doesn't get used and it becomes a maintenance problem." More specifically, he advises that you help clients choose appliances that fit their own particular outdoor cooking and entertaining style.
Say the client's neighbors have a cooktop near the grill because they like to have crawfish boils. The client just loves this. But when you ask if they'll ever do one, they tell you no. Then you ask if they ever use a big stock pot to boil crabs, corn or something else. Again they say no. That means there is no reason to spec a cooktop burner for this client even though they love the one at their neighbor's house.
"Don't keep up with the Joneses," Groft said. "Tailor it [the outdoor kitchen] to a client's own needs."
ROLL AWAY
Groft is seeing a new trend developing among his clients. "I'm shying away from built-ins [grills] and going more with units that can be rolled away," he said. A freestanding grill with the same performance as a built-in gives these homeowners the cooking power they want and versatility. If they are having a party that doesn't involve cooking, the grill can be wheeled away which opens up space to entertain. It also opens up sight lines to the garden.