Gallery
Folsom, California
This Northern California retreat reflects a seamless connection to nature, providing a harmonious blend of modern design and serene surroundings, making it a true work of art in itself.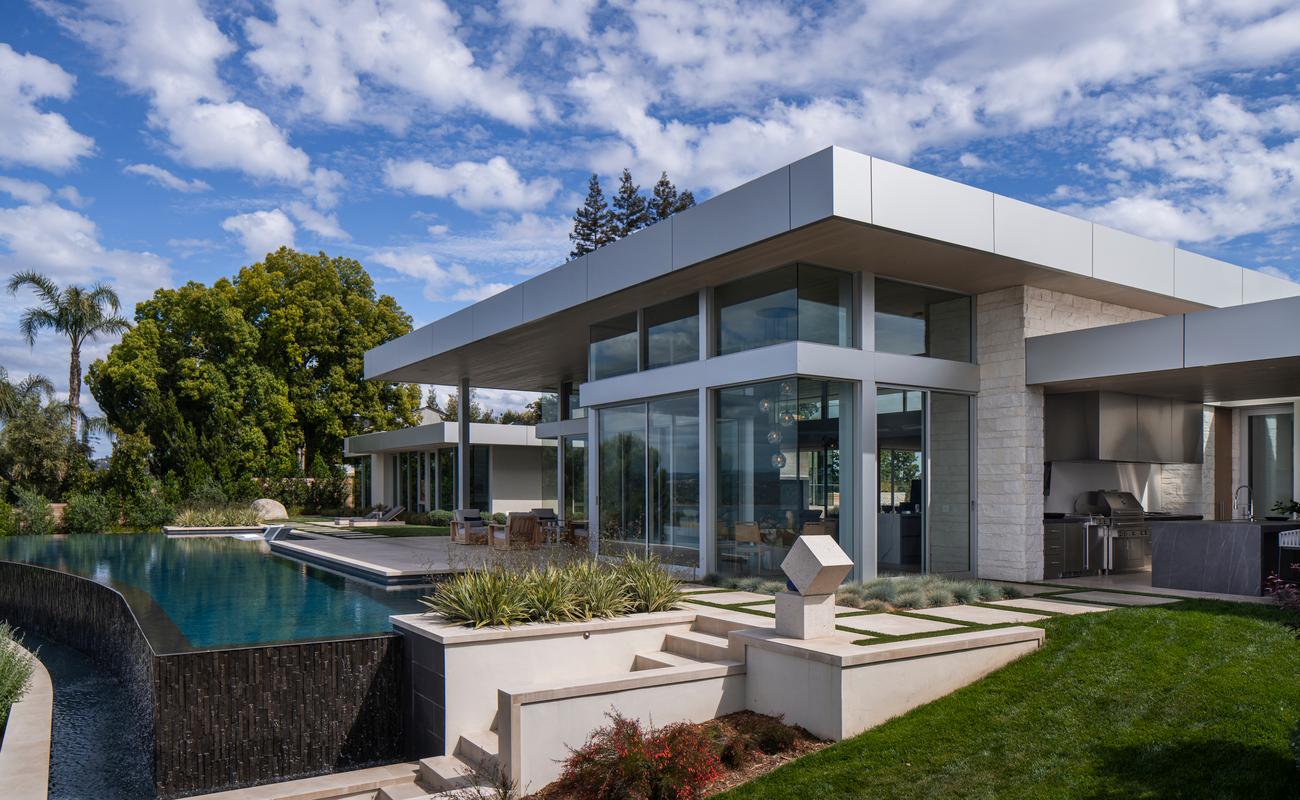 Folsom, California
By Paul McClean and James Magni
Renowned architect Paul McClean and designer James Magni joined forces to create a modern lakeside retreat, showcasing a profound connection between the indoors and outdoors. They were commissioned by a homeowner couple, a wildlife photographer and a ceramist, who sought to build a haven that would nurture their creative passions and embrace the surrounding landscape.
The couple acquired a prime waterfront plot overlooking Folsom Lake and envisioned a warm, modern home that stood out from the area's traditional Mediterranean-style residences. McClean, known for his glass-and-steel modern designs, aimed to infuse warmth and a spiritual aspect into the architecture while emphasizing the connection to the lake. "Our objective was to come in with a layer of warmth and luxury in materials and bring down the scale a bit to human proportions," he said.
In collaboration with landscape architect Ed Haag, McClean also created a waterfalls, sculpture garden, and 80-foot-long infinity-edge swimming pool. "We want to have the feeling and sound of water all around you," he explained. "Pools bounce the light into the house and you get these beautiful reflections."
Sensorial tranquility is a major theme, especially in the shaded outdoor kitchen with a living green wall overlooking the lake. This modern design features Kalamazoo's flagship K750HB Hybrid Fire Grill alongside a Built-in Double Cooktop, Gravity Smoker Cabinet and seamlessly integrated line of Signature Series cabinetry and refrigeration. The design incorporates a wide range of concealed dry storage and a 24-inch outdoor refrigerator. "I chose Kalamazoo not only for their looks and quality but for the versatility. I can grill with gas, charcoal or wood. The smoker is great and it will hold a constant temperature for as long as it has fuel. Kalamazoo definitely is the Rolls Royce of outdoor kitchen appliances," said the homeowner.
The stainless steel galley-style kitchen is timeless, sleek, and fully functional as a satellite kitchen, incorporating a sink and plenty of storage and refrigeration to entertain any number of family and friends at a moment's notice.
The 8,000-square-foot home features a tripartite layout with expansive glass elements, high ceilings, and luxurious materials like cedar ceilings, limestone walls, and oak floors. Magni added a layer of warmth and luxury to the grand spaces, ensuring a comfortable and inviting atmosphere enhanced with the homeowners' incredible original art collection.