Gallery
El Paso, Texas
An award-winning design by Lake / Flato thoughtfully blends the natural landscape and harsh arid climate with modern living and entertaining in West Texas.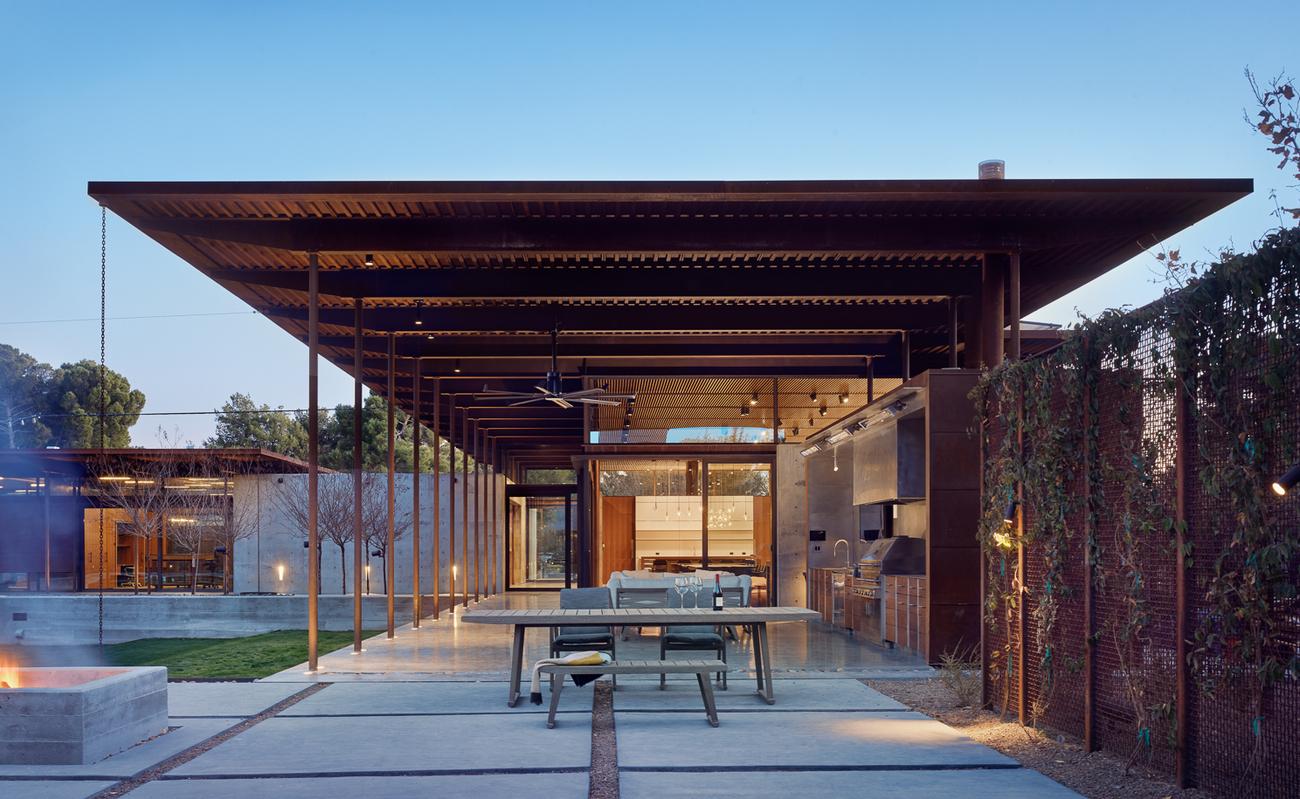 El Paso, Texas
By Lake | Flato
Designed to respond to the context of El Paso's formidable and diverse topographical personality, the Courtyard House by Texas-based architects Lake | Flato is a place for family to gather and entertain. Sited next to the client's existing home of cast-in-place concrete, this new addition was envisioned as an entertaining and living space.
With the Franklin mountains as the backdrop and a suburban neighborhood as the immediate context, a large-scale addition was appropriate to the vast setting. The Courtyard House's materiality, including concrete, stone and COR-TEN steel connects the project to the existing home through a large courtyard and ensures long-term durability. In addition to serving as the connecting element between old and new, the courtyard acts as storm water retention and is defined by gabion walls, which are seen throughout the project to define indoor/outdoor courtyard spaces.
The courtyard organizes the family's activities: a pool, an orchard, an outdoor kitchen and 8-foot overhangs shading expanses of glass ensure a welcoming atmosphere. Inside the new concrete structure, two offices, a home gym, a spa and a garage for a car collection make a meaningful destination. Interior walls of quarter-sawn walnut and slatted wood ceilings contrast with the harder exterior surfaces, creating a mellow interior and a much-needed respite from the harsh and arid El Paso climate. "We used wood in places where you touch and interact with it," said project manager Steve Raike, AIA.
A custom outdoor kitchen by Kalamazoo, shower, and meditation space commune with the courtyard. "El Paso is a tough environment, very dry, and the sun is intense," said Raike. "We looked for a material palette that would be durable for the long run." The outdoor kitchen features a sleek Arcadia Series cabinetry run in oiled ipe wood, a material used for its warm aesthetic, outdoor durability and elegant patination over time. Kalamazoo's K1000HB Hybrid Fire Grill anchors the run while providing ample cooking surface area for larger gatherings. A Built-In Double Cooktop flanks the grill, allowing the homeowners and chefs to expand their outdoor cooking possibilities for any dish.
The home's sustainable features, such as the underground stormwater channels and solar arrays showcase its commitment to both the environment and aesthetic excellence. The Courtyard House stands as a place uniquely rooted in its surroundings, earning accolades for its exceptional execution.