Downtown Chicago, Illinois
This outdoor kitchen belongs to renowned Chicago Chef, Stephanie Izard. The space serves as an urban retreat for the busy chef.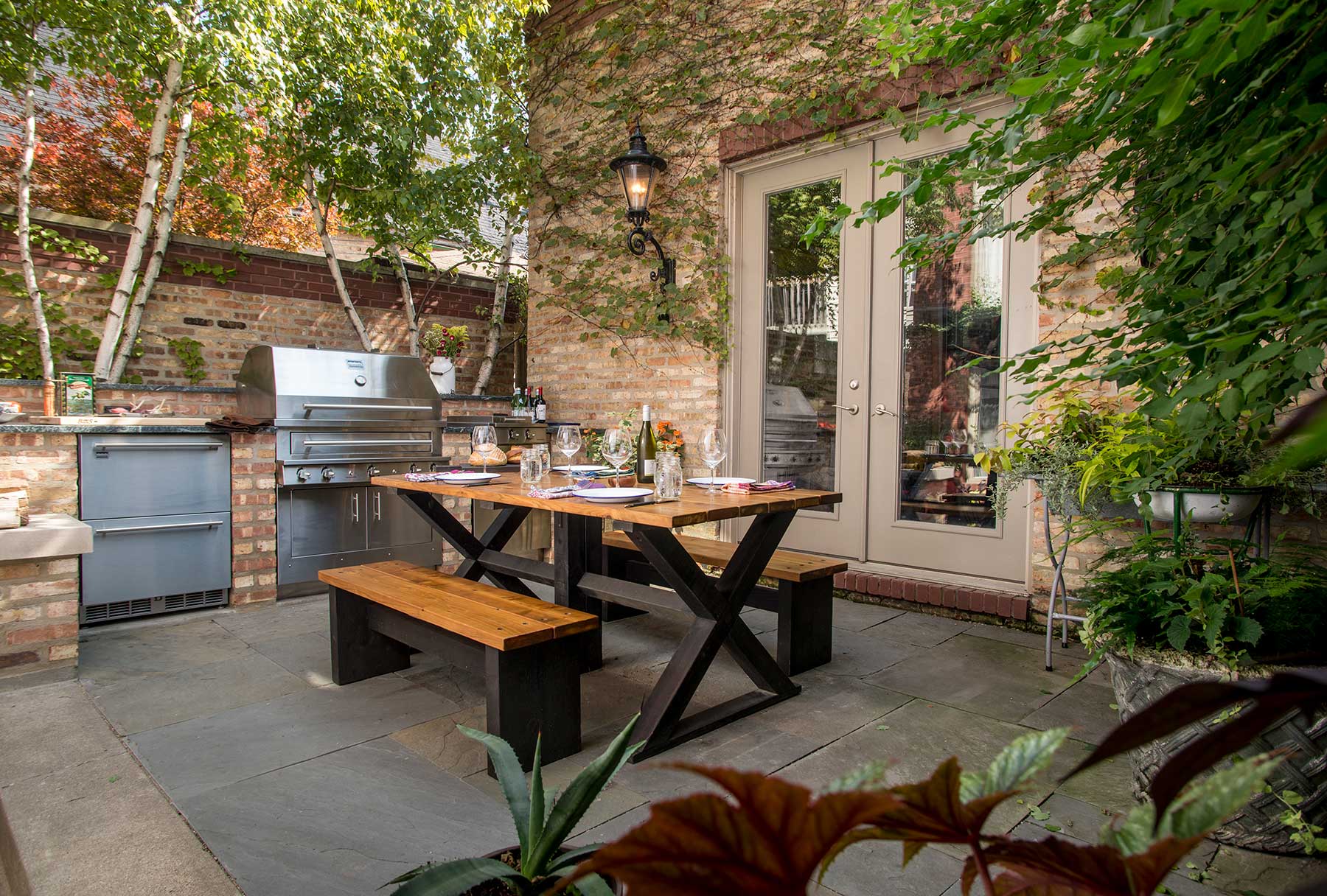 Downtown Chicago, Illinois
Tucked away in an urban Chicago backyard, this outdoor kitchen proves that you don't need an expansive space to build an amazing outdoor kitchen. The owner, Chef Stephanie Izard, uses live fire cooking at her acclaimed Chicago restaurant Girl and The Goat, and wanted to bring that same intensity and flavor to her own backyard.
When designing the outdoor kitchen, the design experts at Kalamazoo took into account the couple's cooking and entertaining needs. The centerpiece of this outdoor kitchen is a K750HB Hybrid Fire Grill. This allows Izard to cook with gas, charcoal, or wood so she can recreate the same incredible flavors of her restaurant dishes in her backyard.
Stephanie's husband, beer expert Gary Valentine, wanted to make sure there was ample storage for his impressive beer collection so he can pair it with everything his wife pulls off the grill. A 2 drawer refrigerator was installed to keep Valentine's beer chilled, even on scorching Chicago summer days. And for anything that doesn't need to be cooked on the grill, two built-in cooktop burners next to the grill can take care of everything else.
All of this is set into a classic brick enclosure that blends beautifully with the surroundings. A shelf is built into the brick to store the wood for the grill. Large soapstone countertops sit above the outdoor refrigerator, the grill and the cooktop burners, providing plenty of prep and serving space. A large, rustic picnic table sits at the center of the outdoor space and has ample room for guests to sit and enjoy a meal together. In the summer, Stephanie loves having her friends over to hang out, have a couple of beers and enjoy snacks as they come off the grill. "I use my outdoor kitchen as much as possible! It's fun and less of a mess than using the stove inside," she says.
Trees and bushes surround the area giving it privacy from the neighbors and making it feel like a retreat from the busy pace of the city – an important design element when crafting an outdoor kitchen in a large city, with only a little space available. But in this case, it has been done perfectly, creating an escape Izard, Valentine, and their dog Burt can enjoy for many years to come.