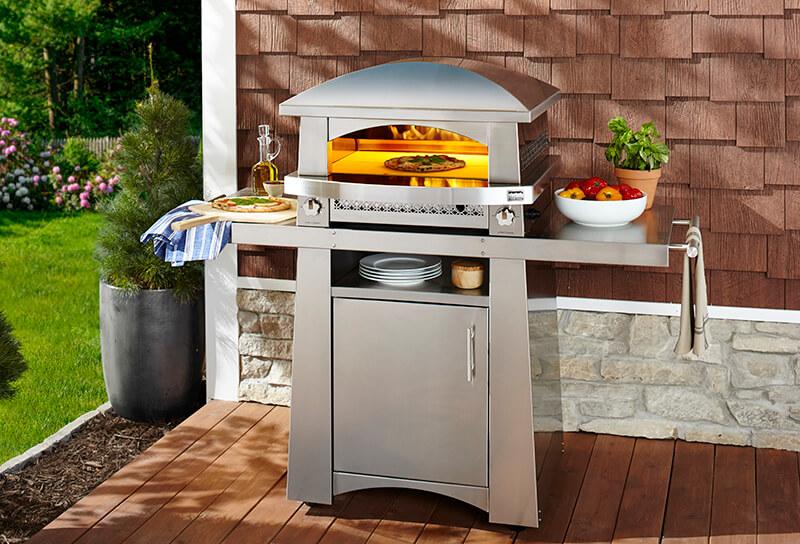 March 02, 2016
Associated Press
Associated Press writer Karen Schwartz recently reported on the growing trend of at-home pizza ovens. She explains that more people are choosing to stay home and make gourmet pizza, rather than eat out or order delivery from nearby pizzerias.
Of course, it's a trend that we've seen grow throughout the years with our Artisan Fire Pizza Oven collection, which we've recently expanded with our new freestanding pizza oven. This model joins the original countertop design and the built-in version. As Schwartz points out, our countertop pizza oven "can be packed up for a tail-gate party."
As the Associated Press is a media syndicate, the article was well-received and featured in many publications across the U.S. and Canada, including San Francisco Chronicle, Yahoo!, Washington Post, ABC News, Houston Chronicle, San Diego Union-Tribune, National Post, Vancouver Sun and more.
---
Pizza Ovens Are Hot For The Kitchen or Backyard
Another company, Kalamazoo Outdoor Gourmet, has a $6,900 outdoor countertop model called the Artisan Fire Pizza Oven that can be packed up for a tail-gate party.
"It comes in three layers. Each layer can be easily unstacked and moved by one person," said company spokesman Bradley Carlson.
"It's not only about the grill anymore," he said. "People are becoming more sophisticated in terms of what they're cooking outdoors."
Last year, the company unveiled a version of the Artisan Fire Pizza Oven that can be built into brick, stone or concrete for a clean look in an outdoor kitchen. It costs $8,300, plus installation.
At the kitchen show, Kalamazoo debuted an $11,000 "rolling pizza station" that holds the Artisan Fire oven and features built-in bins for storing toppings.
Kalamazoo's Artisan Fire differs in both form and function from the Lynx Napoli, so consumers should do their homework and investigate the scores of pizza-oven options available today from specialty shops and hardware stores.