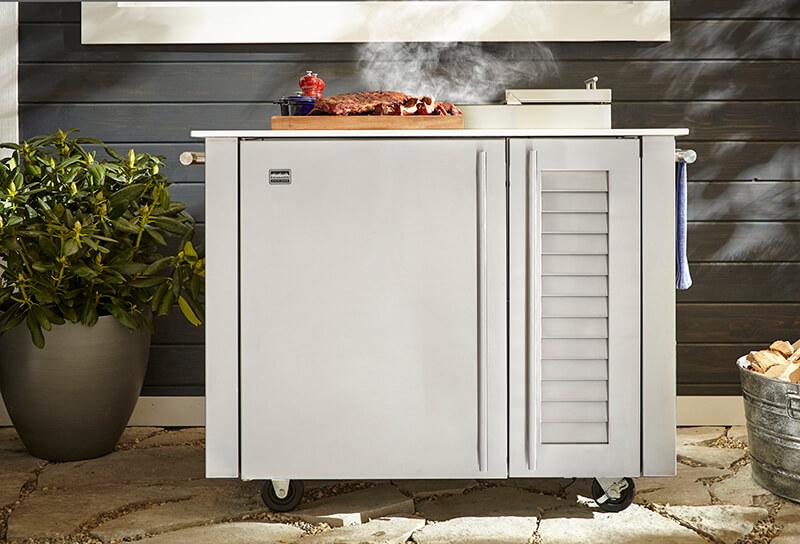 For many of us, after we've thawed from winter and a not-so-warm spring, it means that the start of another grilling season is finally in sight.
This one is particularly special for us because it'll be the first with our new Smoker Cabinet. Released in January, it's a competitive-grade barbecue smoker for the at-home outdoor cook. It uses gravity-feed charcoal technology with an insulated and sealed design for maximum efficiency.
It's already gained attention from our clients and homeowners, but now, the media is also taking notice.
Forbes' Larry Olmsted was impressed with the under-counter version, commenting that "Kalamazoo just invented a whole new category." Uncrate echos to that sentiment by adding, "the Kalamazoo Smoker Cabinet will change the way you think about grilling and smoker meat."
The freestanding cart version was featured in the May/June issue of Popular Science magazine. The publication notes that the "sensors on the cooking grate reports the temp three times per second, signaling tweaks to the coal-stoking fan's speed to maintain a meat-perfect 225 degrees."
Meanwhile, it was also included on Architectural Digest's list of "13 Ways to Decorate Outdoors" this season.
We're excited to add this new innovation to our ever-expanding product collection. It will be joined by our newly unveiled Arcadia Cabinetry Series, which will be available for purchase later this summer.