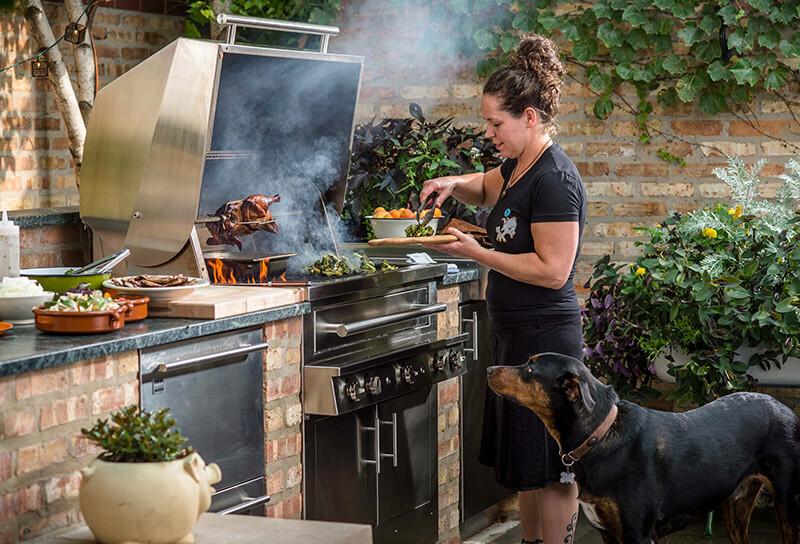 August 31, 2015
Chicago Tribune
Stephanie Izard is one of Chicago's most celebrated chefs with two wildly successful restaurants, Girl and the Goat and Little Goat. She recently invited the Chicago Tribune into her home to show off her Kalamazoo outdoor kitchen.
With two busy restaurants, and the highly anticipated Duck Duck Goat opening soon, Izard is busier than ever. When it's time for a relaxing night in, Izard, her husband Gary Valentine and their dog Burt love to grill and entertain in their Kalamazoo outdoor kitchen. Her favorite feature of her backyard space is the Hybrid Fire Grill; specifically the ease and cooking flexibility it affords her. In this article she discusses some of her favorite flavors, foods and cooking techniques. She also shares a delicious recipe for quick marinated pork chops.
---
Girl and Her grill: Stephanie Izard at Home in her Outdoor Kitchen
"Ever since her win on Bravo's "Top Chef," Stephanie Izard has been riding a wave of accolades for her culinary skills. On top of the huge success of Girl and the Goat and Little Goat, the James Beard Foundation award-winning restaurateur soon will open a third restaurant — with a Sichuan tilt. Duck Duck Goat is on target for a November launch at 857 W. Fulton Market.
But I had heard about another Izard venue — the outdoor kitchen in her own West Loop backyard — and wondered how a star chef (and her craft beer consultant husband, Gary Valentine) host that all-time classic American party, the backyard barbecue. Lucky for us, Izard was willing to share her barbecue secrets, from style notes to recipes."