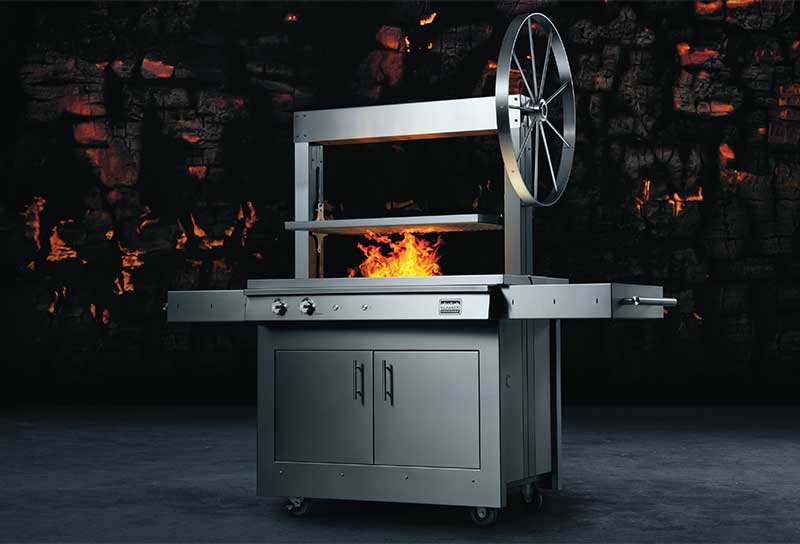 June 20, 2016
Gear Patrol
The wood-fired Kalamazoo Gaucho Grill is featured in the "Wishlist" of the latest edition of Gear Patrol magazine.
Editor Nick Caruso calls it "more than a grill" and a "hand-crafted, made-to-order heirloom." He later describes it as "superior" and "unrivaled." We couldn't agree more. Photographer Henry Phillips captured the beauty of its sleek lines and stainless steel.
To read more stories like this, check out Gear Patrol's new print edition. Issue Two is the second installment of the magazine. It is now available at various newsstands and bookstores through the U.S. For more information and locations to find it, check out: http://gearpatrol.com/magazine
---
WISHLIST
KALAMAZOO GAUCHO GRILL
By Nick Caruso
Photo by Henry Phillips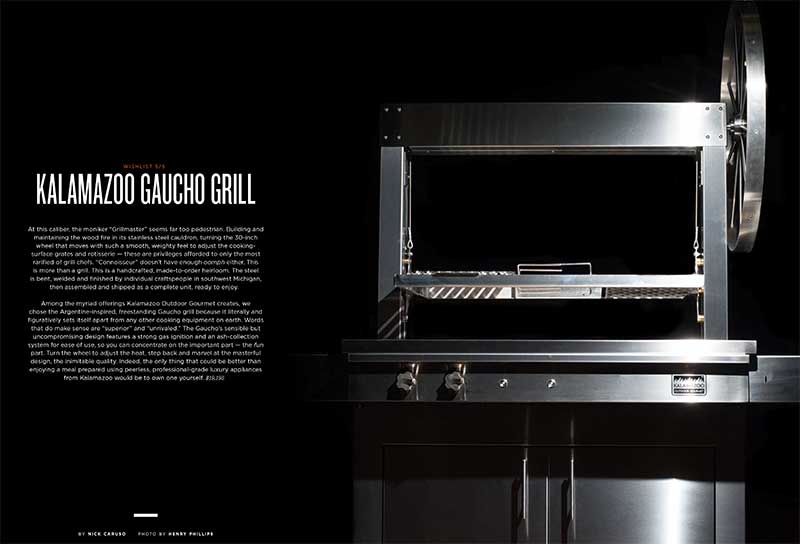 At this caliber, the moniker "Grillmaster" seems far too pedestrian. Building and maintaining the wood fire in its stainless steel cauldron, turning the 30-inch wheel that moves with such a smooth, weighty feel to adjust the cooking surface grates and rotisserie — these are privileges afforded to only the most
rarified of grill chefs. "Connoisseur" doesn't have enough oomph either. This is more than a grill. This is a handcrafted, made-to-order heirloom. The steel is bent, welded and finished by individual craftspeople in southwest Michigan, then assembled and shipped as a complete unit, ready to enjoy.
Among the myriad offerings Kalamazoo Outdoor Gourmet creates, we chose the Argentine-inspired, freestanding Gaucho grill because it literally and figuratively sets itself apart from any other cooking equipment on earth. Words that do make sense are "superior" and "unrivaled." The Gaucho's sensible but uncompromising design features a strong gas ignition and an ash-collection system for ease of use, so you can concentrate on the important part — the fun part. Turn the wheel to adjust the heat, step back and marvel at the masterful design, the inimitable quality. Indeed, the only thing that could be better than enjoying a meal prepared using peerless, professional-grade luxury appliances from Kalamazoo would be to own one yourself. $19,195
Copyright: Gear Patrol