A Category of one
What Makes the Hybrid Fire Grill So Much Better Than the Rest?
Innovative Engineering.
The Most Dynamic, Even Heat
The Hybrid Fire's innovative design opens up the space inside the body of the grill, especially below the grate. This key design departure significantly enhances grill performance. It gives air more room to circulate, creating more even, efficient heat. On a traditional grill the distance from the grate to the bottom of the grill is less than 10 inches. In a Hybrid Fire, the bottom of the grill is 29 inches away; that's nearly three times the height. The additional space enhances air flow, creating a convection effect optimal for roasting and smoking. Our gas burners sit more than 9 inches below the grill grate, creating consistent heat throughout the entire grill, while delivering cooking temperatures far hotter than any competitor. Every Hybrid Fire Grill features this unique design, even the built-in models.
Hybrid Fire Grill Competitor Grill



REVOLUTIONARY HYBRID FIRE DESIGN
The Hybrid Fire Grilling Drawer makes changing fuels incredibly simple. For powerful gas-only grilling, simply leave the drawer empty. Or, place a bed of charcoal or wood in the drawer for flavorful live-fire cooking, and turn on the gas burners to get the fire started. The channels of the drawer are angled to shrug off ash, protecting the gas burners below. More fuel options unlock so many cooking techniques and flavors. The Hybrid Fire can reach temperatures as low as 250 degrees, and as high as 1000 degrees. Sear a thick prime-rib steak over the dry heat of a charcoal fire, then let it roast as it bathes in flavorful wood smoke. Or, rotisserie roast a leg of lamb to perfection over a live wood fire. Every grilling and barbecue method is at your disposal.
CUSTOM GAS BURNERS
Our robust bronze grill burners are cast in small batches to maintain the highest possible quality. Each one weighs in at a hefty 14 pounds. They are custom designed for the Hybrid Fire Grill and strategically placed within it for the most powerful, even heat, each one offering 25,000 BTUs of grilling power.


EXQUISITE AMERICAN CRAFTSMANSHIP
Every grill is formed, welded, finished and assembled by hand at our plant in Michigan from sheets of heavy-gauge stainless steel. More welding, more stainless, more bronze and more man-power goes into creating a Kalamazoo grill. Each unit is quite literally built like a tank. There are more than 43 linear feet of welding in one K750HB Hybrid Fire Built-in Grill — all TIG welded and finished by hand. Our dedicated craftspeople have spent years perfecting their skills. Our team takes so much pride in their work that the artisans who build each grill sign their names inside the cabinet door. When you choose Kalamazoo, you are purchasing a fine piece of American craftsmanship.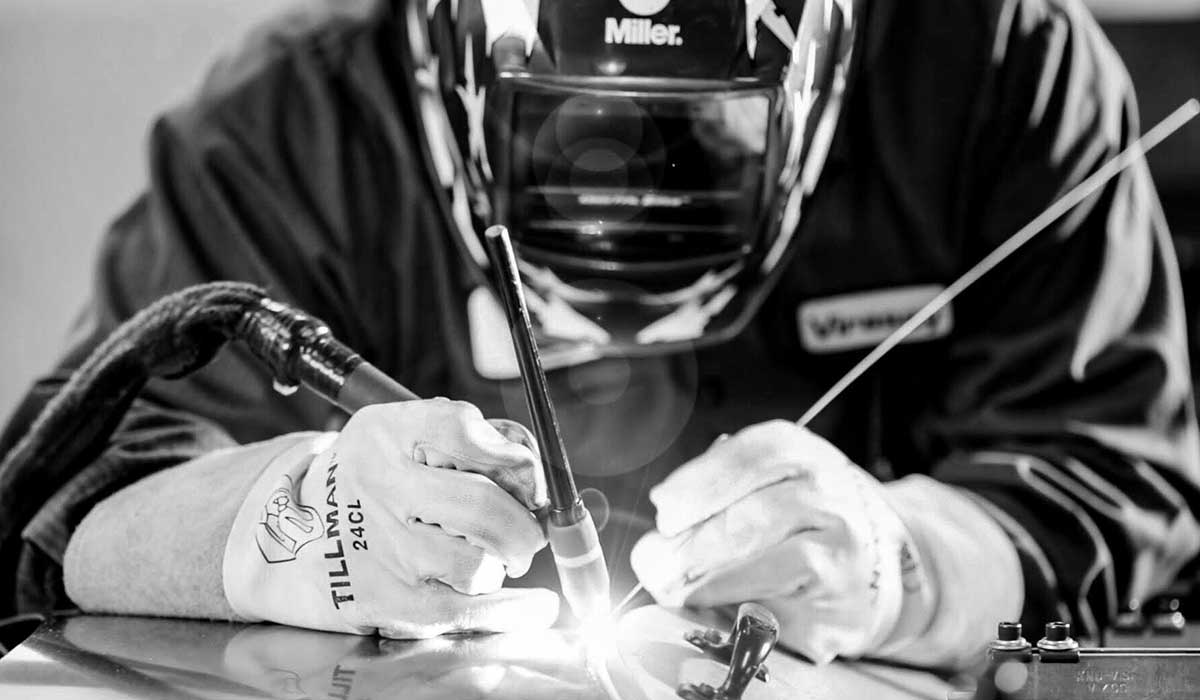 "part tank, with fire power and versatility to spare."
"This is more than a grill. This is a handcrafted, made-to-order heirloom."
"I've never met a grill that was so good at doing so many different things."
"This grill is impeccably machined and assembled with the best materials available…"
See what others are saying
Don't just take our word for it - read up on coverage and reviews from industry experts and noteworthy publications. Here is the latest "about us."
"High design and engineering meet primal smoke and fire."