AC-WCL-BX
Premium Cooking Wood Logs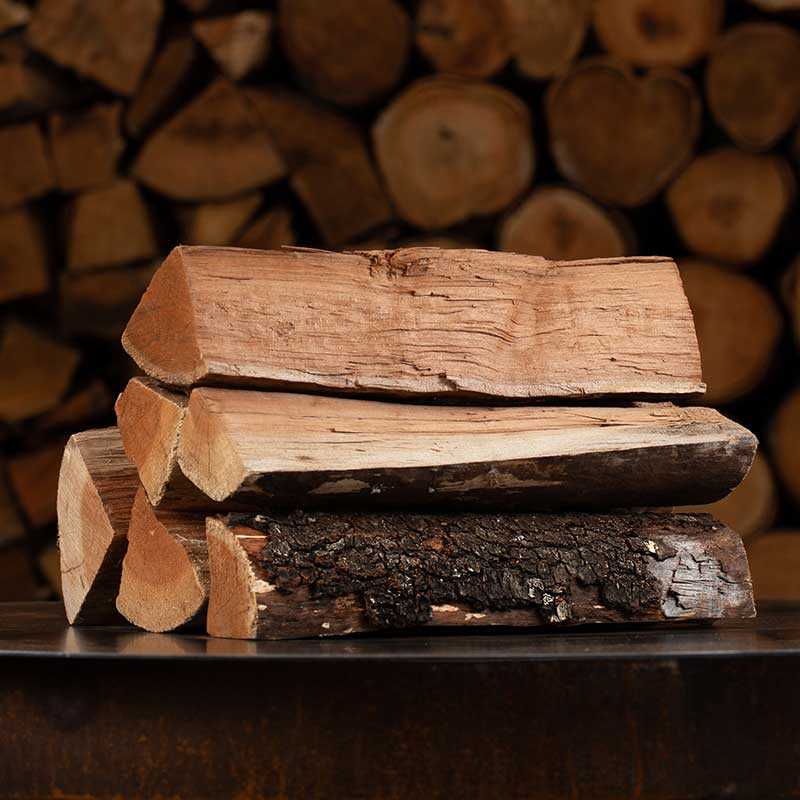 AC-WCL-BX
Premium Cooking Wood Logs
Starting at

$74 USD
Premium kiln-dried cooking wood logs in hard-to-find species. Ideal for fueling the Hybrid Fire or Gaucho Grill. Supplied in partnership with Cutting Edge Firewood.

Please note: all cooking woods ship free via ground, directly from Cutting Edge Firewood.
Premium Wood Options
Images shown may not represent all of your selected options.
Premium Cooking Wood Logs added to cart successfully.
Browse these related products before checking out.
View Cart
Product Features
Specifications & Resources
---
Product Features
---
Kiln-dried cooking wood logs can be hard to find, especially in this range of species. Each box contains about 50 pounds of 16-inch-long ultra-dry split logs. (Less water weight and more wood!) Fuel your Kalamazoo Gaucho Grill with home-delivered logs in white oak, hickory, cherry, apple, maple and even hard-to-find pecan. These logs are also perfect for wood-fired rotisserie in the Kalamazoo Hybrid Fire Grill following our guide.
We also offer white oak splits, which are smaller than these logs, and are sized perfectly to fit within the valleys of the Hybrid Fire Grilling Drawer.
The team at Cutting Edge Firewood in Georgia dries each batch of cooking wood in a 250°F oven for 48 hours, then cuts and hand-select logs for Kalamazoo clients.
Cooking wood logs ship free to the 48 continental United States.
Choose from these hard-to-find species of wood:
White Oak: Popular amongst professional chefs, oak wood is one of the most widely used hardwoods available and is known for its incredible heat and subtle smoky flavor. It creates perfect dishes without becoming too bold or overpowering, making it ideal for all types of red meat, pork, poultry, fish or vegetables.
Cherry: For many competitive barbecue teams across America, cherry cooking wood is a favorite for use with nearly any food. Cherry provides a rosy color and a sweet, fruity flavor in vegetables, chicken, turkey, pork, seafood and more.
Apple: Cooking with apple wood provides a sweet, apple-smoked flavor to your food and is a crowd favorite when cooking pork, poultry, seafood, and lamb.
Pecan: Pecan is the most legendary cooking wood in the South, lending a sweet flavor to your barbecue. A member of the hickory family, pecan burns hotter and longer, and it ignites quickly and easily.
Maple: The same type of tree that produces maple syrup can add a slightly sweet flavor to your cooking. Maple produces a mild smoke that won't overpower your food.
Hickory: Hickory wood is used by professional barbecue teams and chefs around the country. It has a neutral flavor, like oak, but with more "punch."
Specifications & Resources
---
Each box contains 50 pounds of wood and is 17" x 16" x 14"
Split logs are 16-inches long
Cooking woods ship free via ground, directly from Cutting Edge Firewood.
---
We're here. We're available.
Questions arise. Let us know what you're thinking. Also, we can help make your outdoor kitchen vision—whatever it is—into an actionable plan.
Contact Us
Design Support