AC-PMEK
Pizza Making Essentials Kit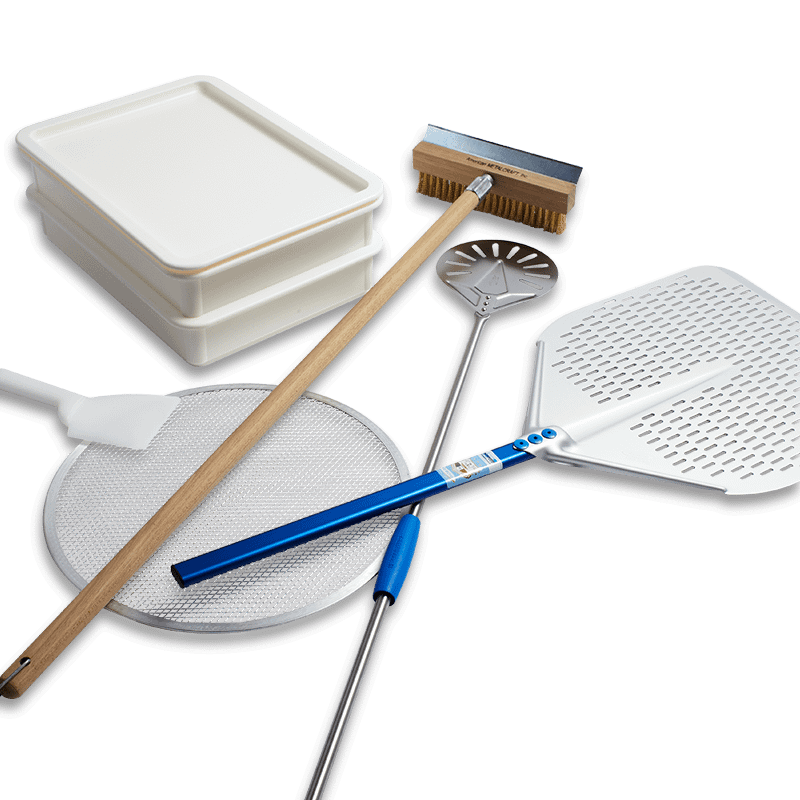 AC-PMEK
Pizza Making Essentials Kit
$495 USD
Pizza making is an art and using the right tools is essential not only for better results, but for a more enjoyable cooking experience. We have handpicked the best tools used in restaurants in Italy and tailored them for in-home use.
---
The Pizza Making Essentials Kit includes everything you will need to make authentic, Napoli-worthy pizzas at home. The kit includes two pizza peels, a screen, stacking dough storage boxes, a dough scraper and a brass brush to clean the deck of your pizza oven.
Product Features
---
16-inch perforated rectangular peel for transfering pizza from the countertop into the oven. Perforated design reduces the amount of flour on the bottom of the dough while allowing the pie to slide off easily into the oven.
6-inch articulated peel for rotating pizza in the oven and removing it when cooked. Features a sliding grip to make it easy to rotate and manipulate pies.
Long handled push-broom style brass cleaning brush with stainless steel scraper. Brass bristles clean the cooking deck and pull crumbs into the cleanout tray while the scraper removes burnt cheese and other stuck on items.
Two 18 x 26 x 3.5 inch stacking dough boxes for storing dough while rising or resting. Scaled-down version of the boxes restaurants use to keep dough balls ready for use. One box holds a dozen 10-ounce dough balls.
Dough scraper for splitting and lifting dough without bruising.
16-inch aluminum pizza screen designed to slide under the pizza in the oven to slow down the browning of the crust.
We're here. We're available.
Questions arise. Let us know what you're thinking. Also, we can help make your outdoor kitchen vision—whatever it is—into an actionable plan.
Contact Us
Design Support