AC-CDY-APRON
Black Denim Grillmaster's Apron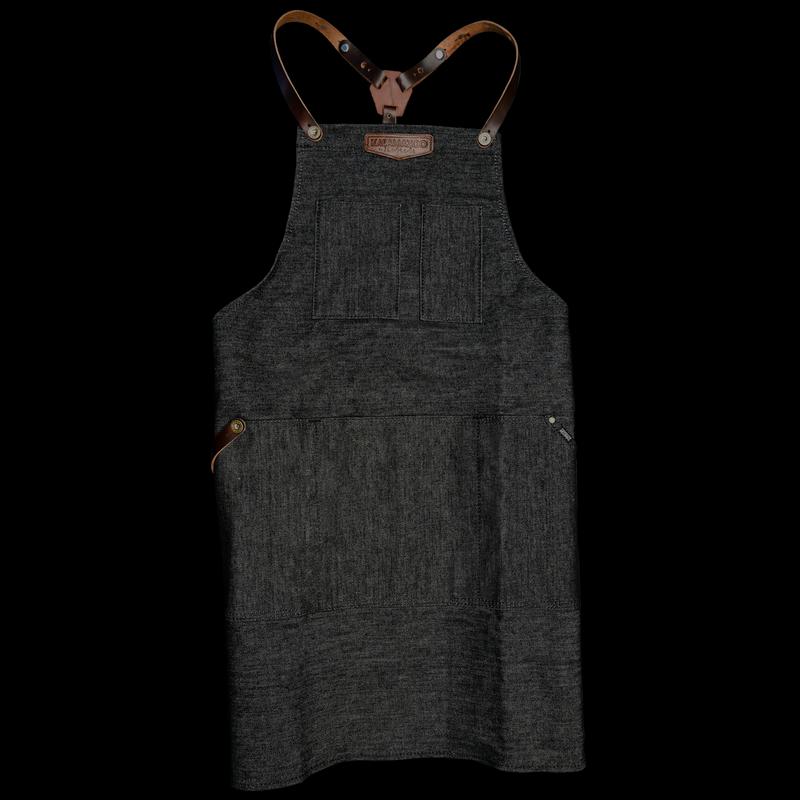 AC-CDY-APRON
Black Denim Grillmaster's Apron
$189 USD
A high-quality grilling apron does more than just keep your clothes clean; it also provides protection from the intense heat of a grill. Our premium Grillmaster's Apron is crafted from sturdy, 13-ounce American-made denim and features an adjustable leather Y-harness that evenly distributes its weight across your shoulders and back, ensuring a comfortable fit even during extended wear. With this apron, you can confidently manage a blazing wood fire and tackle high-heat outdoor cooking.
Charcoal & Accessories Options
Images shown may not represent all of your selected options.
Black Denim Grillmaster's Apron added to cart successfully.
Browse these related products before checking out.
View Cart
Product Features
---
Handmade in small batches in Omaha, Nebraska with 13-ounce black denim from North Carolina, leather straps and towel loop tanned in Chicago, and US-made solid brass hardware.
Phone pocket and Thermapen® pocket on chest.
Two slash pockets and one multi-purpose "kangaroo" pocket below the waist.
Waist, shoulder and back straps are adjustable for a custom fit and removable for laundering.
Available in regular and large sizes.
REGULAR SIZE
Apron length: 33in/84cm
Apron width: 30in/76cm
Bib width: 10.75in/27.3cm
Circumference at horizontal strap: 44in/112cm minimum, 51in/129cm maximum (designed for a loose and comfortable fit)
LARGE SIZE
Apron length: 37in/94cm
Apron width: 34in/86cm
Bib width: 11in/28cm
Circumference at horizontal strap: 54in/137cm minimum, 67in/170cm maximum (designed for a loose and comfortable fit)
Please note: these are hand-sewn items and there will be small variations in dimensions.
We're here. We're available.
Questions arise. Let us know what you're thinking. Also, we can help make your outdoor kitchen vision—whatever it is—into an actionable plan.
Contact Us
Design Support