AC-STK-KN
5-piece Steak Knife Set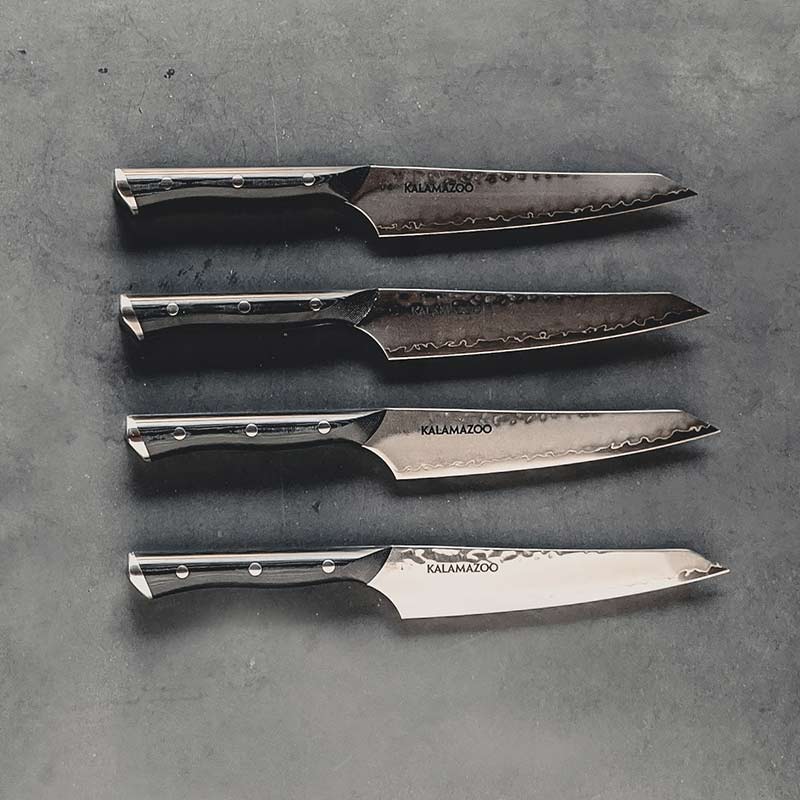 AC-STK-KN
5-piece Steak Knife Set
$600 USD
These steak knives are truly worthy of the finest steaks and chops you can imagine cooking on your Kalamazoo. Designed exclusively for Kalamazoo by our Grillmaster, these knives are meticulously crafted in Seki City, Japan. Each blade is forged from three layers of metal with stainless steel outer layers and a VG-10 core hardened to 61 HRC. The full tang construction features hand-shaped black canvas Micarta handles.

This product ships to customers in the US only.
Product Features
Specifications & Resources
---
Product Features
---
Set includes four steak knives and a hand-sewn cotton canvas and leather knife roll for safe transport between indoors and out
San mai forged construction with a VG-10 core for a long-lasting edge that is easy to re-sharpen.
Full-tang construction and polished stainless steel butt cap for great blade balance.
Hand-shaped and polished black canvas Micarta handles provide an ergonomic grip and are easy to keep clean and beautiful.
These knives are hand-crafted exlusively for Kalamazoo in Seki City, Japan, and they feature the tradional 17° sharpening angle of Japanese culinary knives. Kalamazoo steak knives have a plain edge (not serrated) for clean slices.
Specifications & Resources
---
Four 5 ½ inch steak knives
Blade length, 5.5 inches / 140mm
Overall length, 10.1 inches / 256mm
Blade thickness, 0.1 inches / 2.3
Tailored canvas and leather knife roll for safe storage and transport
---
We're here. We're available.
Questions arise. Let us know what you're thinking. Also, we can help make your outdoor kitchen vision—whatever it is—into an actionable plan.
Contact Us
Design Support