KALAMAZOO CULINARY PARTNER
Matthew Eads
We are excited to team up with Matthew Eads of Grillseeker.com as a Kalamazoo Culinary Partner, as he shares his creative recipes, hard-earned skills, and much more with our community.
We first crossed paths with Matthew Eads back in 2019, when he paid a visit to our Culinary Center in Chicago to test drive our products. Matthew had been on our radar for some time as a talented cookbook author, and the brains behind the popular grilling blog and online community, GrillSeeker. Upon meeting, we were impressed with his in-depth knowledge and masterful grill skills, but beyond that we deeply connected with his ethos that grilling is about more than recipes and tips; it's about camaraderie and creating shared experiences. A friendship between Matthew and Kalamazoo was sparked, as we bonded over a lifelong shared passion for live fire cooking and its many joys. Now, we are excited to officially team up with Matthew as a Kalamazoo Culinary Partner.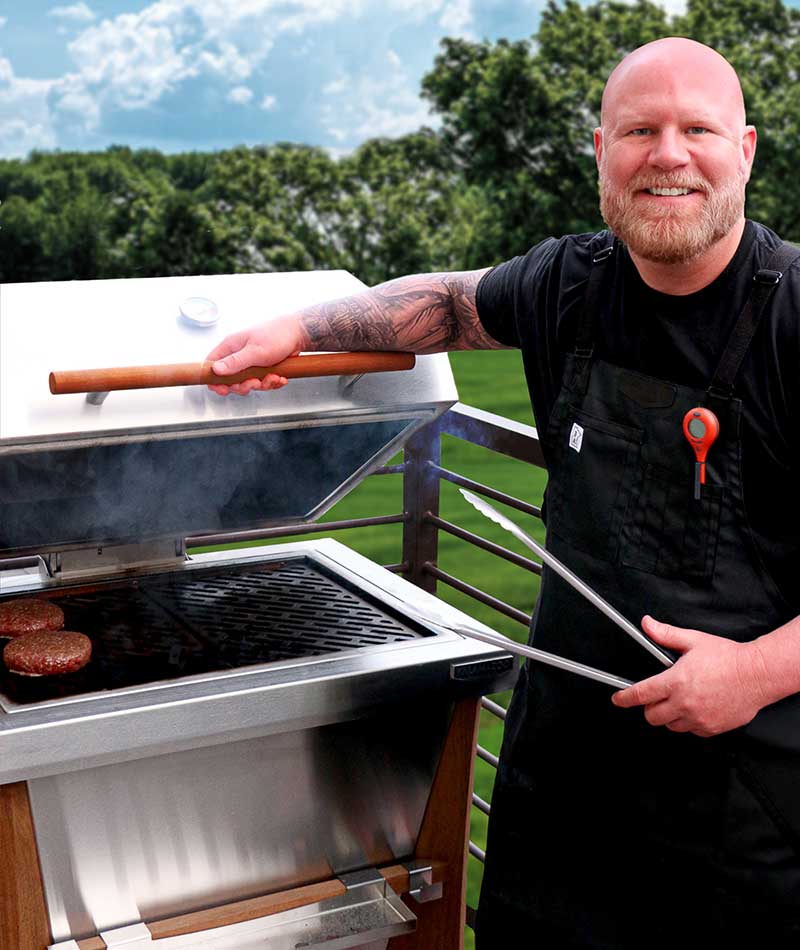 We sat down with Matthew to understand where his passion for live fire cooking started, what he loves most about grilling, his biggest grilling fail, and much more.
q: What do you love most about grilling?
A: "The process. The creative nature of kissing food with flame and smoke and bringing it to another level. My daughter would tell you that "dinner is never on time with dad." She's not wrong, and there's a reason for that. I really embrace the process and I know once dinner is served, the journey from raw ingredients to beautiful meal is over. I cherish every minute of the cook. No matter how great the meal is, I find myself a bit sad that the process has come to an end. So, I tend to slow roll it and enjoy the primal experience of grilling and default to "about an hour" when asked "when will dinner be ready."
Matthew Eads is a cookbook author, personal chef, food blogger, and regular cooking guest on national morning shows. His first book "Grill Seeker" was #1 in Amazon's grilling and BBQ category and details the basic training needed to make grilling an everyday pleasure for everyone. His second book will be released in April of 2022. His modest upbringing taught him to make the most of what was available and that the two main ingredients in every dish are passion and pride. Matthew's lifelong grilling education was a trial by fire—learning from mistakes, testing new ideas, and perfecting techniques to make the grilling experience not only fun, but consistently exceptional.
Matthew served 13 years in the U.S. Marines, where he continued to hone his skills, grilling for fellow Marines all over the world using his imagination and whatever was on sale at the commissary. Simple ingredients, good friends, and the joy of grilling made every meal a celebration.
Through subsequent careers as a stay-at-home dad and college student, corporate executive, and small business owner, Matthew always viewed time with the grill as a personal getaway and a way to recharge.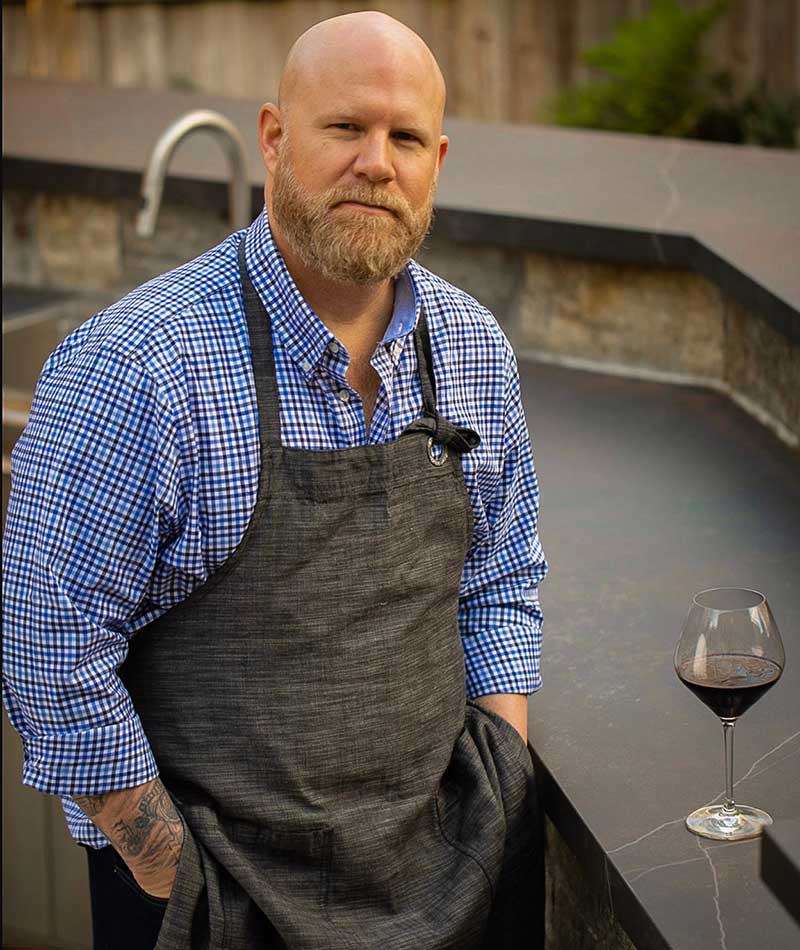 His passion for grilling and entrepreneurial spirit led to the founding of Grillseeker.com, a site filled with free recipes, unbiased product reviews, and tips for grillers at every skill level.
Matthew's years of practical application, experimentation, and thirst for knowledge have led to him becoming a thought leader in the space and trusted consultant for recipe development and product research and development. He has mastered the art of gourmet grilling and has a passion for teaching others the art of the flame and cooking over fire.
CONTENT GALLERY
---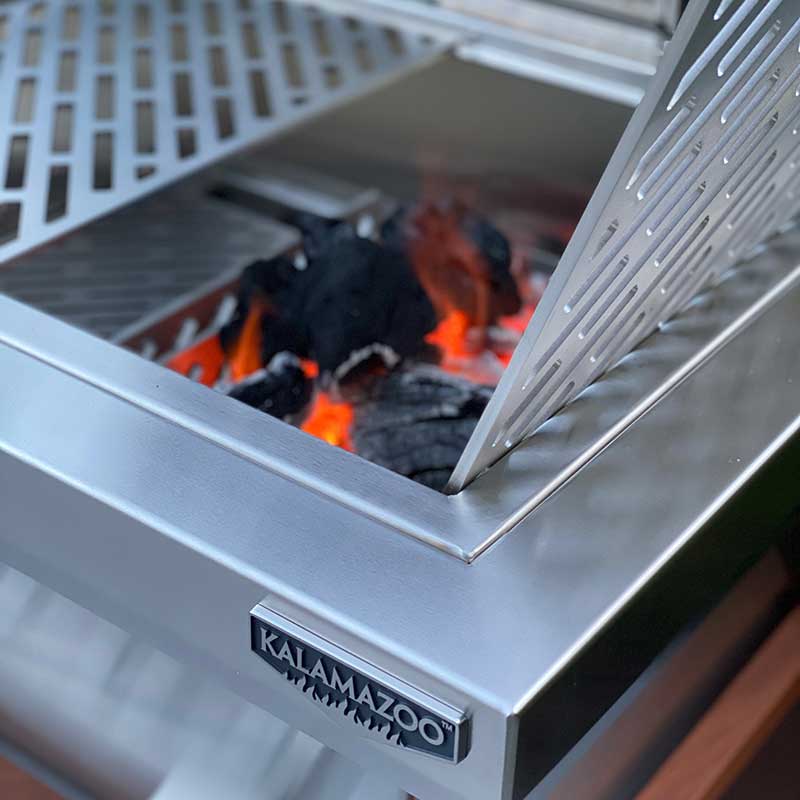 A REVIEW OF THE SHOKUNIN KAMADO GRILL
"It absolutely outperforms any traditional ceramic kamado cooker in every way."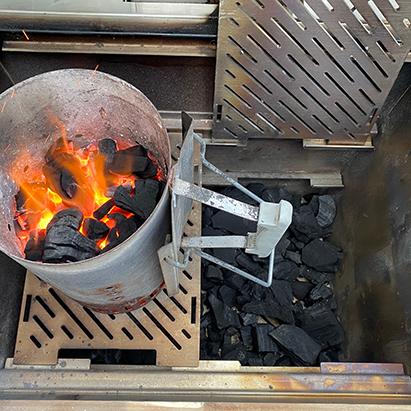 Low and Slow Cooking on the Kalamazoo Shokunin Kamado Grill
From setting up the grill and lighting the fire, to specific vent adjustments, this guide will give you tips on everything you need to know to cook low and slow in your kamado grill.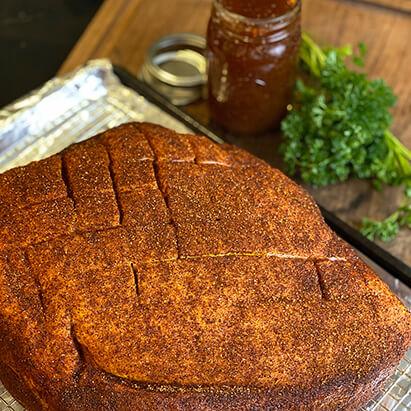 Eastern Carolina Style Smoked Pork Shoulder
"This recipe yields smoky sweet, tender and juicy pork that will be the talk of the neighborhood, assuming you're willing to share it."