Recipes
Zucchini Pizza Pinwheels
A lot like a calzone, but with a beautiful presentation, these pizza pinwheels are wonderful starters for parties. This fall creation blends fresh zucchini with Spanish cheese and sweetened tomatoes.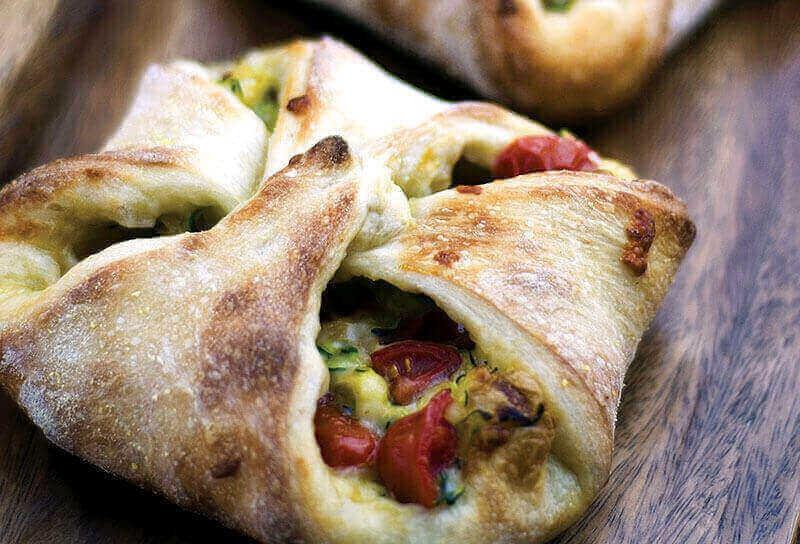 ---
Ingredients
28 ounces pizza dough
1 cup grape tomatoes, quartered
1 tablespoon light brown sugar
1 cup shredded zucchini (1 fresh zucchini should provide enough)
1 cup shredded manchego cheese
1/2 teaspoon fine sea salt
1 egg, beaten
Directions
Preheat your pizza oven or a pizza stone on the grill to about 450°F. See our guide to cooking pizza on the grill for more tips. Stir together the grape tomatoes with the brown sugar in a small bowl and let sit for at least 15 minutes. Spread the shredded zucchini out on a large cutting board and let it air-dry for 15 minutes. Discard the liquid in the tomato bowl and combine the tomatoes, zucchini, cheese and salt in a large bowl.
Roll out the pizza dough into a square about 15 inches to a side. Trim the large dough into four smaller, perfect squares, then roll those thinner until they are each roughly 8 inches to a side.
Start with one square. Stretch the corners to elongate them, making the dough into a four-pointed star. Transfer to a pizza prep peel dusted with cornmeal. Spoon the zucchini filling onto the dough in a square shape that is on a diagonal to the four-pointed star. Lift two opposing corners of the star to the middle, folding over the filling and firmly press them together between your fingers to join at the middle. Repeat with the other two corners and then press the four corners together at the middle.
Repeat to make a total of four pinwheels on your pizza prep peel. Optionally, for more golden tops, lightly brush the top areas of the dough with the beaten egg.
Transfer the pinwheels to the pizza oven and bake until golden brown on top and cooked through, about 15 minutes.