Recipes
Yukon Gold Rösti
Rösti is a Swiss dish of fried potatoes, not too different from a good hash brown. Although traditionally a breakfast dish, I like to make a variety of rösti as sides for dinner, especially during the winter.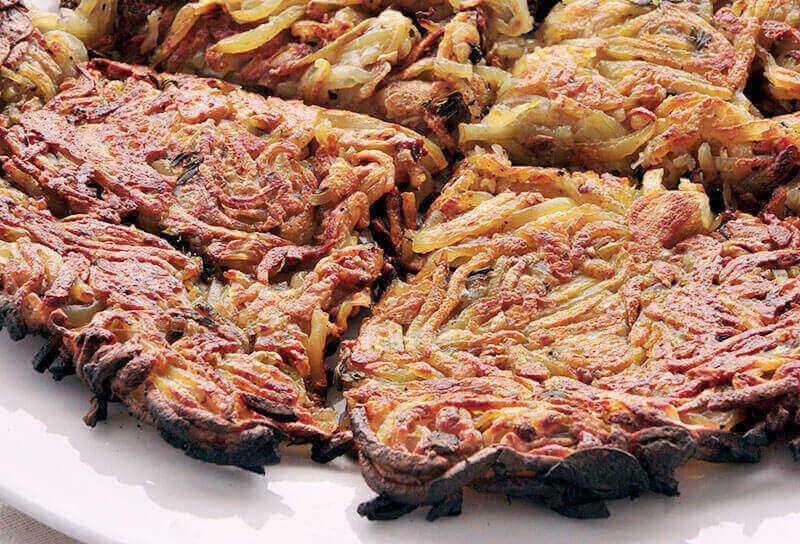 ---
Ingredients
1 1/2 pounds Yukon Gold potatoes, cleaned
1 to 2 tablespoons all-purpose flour
4 cloves garlic, thinly sliced
1/2 teaspoon kosher salt
Leaves picked from 4 sprigs fresh thyme
1 1/2 tablespoons butter
Directions
Cut the potatoes into matchsticks. I first slice them with a mandolin and then cut the slices into matchsticks with a knife. I find doing this by hand yields the best results. The extra effort goes a long way. It is tempting to make rösti with a cheese grater, but that usually yields terrible results. The potatoes come out mangled. And too much moisture is released, making the potatoes limp and sloppy.
Toss the cut potatoes with just enough flour to barely coat them. If it starts to turn into a paste, you've added too much flour (You can still cook with it, but don't add any more!).
Prepare the grill for indirect grilling at 350° to 400°F.
Preheat a 10-inch cast iron skillet in the direct grilling zone or on a cooktop. Melt the butter, and then add the potatoes, garlic, salt and thyme. Stir constantly until the potatoes are softened, about 10 minutes. Transfer the pan to the indirect grilling zone, close the hood, and cook for about 30 minutes, rotating the skillet once.