Recipes
Yucatecan Garlic-Spice Marinade
Adobo de Escabeche
These exotic flavors, reminiscent of those from North Africa, show up in two ways in Mexico's Yucatecan markets: a dry packet of spices which cooks elaborate with vinegar, garlic and, often, oil; and a seasoning paste (there called a recado) which cooks dilute with more vinegar (or lime) and sometimes oil. Either way, the flavors have the alluring aroma of cinnamon and cloves, the spicy pungency of black pepper and the mellowness of fragrant roasted garlic. The combination has become an iconic seasoning for Yucatecan chicken, fish and thin-cut grilled steaks, but I have another suggestion: an outstanding salad dressing for tomatoes, grilled green beans or steamed chayote can be made by mixing a couple of tablespoons of the marinade with an additional 2 tablespoons vinegar and an additional 1/3 to ½ cup oil.
---
Ingredients
1 head of garlic, broken into individual cloves (expect about 12 cloves)
1/3 cup vegetable or olive oil
6 tablespoons vinegar (apple cider vinegar is common in Mexico)
A pinch of ground cloves
1/2 teaspoon ground black pepper
1/2 teaspoon ground cinnamon, preferably Mexican canela
1 teaspoon dried oregano, preferably Mexican
1/2 teaspoon sugar
1/2 teaspoon salt
Directions
Cut a slit in the side of each garlic clove, place them into a microwaveable bowl, cover with plastic and microwave them on high for 30 seconds. Cool until handleable, then slip off the papery husks.
One by one, drop the garlic cloves into a running blender or food processor, letting each get thoroughly chopped before adding the next. Stop the machine, remove the top and add the remaining ingredients. Re-cover and process until the mixture is as smooth as you can get it. Scrape into a small jar, cover and refrigerate for up to a month or more.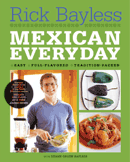 Recipe from Mexican Everyday by Rick Bayless with Deann Groen Bayless.