Recipes
Wood-Grilled Artichokes with Cumin-Scented Aioli
Kalamazoo Outdoor Gourmet is a proud sponsor of Project Fire with Steven Raichlen. Raichlen is an acclaimed authority on all things barbecue and smoking related. This recipe was created by Raichlen on Season 4 of his television show using the Kalamazoo Hybrid Fire Grill. These large globe artichokes are grilled over a wood-fire and served with a cumin aioli.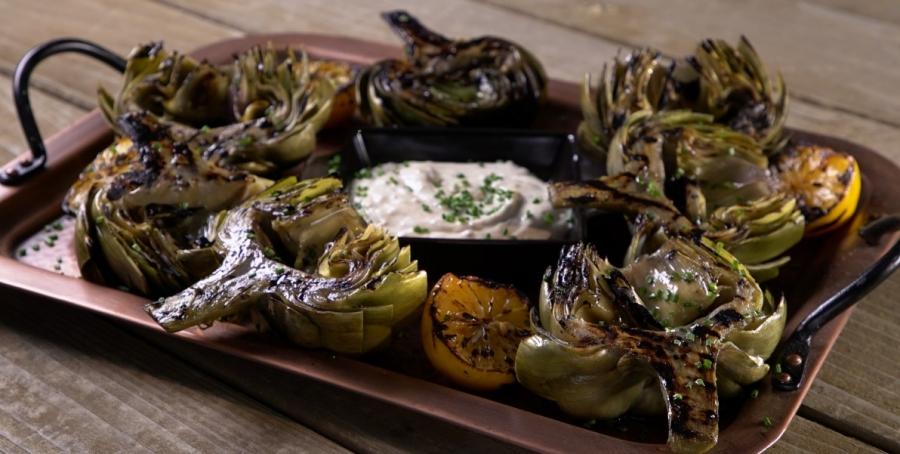 ---
Ingredients
For the aioli
1 cup mayonnaise
1 teaspoon ground cumin
½ teaspoon ground coriander
½ teaspoon finely grated lemon zest
2 tablespoons chopped fresh chives
Sea salt and freshly ground black pepper
For the artichokes
4 large globe artichokes, trimmed, chokes removed, and halved lengthwise
½ lemon
2 teaspoons ground cumin
2 teaspoons freshly ground black pepper
2 teaspoons sea salt
Extra virgin olive oil
Directions
Combine the ingredients for the aioli in a small mixing bowl, adding salt and pepper to taste. Cover and refrigerate while you prepare and grill the artichokes.
Rub the cut sides of the artichoke halves with a half a lemon. Add the lemon to a pot of boiling water. Parboil the artichokes until tender, about 20 minutes. Drain, then submerge in cold water. Drain again, then arrange cut sides down on paper towels.
Combine the cumin, black pepper, and sea salt in a small bowl. Brush the artichokes on all sides with olive oil and season with the rub. Set up the Kalamazoo Hybrid Fire Grill for wood grilling according to the manufacturer's instructions. Grill the artichokes directly over the embers, cut sides down, for 2 to 3 minutes, or until nicely browned. Turn, and grill the leaf side for 2 to 3 minutes.
Serve the artichoke halves, warm or cold, with the aioli.
Watch as Raichlen grills Globe artichokes over a wood fire on the grill and prepares a charred lemon aioli to complete the dish.
Courtesy of Steven Raichlen and inspired by his book, BBQ USA (Workman Publishing).