Recipes
Wood-Fired Mussels with Rustic Olive and Tomato Sauce
Grilled mussels are a fantastic appetizer, and they really shine when grilled over a wood fire. We've paired them with a rustic sauce for a beautiful starter that delights the taste buds.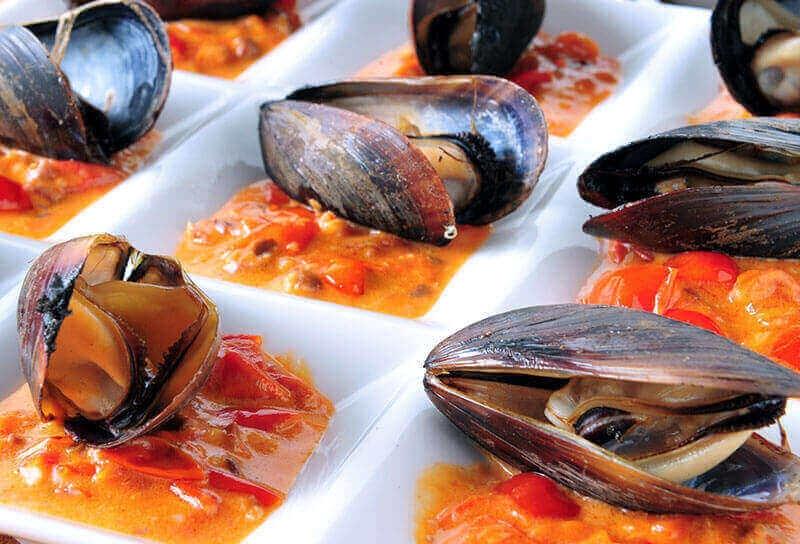 ---
Ingredients
1 pint grape tomatoes, quartered
1/4 cup extra virgin olive oil
8 Kalamata olives, pitted and finely chopped
4 cloves garlic, crushed
1/2 teaspoon hot sauce (I use Cholula)
1 teaspoon kosher salt
1/4 cup heavy cream
18 live mussels
Apple wood chunks
Directions
Start a wood fire or use a combination of charcoal and wood, preparing the grill for direct grilling at high heat, about 650°F.
Combine the first six ingredients in a wide skillet and bring to a simmer over medium heat on the cooktop. Simmer for about 10 minutes, until thickened, stirring frequently.
Stir in the cream immediately before grilling the mussels and turn off the heat.
Grill the mussels over the hottest part of the fire, turning occasionally. They should open within 2 minutes. Continue cooking for 1 more minute after they open.
Serve the mussels over the top of the sauce.