Recipes
Whiskey Short Rib Kebabs
I normally use tri-tip for beef kebabs, but a little experiment with boneless short ribs resulted in tender and juicy kebabs worth sharing with you. The quick whiskey marinade lends a rich flavor. Add in sweet red onions, the bright flavor of red bell peppers and the mellow meatiness of crimini mushrooms and you have a winning main course.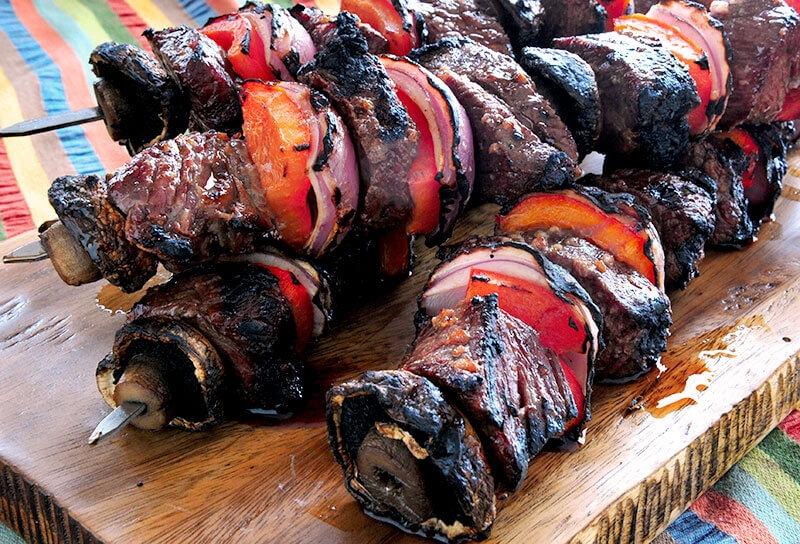 ---
Ingredients
1/4 cup whiskey (I used Maker's Mark)
1 tablespoon extra virgin olive oil
2 tablespoons soy sauce
2 cloves garlic, crushed
2 tablespoons light brown sugar
2 pounds boneless beef short ribs, cut into 1 1/2-inch cubes
2 red bell peppers, stemmed, seeded and ribs removed, cut into 1 1/2-inch squares
2 red onions, ends removed and cut into 1 1/2-inch squares
12 medium-sized crimini mushrooms, stems removed
Fine sea salt
4 long, flat-blade skewers
Directions
Whisk together the first 5 ingredients to make the marinade. Combine the beef and marinade in a zip-top bag, remove all the air and marinate in the refrigerator for 2 hours.
Turn the bag over a couple of times along the way.
Prepare the grill for direct grilling over medium-high heat (about 500ºF). A charcoal fire is preferred.
Assemble the kebabs onto the skewers in whatever fashion you desire. The cooking time for the various ingredients is the same (if properly sized), so you can freely mix the ingredients on the skewers. I like to use double layers of the red onion. Season the assembled kebabs liberally with salt.
Grill over direct heat, turning to all 4 sides of each kebab, for about 10 minutes or until the meat is cooked medium to medium-well.