Recipes
Tomato and Cucumber Summer Salad with Grilled Corn
A perfect cookout deserves a perfect summery salad. Fresh produce flavors meld with lemony balsamic vinaigrette and mellow feta cheese.
Make the salad in advance and keep it in the refrigerator while grill action is taking place.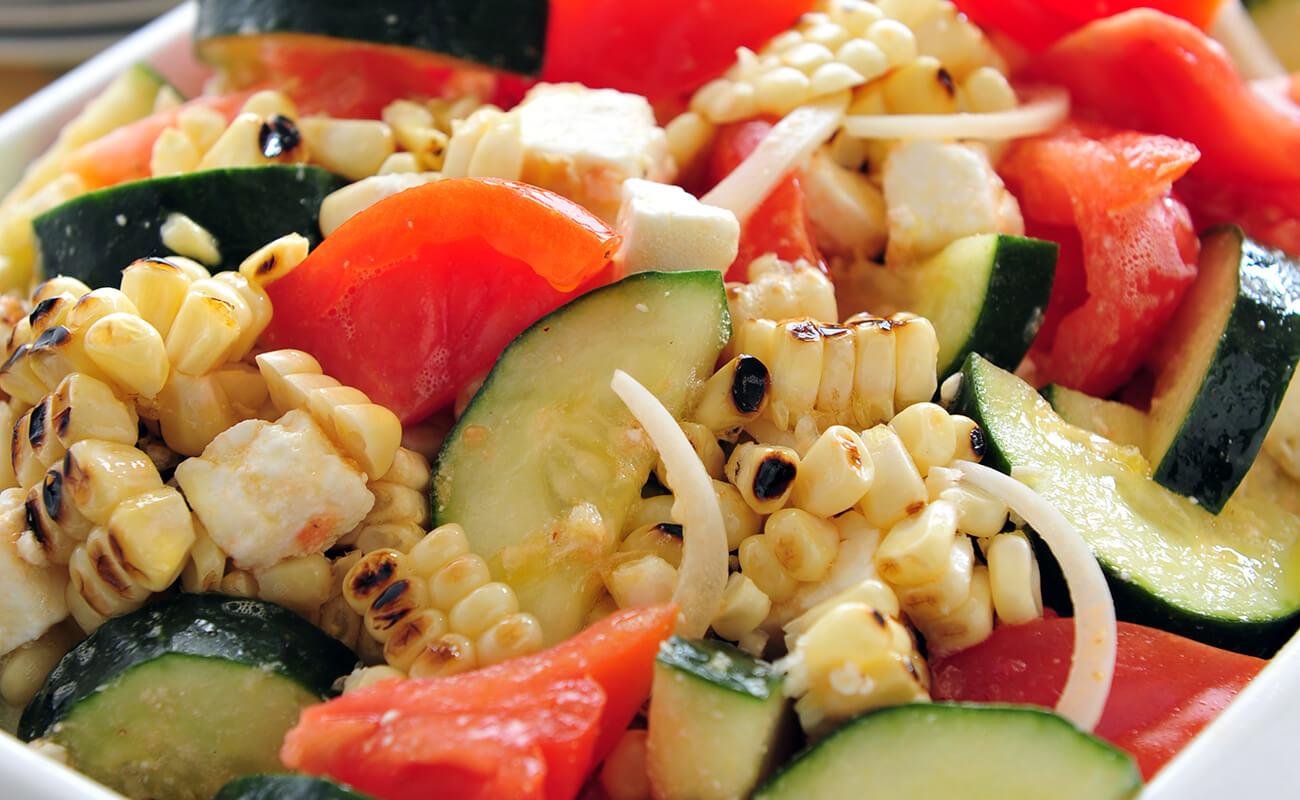 ---
Ingredients
3 tablespoons golden balsamic vinegar
3 tablespoons freshly-squeezed lemon juice
Extra virgin olive oil
2 large cucumbers, halved lengthwise and then sliced 1/2 inch thick
2 1/2 pounds ripe tomatoes, cut up
1 small Vidalia onion, thinly-sliced
1 pound raw sheep's milk feta cheese, cubed
3 ears fresh corn, shucked, leaving the stalk intact
Kosher salt
Coarse white pepper
Directions
Prepare the grill for direct grilling over medium heat.
Combine the golden balsamic, lemon juice and 6 tablespoons olive oil in a 5-quart mixing bowl. Whisk until thickened. Add the cucumbers, tomatoes, onion and feta. Gently fold together, being careful not to bruise the tomatoes. Set the bowl aside at room temperature for the time being.
Lightly brush the corn with olive oil and sprinkle with salt. Grill over direct heat, turning as soon as each side is marked by the heat.
Remove from the grill and let cool until you can comfortably hold onto the stalk ends. Cut the corn from the cobs and add to the bowl. Gently fold together and season to taste with salt and pepper. A generous amount of salt will likely be needed. Cover and refrigerate for 1 to 4 hours before serving.