Recipes
Teriyaki Salmon Tacos with Spicy Broccoli Slaw
We shared this same combination of flavorful, homemade teriyaki sauce and spicy broccoli slaw with you a few years back in the form of a burger. It works just as well with salmon and makes great tacos. We've also done these tacos with beef skirt steak with delicious results as well.
Serves 8 (yields 16 tacos)
---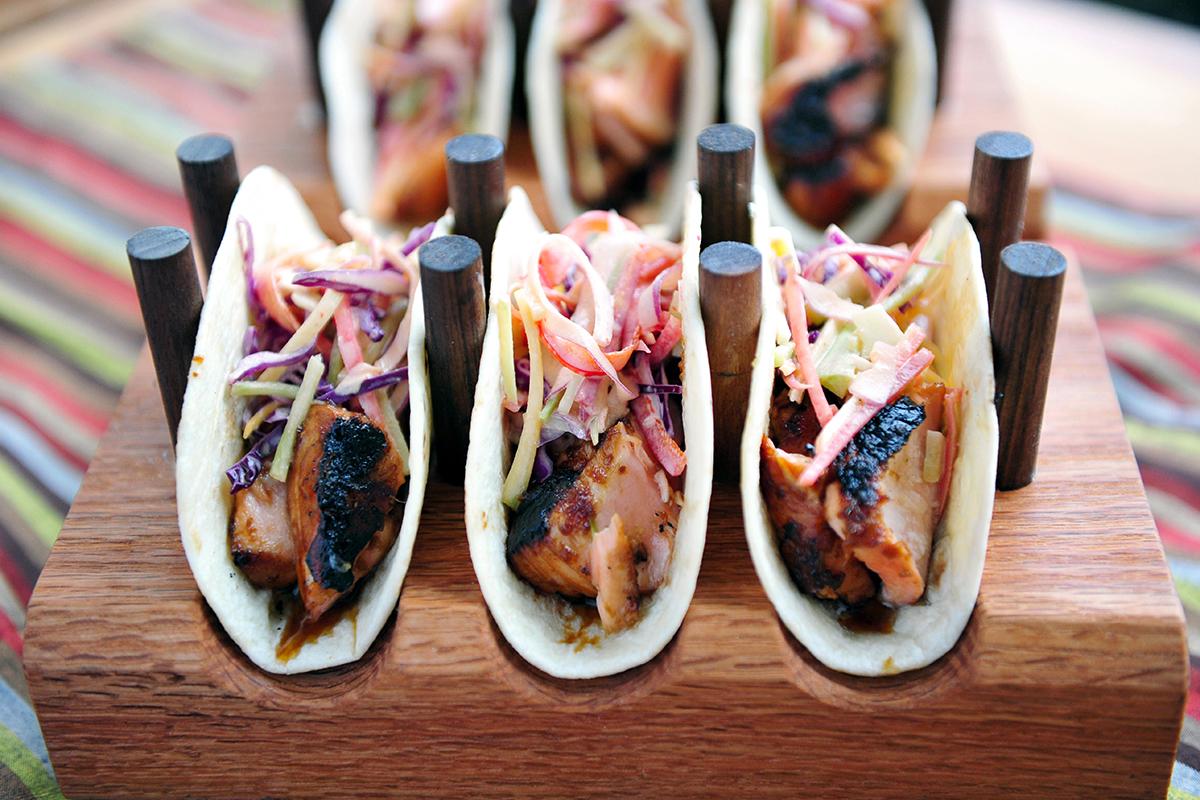 ---
Ingredients
4 salmon fillet portions, 7-8 ounces each
16 flour tortillas
For the Teriyaki
1/2 cup light brown sugar
1/4 cup toasted sesame oil
1/4 cup soy sauce
4 1/2 tablespoons freshly grated ginger
1 1/2 teaspoons freshly grated garlic
For the Broccoli Slaw
1 1/2 cups peeled and julienned broccoli stems
3/4 cup shredded red cabbage
1/2 cup peeled and shredded or julienned carrots
1/2 red bell pepper, seeded and shaved
1/4 red onion, shaved
1/4 cup mayonnaise
1 tablespoon Sriracha hot chili sauce
Directions
To make the teriyaki, whisk together the brown sugar, sesame oil and soy sauce in a medium bowl. Stir in the ginger and garlic. Use 1/2 of the teriyaki to marinate the salmon. Reserve the other half. Refrigerate the marinating salmon for 2 hours.
To make the slaw, combine the broccoli, cabbage, carrots, bell pepper and onion in a medium bowl. Stir in the mayonnaise and Sriracha. Cover and refrigerate.
Prepare the grill for direct grilling at 500°F.
Remove the salmon from the marinade. Discard the marinade and pat the salmon dry with paper towels. Place the salmon in the direct grilling zone with the skin side up. Cook the salmon halfway through, about 5 minutes. Flip the salmon over so the skin side is down. Brush with the reserved teriyaki. Repeat brushing every minute or so until the salmon is cooked through, about 4 minutes on the second side. The salmon is cooked when the meat flakes cleanly under gentle pressure. Slide your spatula between the meat and the skin to remove the fish from the grill, leaving the skin behind.
Quickly grill each tortilla on one side.
Break the fish into smaller pieces and split it among the tortillas. Finish the tacos by topping each with a little broccoli slaw.