Recipes
Teriyaki Burgers with Spicy Broccoli Slaw
The East-Meets-West flair of these burgers will delight your guests. By itself, the slaw is intense and spicy on the tongue. On the burgers as a condiment, however, it has just the right zing. The teriyaki caramelizes on the outside of the burgers for a sweet and savory crust.
These are some seriously good burgers, but don't take my word for it. When I cooked these for the team at the Kalamazoo plant our plant manager declared it a "Forty Dollar Burger!"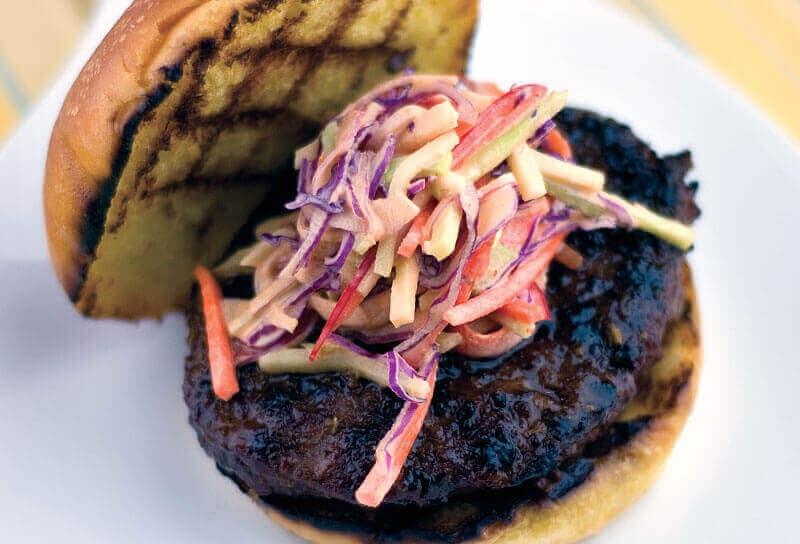 ---
Ingredients
1 1/2 cups peeled and julienned broccoli stems
3/4 cup shredded red cabbage
1/2 cup peeled and shredded or julienned carrots
1/2 red bell pepper, seeded and shaved
1/4 red onion, shaved
1/4 cup mayonnaise
1 tablespoon Sriracha hot chili sauce
1 cup light brown sugar
1/2 cup toasted sesame oil
1/2 cup soy sauce
3 tablespoons freshly grated ginger
1 tablespoon freshly grated garlic
8 patties Choice ground round, 85% lean, 1/2-pound each, 1-inch thick
Extra virgin olive oil
8 golden hamburger buns, split
Fine sea salt
Directions
To make the slaw, combine the broccoli, cabbage, carrots, bell pepper and onion in a medium bowl. Stir in the mayonnaise and Sriracha. Cover and refrigerate.
Prepare the grill for direct cooking at 400°F to 500°F.
While the grill is heating, make the teriyaki glaze. Whisk together the brown sugar, sesame oil and soy sauce in a medium bowl. Stir in the ginger and garlic. Separate the teriyaki into two parts and reserve. Two-thirds is for brushing onto raw beef. The remaining third is for brushing onto cooked beef.
Recess the centers of the ground round patties (see following tip on grilling the perfect burgers). Brush the patties on both sides with teriyaki glaze. Let the burgers sit, absorbing some of the flavor, for 5 minutes before grilling.
Brush the olive oil onto the sliced sides of the hamburger buns and then sprinkle with salt.
Add the burgers directly over the hottest part of the fire. If you have special requests for temperature, start well-done burgers earlier and medium-rare burgers later. After they hit the grill, spoon or brush a little more teriyaki glaze on the top of the burgers.
For medium burgers, cook, turning once, for about 12 to 15 minutes total. When you turn the burgers over, brush or spoon some more glaze on the cooked side (using the glaze that was reserved for cooked beef).
As the burgers near completion, add the buns to the grill, cut-side-down. Cook over direct heat until lightly toasted without drying the buns out. Remove the buns from the grill. Transfer the cooked burgers to the buns.
Add a generous spoonful of slaw on top of each burger.