Recipes
Terbiyeli Küşleme (Mint & Aleppo Pepper Marinated Chicken Kebabs)
The Saveur test kitchen fired up a Kalamazoo K750HS Hybrid Fire Grill for the 4th Annual Saveur Summer BBQ. The kebabs they grilled were simply amazing. The recipe is from the 2013 Grilling Issue, and we wanted to share it with you.
A thick, flavorful marinade of mint, Aleppo pepper and Turkish sweet red pepper paste caramelizes on the outside of these grilled chicken kebabs.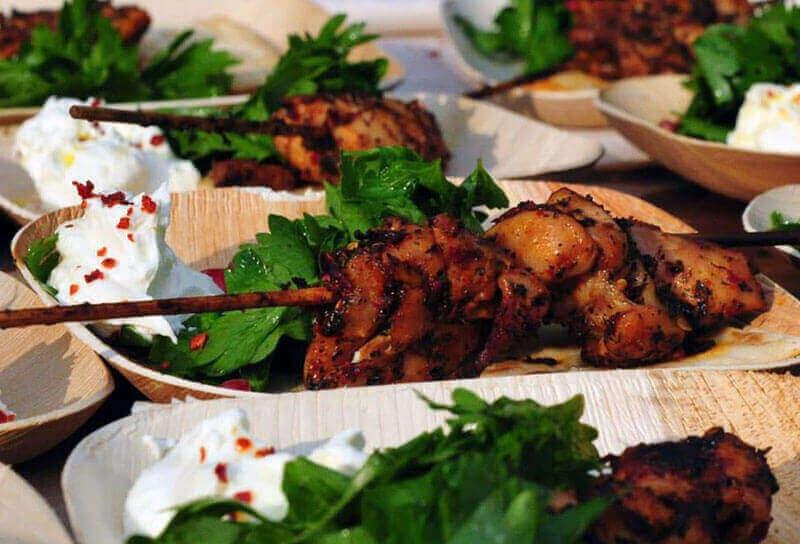 ---
Ingredients
1 cup olive oil
2 tablespoons dried mint
1 tablespoon crushed red chili flakes
1 tablespoon finely chopped thyme leaves
1 tablespoon ground Aleppo pepper
1 tablespoon tomato paste
1 tablespoon Turkish sweet red pepper paste (available from Khana Pakana)
1 teaspoon freshly ground black pepper
Kosher salt, to taste
1 pound boneless, skinless chicken thighs, cut into 1" pieces
6 12-inch metal skewers
Directions
Mix oil, mint, chili flakes, thyme, Aleppo pepper, tomato paste, red pepper paste, black pepper, and salt in a bowl. Add chicken; toss to coat. Cover with plastic wrap; refrigerate at least 30 minutes or up to 2 hours.
Heat a charcoal grill or set a gas grill to high; bank coals or turn off burner on one side. Remove chicken from marinade; thread onto skewers. Grill on hottest part of grill, turning as needed, until chicken is slightly charred and cooked through, 12 to15 minutes. If the outside starts to burn before the chicken is fully cooked, move to the cooler side of grill until done.