Recipes
Tequila Shrimp Tacos
This recipe uses a quick and easy tequila marinade to really amp up the flavor of the shrimp. Then, to add even more flavor to the mix, the shrimp is grilled over a hot charcoal fire. A simple avocado tomatillo sauce and lightly grilled corn tortillas round things out to create some very tasty seafood tacos!
Serves 4 (yields 8 tacos)
---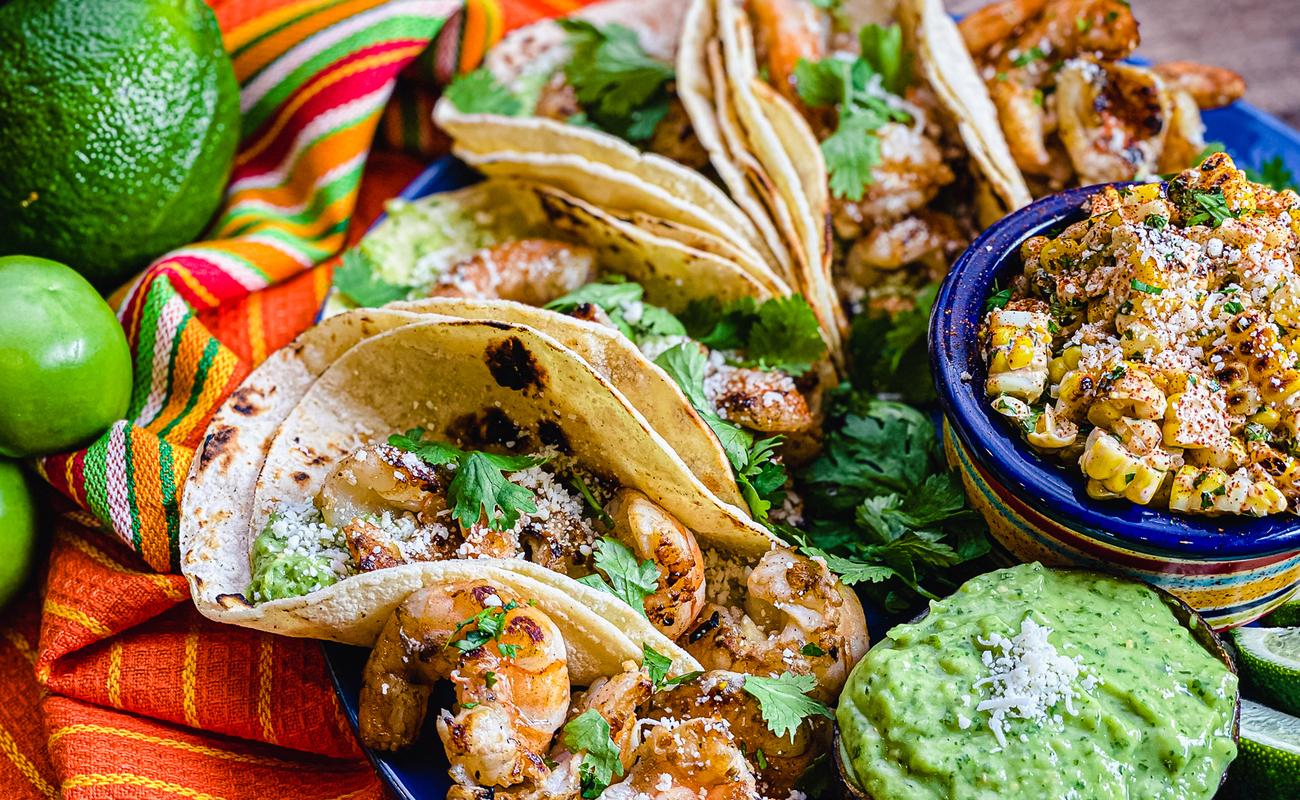 ---
Ingredients
For the Marinade
1/4 cup extra virgin olive oil
2 ounces silver tequila
1 ounce Grand Marnier
1 1/2 ounces lime juice
3 cloves garlic, crushed
For the sauce
2 tomatillos, shucked, stemmed and quartered
1 avocado, skinned, pitted and quartered
1 small handful of cilantro leaves
1 clove garlic, peeled and quartered
1 Serrano chile, stemmed, seeded and quartered
Freshly squeezed juice from 1/4 lime
1/4 teaspoon kosher salt
1 pound shrimp (16-count)
Fine sea salt
Freshly-ground black pepper
16 white corn tortillas
4 to 6 ounces queso enchilado, crumbled
Fresh cilantro leaves for garnish
Directions
Prepare the marinade by whisking together all the ingredients in a non-reactive bowl.
Peel the shrimp and remove the tails. Partially butterfly each shrimp as you devein it, cutting a deep slit in the back. Stir the shrimp into the marinade so that all are submerged, cover tightly, and refrigerate for 1 hour.
Prepare the avocado tomatillo sauce by combining all of the ingredients in a blender or food processor. Process until smooth. Reserve.
Prepare the grill for direct grilling at 600°F, preferably over a charcoal fire.
Remove the shrimp and discard the marinade. Season the shrimp with salt and pepper. Grill over the hottest part of the fire, turning once, until the deepest part of the slit on the back of each shrimp turns opaque (about 5 minutes total). Quickly grill each tortilla on one side.
Assemble each taco by stacking a pair of tortillas (two tortillas are used for each taco). Spread a spoonful of sauce in the bottom. Add two shrimp, then top with cheese and cilantro leaves.