Recipes
Tequila Baked Beans
Baked beans are one of the most traditional sides for serving with ribs, but these aren't traditional baked beans. They are a big departure from the norm. They are sweet. They can be a little spicy. And they are delicious. Tequila adds an herbaceous flavor that I am at a loss to describe. The agave nectar used instead of the more traditional molasses carries right along with the tequila theme.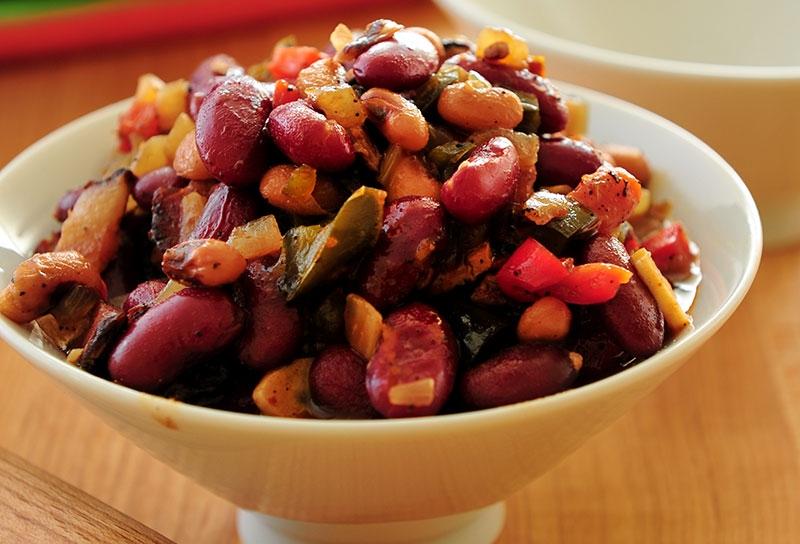 ---
Ingredients
4 slices of bacon (I love using Black Forest Bacon)
1 Vidalia onion, chopped
6 cloves garlic, peeled and sliced
1 poblano pepper, stemmed, seeded and chopped
1 sweet red pepper, stemmed, seeded and chopped
1 to 3 chipotle chiles from a can (using 3 will result in a medium heat)
1/4 cup freshly-squeezed lime juice
1/2 cup Milagro silver tequila
1/2 cup raw blue agave nectar
2 teaspoons finely-ground dark roast coffee (I use Melitta Vienna Roast, Extra-Fine Grind)
3/4 teaspoon kosher salt
2 15-ounce cans kidney beans, rinsed and drained
1 15-ounce can black-eyed peas, rinsed and drained
1 cup hickory wood chips, soaked for at least an hour
1 cup hickory wood chips, dry
Directions
Prepare a grill for indirect grilling at 300°F to 325°F.In a cast iron or earthenware Dutch oven, brown the bacon slices on both sides over medium heat. Stop short of becoming crispy. Remove the bacon and reserve.
Remove all but about 2 teaspoons of fat from the Dutch oven and discard.Add the onions and garlic to the fat and drippings remaining in the Dutch oven and cook over medium heat. Stir frequently until softened but not transparent.
Add all the remaining ingredients, except for the beans and the reserved bacon (and the wood chips, of course). Stir to thoroughly combine.
Slice the bacon into small pieces and gently stir it in along with the beans. Return to a simmer, and then transfer the Dutch oven to the indirect cooking zone of the grill.
Add some of the wood chips to the grill to create smoke. If cooking with charcoal, you can add about 1/4 of the soaked and unsoaked chips directly on top of the coals. If cooking with charcoal or with gas, you can create a few smoking envelopes. Add them to the grill one at a time, spaced out during the cooking session.
Cook the beans in the uncovered Dutch oven with the grill hood closed for 2 hours. Stir the beans and add more wood chips to the fire every 30 minutes. Remove from the grill and serve.
Note: If you are also making the Coffee-Rubbed Beef Ribs, cook the beans for the first 90 minutes, and then add the ribs to the grill alongside the beans (but over the fire) for the final 30 minutes. The temperature of the fire should be just about right.