Recipes
Sweet Peach Pizza with Tart Cherries
Here is another fantastic dessert pizza for outdoor parties. Try it now before peaches and cherries are out of season. The sweetness of peaches, quickly caramelized on the grill, is balanced by tart cherries, while the whole pizza is mellowed on a rich foundation of mascarpone cheese.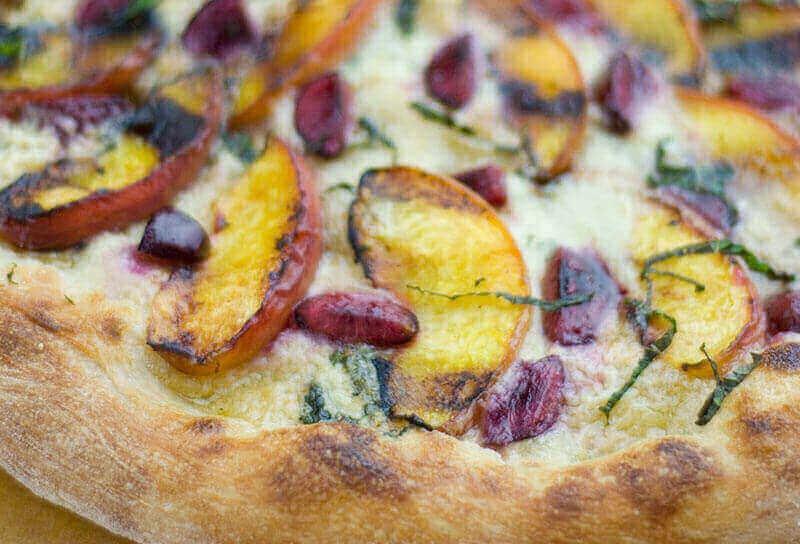 ---
Ingredients
1/2 batch White Wine Pizza Dough, about 14 ounces
2 yellow peaches, sliced to about 1/4″ thick
7 tart cherries, pitted and sliced
4 ounces mascarpone cheese
1 1/2 teaspoons light brown sugar
1/2 teaspoon freshly-squeezed lemon juice
4 mint leaves thinly sliced
Directions
Prepare the pizza oven or grill for baking pizza at 500°F (see our guide for perfect pizza on the grill). Grill the peach slices directly over a medium fire for about 1 minute per side to enhance the sweetness.
Stir together the mascarpone, light brown sugar and lemon juice in a small bowl.
Roll out the pizza dough and transfer to a pizza prep peel lightly dusted with corn meal.
Spread the mascarpone mixture over the prepared dough. Sprinkle half of the mint leaves evenly over the cheese mixture. Add the peach slices in a single layer with enough space in between to sprinkle cherries. Add the cherries.
Bake the pizza until the crust is golden brown and the toppings are hot, about 10 minutes. Sprinkle the remaining mint leaves over the top and let the pizza rest for a few minutes before slicing.