Recipes
Sweet Chili Shrimp with Creamy Thai Sauce
An excellent lunch, dinner or game-day snack, these shrimp present traditional Thai spice flavors balanced with the cool creamy Thai dipping sauce. They're perfect served over a bed of rice or served individually in a small plate and toothpick format.
If you're in a hurry, you can also buy pre-made sweet Thai chili sauce at most grocery stores.
---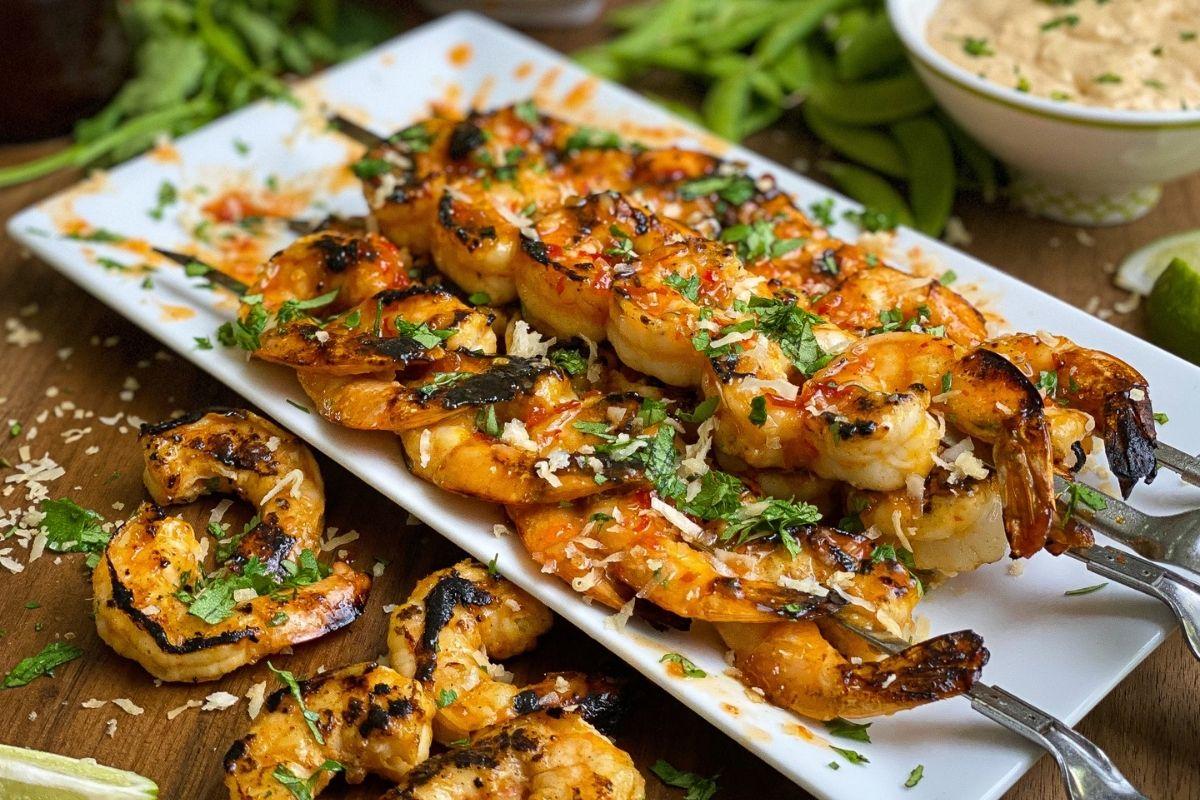 ---
Ingredients
24-36 large shrimp, tail on, peeled and deveined
3 tablespoons cilantro, chopped
1-2 tablespoons toasted shredded coconut
Sweet Thai Chili Sauce
⅓ cup rice vinegar
⅓ cup water
¼ cup granulated sugar
3 tablespoons honey
2 tablespoons Sambal Oelek (red chili paste)
1 teaspoon red pepper flakes
2 teaspoons garlic, finely minced
2 teaspoons ginger, freshly grated
1.5 teaspoons soy sauce
1 tablespoon cornstarch mixed with 1 tablespoon water
Dipping Sauce
1 cup sour cream
2 tablespoons Sambal Oelek
1 teaspoon turmeric
1 teaspoon kosher salt
½ teaspoon cinnamon
½ teaspoon cumin
½ teaspoon ground cloves
½ teaspoon chili powder
½ teaspoon white pepper
2 tablespoons toasted shredded coconut
Directions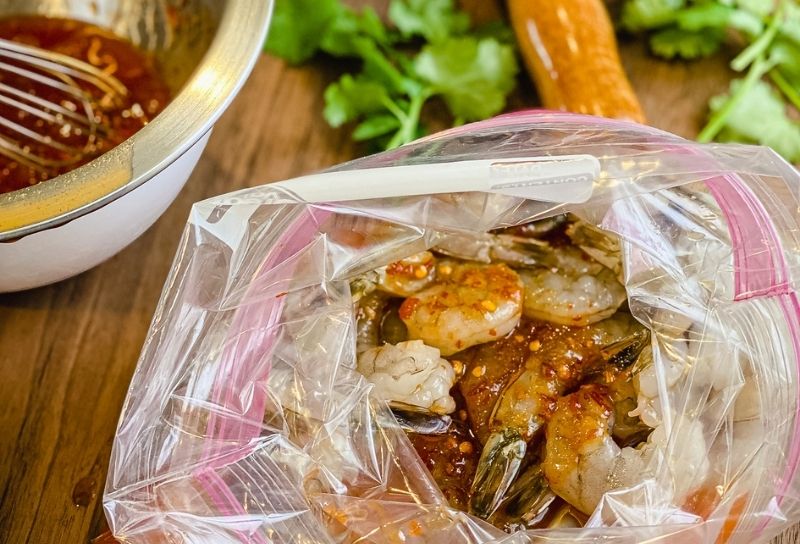 Start by mixing all sweet Thai chili sauce ingredients in a small saucepan over medium heat. Whisk the ingredients together until they are warm and removed from heat. Allow the sauce to cool and thicken. Once cooled, place the shrimp into a zip-top plastic bag, and cover them with ¼ cup of the sweet Thai chili sauce. Set the rest aside. Remove as much air as possible from the bag before sealing and massaging the shrimp to ensure they are all covered with sauce. Place in the refrigerator for two to four hours.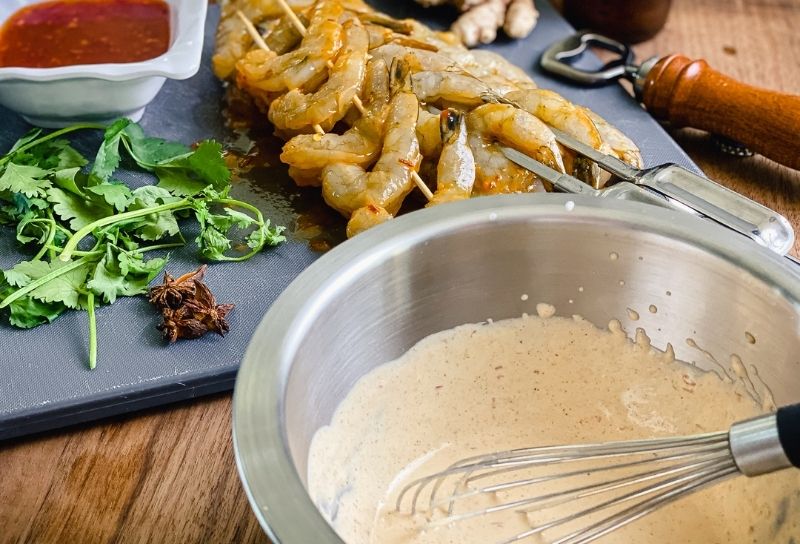 While the shrimp are marinating, make the creamy Thai dipping sauce by whisking together all ingredients into a small mixing bowl, except the toasted coconut. Place in the refrigerator to meld together. Remove from the refrigerator about 30 minutes before serving.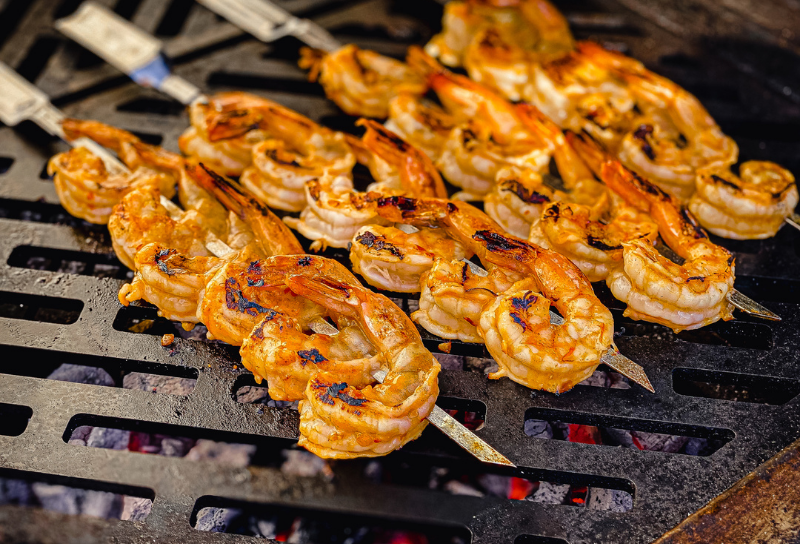 Light and set your grill up for medium-high direct heat. While the grill is preheating, place the shrimp on the skewers and discard any sauce that touched the raw shrimp. Once the grill is preheated, place the shrimp and the reserved sauce (in a small oven-safe saucepan) on the grill directly over the active burner or charcoal bed. Cook the shrimp for a total of eight minutes, flipping them every two minutes while occasionally stirring the sauce to warm it through.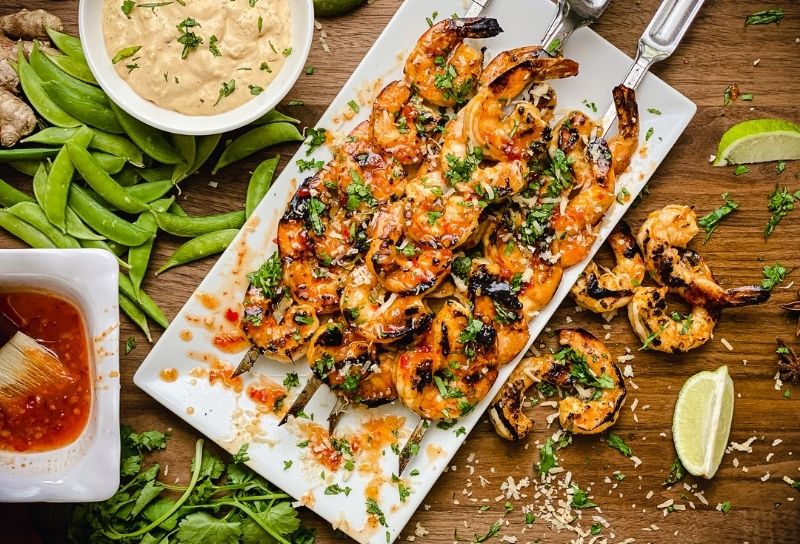 After eight minutes, remove the shrimp from the grill and glaze them with the warm chili sauce. Finish the shrimp with cilantro and toasted coconut. Whisk the remaining toasted coconut into the creamy Thai sauce and serve alongside the shrimp.