Recipes
Sun-dried Tomato Hazelnut "Pesto"
This "pesto" has great texture and an earthy flavor. Crunchy hazelnuts lend a unique flavor to the combination of sun-dried tomatoes and olive oil. Try this in our grilled cheese sandwich recipe or spoon it on top of fish during the last 5 minutes of grilling. We also recommend mixing it with soft goat cheese to serve with a mixed greens salad.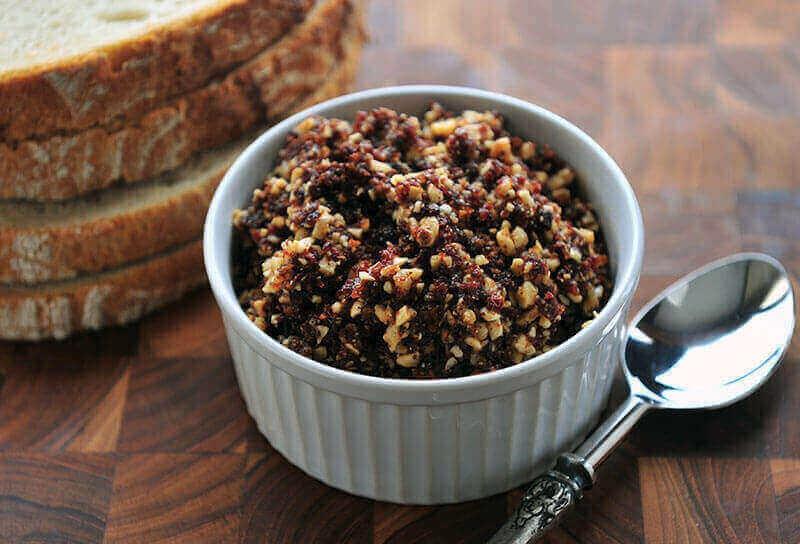 ---
Ingredients
3/4 cup raw, whole hazelnuts (shelled)
3 ounces sun-dried tomatoes (from a bag, no oil or additives, like the Mediterranean Organic Sundried Tomatoes), cut up
1 clove garlic, peeled and roughly chopped
1/2 teaspoon coarsely-ground black pepper
1/4 teaspoon fine sea salt
1 1/2 teaspoons light brown sugar
3/4 cup extra virgin olive oil
Directions
Preheat a small skillet over medium-high heat. Add the hazelnuts. Toast the nuts in the dry skillet, tossing occasionally, until darkened and crunchy, about 7 minutes. Remove from heat and reserve.
Combine all the other ingredients in a food processor and process until relatively smooth. Add the reserved hazelnuts and process further until the hazelnuts are chopped, but the "pesto" maintains a chunky texture.
Cover and refrigerate for a few hours before use to give the oil time to rehydrate the tomatoes. Stir before use. Will keep, refrigerated, for more than a week.