Recipes
Stuffed Lamb Burgers with Apricots and Goat Cheese
Savory lamb is complemented by this sweet and herbaceous filling of dried Turkish apricots, goat cheese and parsley. Greek yogurt is added as a binder with fresh lemon zest to balance out the sweetness.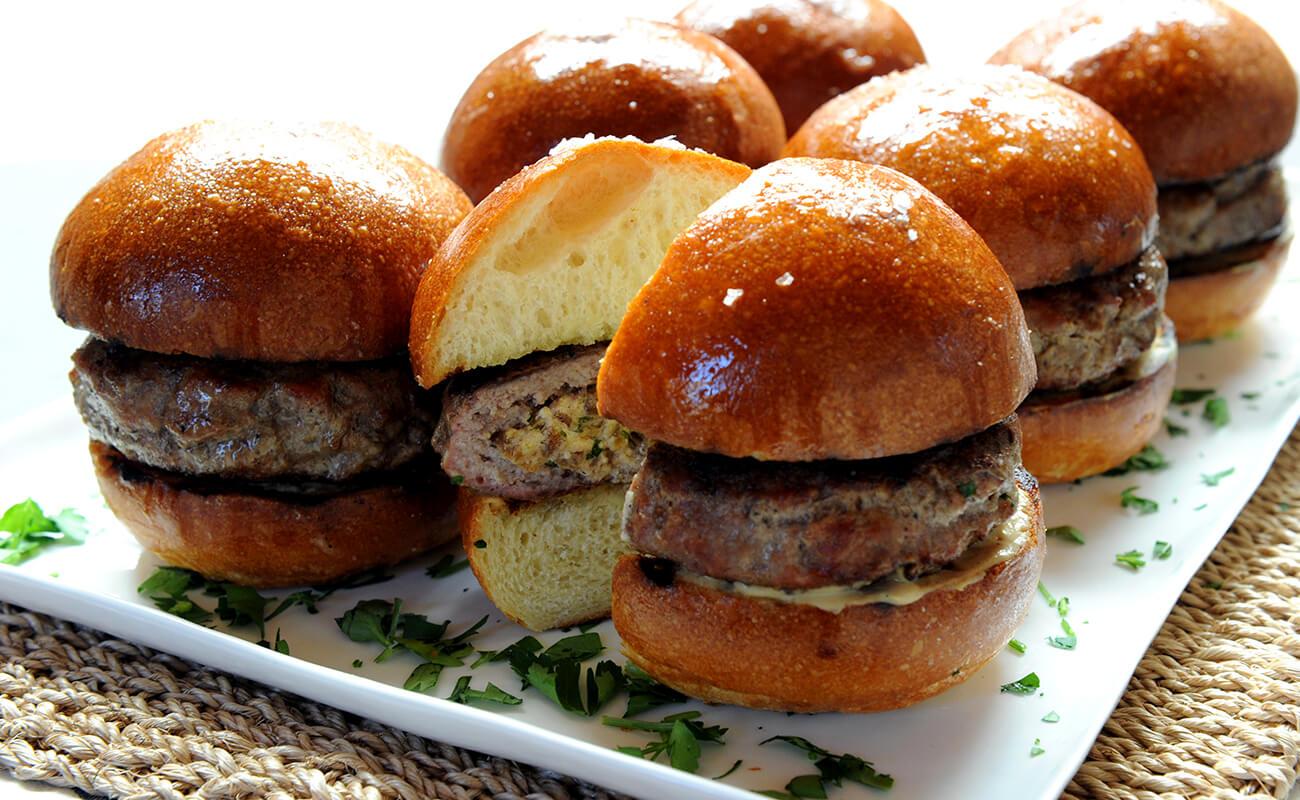 ---
Ingredients
12 dried Turkish apricots, finely chopped
3 tablespoons finely chopped parsley
¾ cup crumbled goat cheese
1/3 cup plain Greek yogurt (I use Fage 5%)
Freshly grated zest of 1½ lemons
3 pounds ground lamb
Extra virgin olive oil
Fine gray sea salt
6 hamburger-bun-size Challah rolls
Prepared mayonnaise
Dijon mustard
Directions
To prepare the apricot filling, combine the first 5 ingredients in a medium-size mixing bowl with a pinch of fine gray sea salt. Thoroughly work together with a silicone spatula. Reserve.
Preheat the grill for direct grilling over a hot fire, about 500°F.
Divide the ground lamb into 12 equal parts weighing ¼ pound each. Form into balls, but try not to over-work the lamb. (This is important to achieving a desirable burger texture.) Working on a non-stick sheet pan, form the balls into thin patties that are 1 inch larger in diameter than the rolls. Place 2 tablespoons of apricot filling in the center of each of 6 patties. Spread to within ½ inch of the edge of each of these 6 patties (not any closer to the edge). Take a plain patty and place it on top of one of the patties with filling. Seal it well around the perimeter by pressing with your fingers, then reshape the edge to a more square profile all around (maintaining a finished patty diameter that is 1 inch larger than the rolls). Repeat for the remaining 5 burgers. Brush the burgers on both sides with olive oil and season liberally with fine gray sea salt. Reserve.
Spread a thin layer of mayonnaise on the inside of the Challah rolls and season with fine gray sea salt. Toast lightly on the grill. Remove from the grill, brush a very small amount of olive oil on the outside top of each roll and sprinkle on a little flaky sea salt. Spread Dijon mustard on the inside of the bottom rolls. Reserve.
Grill the burgers over the hot fire. Patience is key as you wait for the first side to cook, about 5 minutes (see notes that follow). Flip the burgers and continue cooking to an internal temperature of 160°F.
Transfer the cooked burgers to the rolls and serve.