Recipes
Strawberry Spinach Salad Pizza
Topped with fresh spinach and strawberries and a balsamic honey reduction after, this is a refreshing summer pizza. The pizza is cooked with a little fresh goat cheese added at the last minute to create warm and creamy counterpoint to the other toppings.
Serves One 11 to 12 inch pizza
---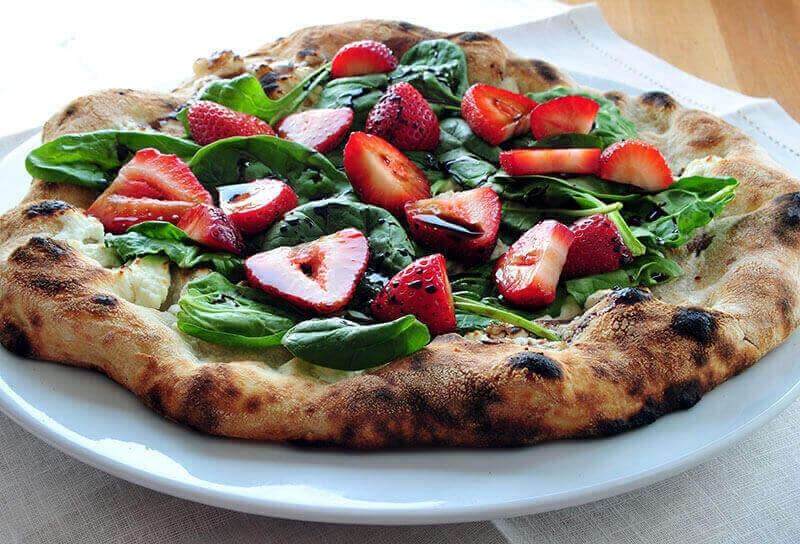 ---
Ingredients
1 cup (8 ounces) balsamic vinegar
2 tablespoons honey
1/2 batch White Wine Pizza Dough, about 14 ounces
4 ounces chèvre fraîche (soft, fresh goat cheese)
1 to 2 ounces fresh spinach
6 fresh strawberries, cut up
Flour or corn meal for transferring the pizza
Directions
To make the balsamic honey reduction, bring the balsamic to a simmer over medium heat in a small, non-stick sauce pan (greater surface area will speed the reduction). Continue simmering until the balsamic is reduced to 1/2 cup, about 10 minutes. Remove from heat. Stir in the honey until fully-incorporated. Return to the heat and bring back to a simmer. Remove from the heat immediately. Store covered until ready for use. This makes about 1/2 cup of reduction. It will keep in the refrigerator almost indefinitely.
Prepare the outdoor pizza oven or grill for cooking pizza. See our guide to cooking pizza on the grill.
Form the dough to roughly a 12-inch pizza crust. Transfer the dough into the oven or directly onto a hot grill grate. For the oven, cook for 2 minutes, add small dabs of the chèvre to the crust and then finish for about 1 minute more. For the grill, cook the dough for about 1 minute or until the bottom of the dough is marked by the grates. Remove from the grill and flip it so the grill marks are on top. Add dabs of chèvre all over and return it to the grill to finish cooking the crust and melt the cheese, about 1 minute more.
Top the warm pizza with spinach and then strawberries. Drizzle about a tablespoon of balsamic honey reduction over the top.
Enjoy!