Recipes
Strawberry and Spinach Salad with Grilled Scallops
Sweet strawberries pair beautifully with tender scallops seared by an open flame. The almonds add a little crunch and a welcome nuttiness while the quick balsamic dressing balances sweet and tart.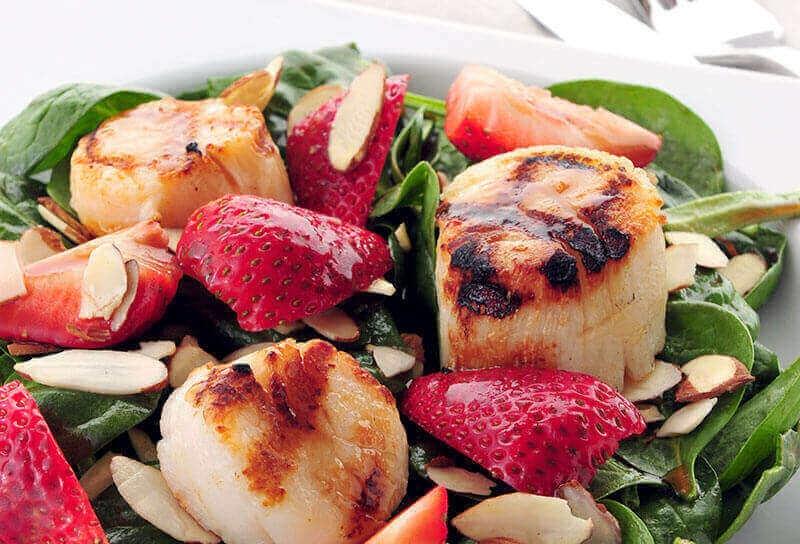 ---
Ingredients
1/4 cup sliced almonds
1 teaspoon freshly-squeezed lemon juice
1 teaspoon balsamic
1 teaspoon honey
2 teaspoons extra virgin olive oil, plus a little more for brushing on the scallops
6 large scallops, rinsed and dried
Fine sea salt
4 ounces baby spinach leaves
6 strawberries, trimmed and sliced or quartered
Freshly-cracked black pepper
Directions
Prepare the grill for direct grilling at 500ºF.
Toast the almond slices in a small skillet over medium heat, moving constantly until they start to turn golden. Reserve.
Combine the lemon juice, balsamic, honey and olive oil in a bowl and whisk vigorously to emulsify. Re-whisk immediately before using the dressing.
Lightly brush the scallops with olive oil and season with sea salt. Place on the grill over the hottest part of the fire. Cook, turning once until seared on the outside and just cooked through, about 3 minutes per side depending on the size of the scallops. When done, the flesh will look more opaque and the small splits around the perimeter should begin to open slightly.
Toss the spinach with the dressing and divide onto two plates. Top with scallops, strawberries and almonds. Drizzle on any remaining dressing and season with pepper.