Recipes
Steak with Roasted Tomatoes, Olives and Pistachios
The combination of roasted ingredients compliments a perfectly-grilled steak without at all masking its flavor. I used two kinds of heirloom tomatoes here, chosen for their slightly tart taste, but quality hothouse tomatoes will do the trick just fine.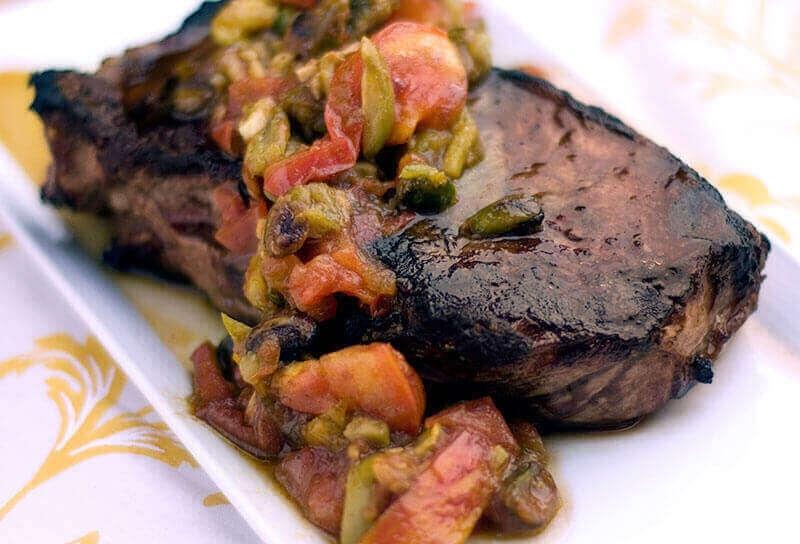 ---
Ingredients
2 New York strip steaks, at least 1 1/4″ thick
About 2 tablespoons extra virgin olive oil
Fine sea salt
5 Spanish "queen" olives in brine
1 pound fresh, ripe, medium-size tomatoes
1 heaping tablespoon shelled pistachios
1 large clove garlic, minced
1 teaspoon balsamic vinegar
1/2 teaspoon coarse sea salt
Directions
Prepare the grill for direct grilling over a medium-high fire (500°F to 600°F) with an indirect cooking zone as well. A wood fire is preferred. For grilling with wood chunks, reserve 1 wood chunk to add to a corner of the fire right before you start grilling. This wood chunk will provide smoke and an open flame to enhance the flavor. The steaks can be cooked near, but not over, the flaming wood chunk.Preheat a 10″ cast iron skillet in the direct grilling zone with the grill hood closed.

Remove the steaks from the refrigerator 20 minutes prior to grilling. Brush with 1 tablespoon of the olive oil and sprinkle with fine sea salt.

Remove the olives from the brine and dry with paper towels to remove some of the moisture. Pit and sliver or finely chop.

Cut the tomatoes into quarters lengthwise and remove the stems. Slice the quarters cross-wise to 3/8″ thick.

When ready to grill, move the skillet to the indirect cooking zone. Add 1 tablespoon of olive oil to the skillet, immediately followed by the tomatoes, olives, pistachios and garlic. Add the coarse sea salt and balsamic vinegar, and stir gently to combine.

Add the steaks to the grill in the direct grilling zone. For medium-rare, cook the steaks for about 10 to 12 minutes, turning only once. Keep the hood closed to roast the tomatoes, olives and pistachios while you grill the steak. Gently stir the mixture when you turn the steaks, being careful not to break up the tomatoes too much.

When nearing the desired doneness (see food temperature chart), remove the steaks from the grill and let rest a few minutes before serving. While resting, top the steaks with the tomato, olive, pistachio mixture.