Recipes
Spit-Roasted Beef Shoulder
Kalamazoo Outdoor Gourmet is a proud sponsor of Project Fire with Steven Raichlen. Raichlen is an acclaimed authority on all things barbecue and smoking related. This recipe was created by Raichlen on Season 2 of his television show Project Fire using the Kalamazoo Hybrid Fire Grill. This beef shoulder is slowly roasted on the rotisserie for 3 to 4 hours developing a crusty exterior and juicy interior. Photography: Chris Bierlein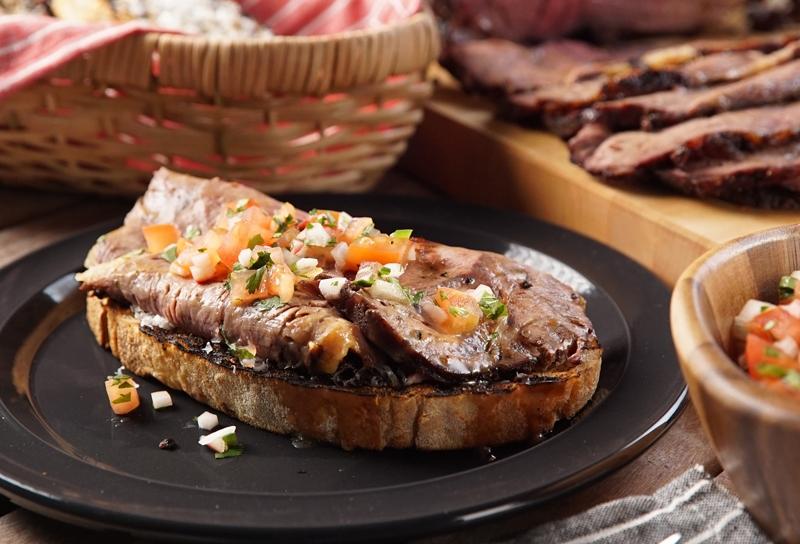 ---
Ingredients
For the seasoning and beef
3/4 cup coarse salt (kosher or sea)
1/4 cup granulated garlic
1/4 cup onion powder
1/4 cup cracked black peppercorns
3 tablespoons hot red pepper flakes
1 beef shoulder clod (13 to 15 pounds)
For serving
Grilled bread
Pico de gallo or fresh salsa
Directions
Place the salt and other spices in a bowl and mix well. Working over a rimmed baking sheet, generously sprinkle the rub on all sides of the clod, patting it onto the meat with your fingertips.
Using butcher's string, tie the clod into a compact cylinder. Attach the first fork to the rotisserie spit, then run the spit through the center of the meat. Attach the second fork and tighten.
Set up your Kalamazoo grill for rotisserie grilling and preheat to medium-low. place the clod on its spit on the rotisserie supports; make sure the one end of the spit is secure in the motor slot as per the directions. Place a drip pan under the meat. Cook the clod until darkly browned and cooked through, 3 to 4 hours. To test for doneness, use an instant-read meat thermometer: The internal temperature should be between 190° and 200°F for well-done, which is the way clod is usually served. If the outside starts to burn, cover it loosely with aluminum foil. Add wood as needed.
Transfer the grilled clod to a cutting board and let it rest for 10 minutes, then thinly slice it across the grain with a sharp knife. Serve on grilled bread with pico de gallo.


Barbecue and grilling expert, Steven Raichlen featured the Kalamazoo Hybrid Fire Grill on the latest season of his TV show Project Fire. Watch as he builds incredible crust on the beef then slices it thin and piles it on a roll with Tiger Sauce, onions, tomatoes and lettuce.