Recipes
Spicy Sweet Onion "Jam" and Cheddar Grilled Cheese
Homemade onion jam is a delicious condiment to pair with mellow white cheddar. Our Spicy Sweet Onion "Jam" recipe will yield extra, and you'll be glad. It is perfect with grilled pork and even roasted Brussels sprouts, but back to the sandwich… This is a hearty sandwich, great for cooler weather. The jam is spiced with chiles and sweetened with brown sugar and molasses. I use a two month old cheddar and New York rye.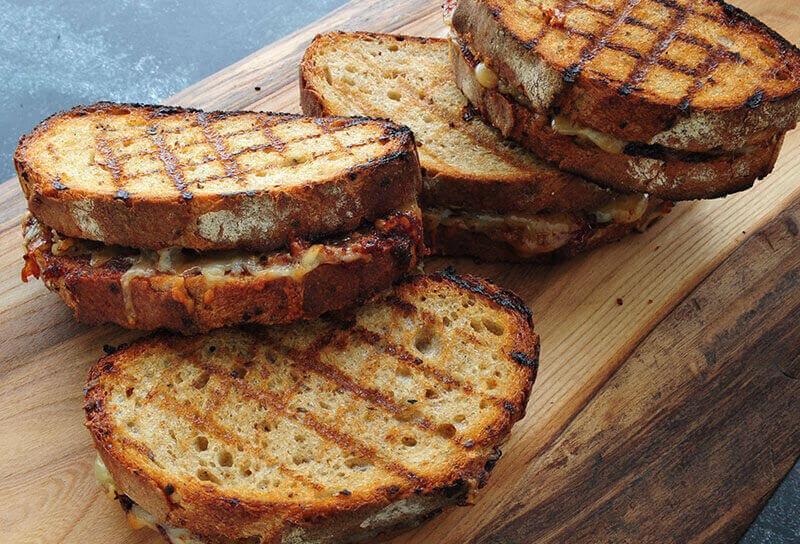 ---
Ingredients
About 3/4 cup Spicy Sweet Onion "Jam"
8 slices rye bread, 3/4-inch thick
About 2 tablespoons butter, softened
About 8 ounces white cheddar cheese, shredded
Directions
Prepare the grill for direct grilling over a medium fire, about 400°F.
Spread butter onto one side of each bread slice (the outside of each sandwich). Spread onion jam on the other side (the inside of each sandwich). Fill with shredded cheddar and top with the other slice of bread.
Place the sandwiches on the grill. Keep the hood closed as much as possible while grilling to help melt the cheese. Turn once after the first side is toasted and lightly marked by the grill grate, about 2 minutes. (Note: for cross-hatched grill marks, rotate the sandwich about 90 degrees halfway through grilling each side.)
After turning the sandwiches over, grill the second side until toasted, about 2 more minutes. If the cheese is not thoroughly melted by the time the bread is toasted to your liking, lay out a sheet of heavy-duty aluminum foil on the grill grate (preferably in the coolest zone of the grill) and transfer the sandwiches on top of the foil. Close the hood and continue cooking until the cheese is melted through (up to 6 minutes more).
Paired with Two Brothers The Bitter End American Pale Ale at our Grilled Cheese and beer event September 29.